Health insurance for full-time RVers can be a complex and confusing topic. Many options are available, and it can be difficult to know which one's right for you. In this article, we break down the types of health insurance for full-time RVers and offer a step-by-step guide to choosing the right plan for your needs.
Why Full-Time RVers Need Health Insurance
Full-time RVers need health insurance because it provides protection in case of an unexpected health emergency. You want to know you're covered if something happens on the road. Health insurance also helps protect you from costly medical bills.
Even if you're healthy now, there's no guarantee you will stay that way. You could face huge medical bills if something happens and you don't have health insurance.
How is Health Insurance for Full-Time RVers Different?
Health insurance for full-time RVers is different because they need nationwide access. You can't go to your local doctor when you're not stationary. So you need a health plan that will cover you no matter your location. Some health insurance plans only cover you in the state where you're based.
Another reason health insurance for full-time RVers is different is that RVers often pay 100 percent for their health insurance. When there is no employer coverage, health insurance is costly. And some insurance companies don't cover full-time RVers, while others require you to live within your domicile state for at least six months.
10 Steps to Choose Health Insurance for Full-Time RVers
Although choosing health insurance for full-time RVers seems impossible, we have compiled a list of ten steps to make the process easier.
Step 1: Consider Your Situation
The first step in choosing the right health insurance for full-time RVers is considering your situation. For example, are you single, or do you have a family? What's your age? What's your health?
If you're single and healthy, you may not need as much coverage as someone married with children. On the other hand, if you have a pre-existing condition, you may need to choose a plan that covers those costs. Once you've considered your situation, the next step is to select your domicile state.
Step 2: Choose a Domicile State
When choosing a domicile state, there are many factors to consider, with health insurance as one of the top concerns. It's important to understand that the zip code of your domicile is used to determine your health insurance options.
Why is Your Domicile State so Important for Health Insurance?
Your domicile state is vital for full-time RVers because it can affect your health insurance. Some states require health insurance and impose a tax penalty if you don't have it.
Another reason you should choose your domicile state carefully is that health insurance companies use your zip code to calculate premiums. As a result, your premiums will be higher if you live in a state with high healthcare costs.
Where is the Best State to Domicile?
Most full-time RVers choose domiciles with no state income taxes, such as Florida, Texas, and South Dakota. But choosing your domicile state solely on this factor can be a mistake. For example, the expenses associated with health coverage may frequently outweigh the income taxes you pay.
Therefore, when making such a life-changing decision regarding domicile, you must put pen to paper to determine which state makes the most sense for you and your health insurance needs.
Step 3: Know Your Budget
Health insurance can be expensive, so it's important to know your budget. How much can you afford to spend on health insurance each month? This is an important question to answer before shopping for health insurance.
Step 4: Check State Laws
After you choose your domicile state and consider your budget, the next step is to check state laws and regulations. Unfortunately, every state has different health insurance laws, from the required benefits to how health insurance companies must operate. As a result, health insurance costs and complexity can significantly vary between states.
Step 5: Understand Coverage And The 4 Types
There are four main types of health insurance coverage, each with its rules, benefits, and drawbacks. Understanding the differences between these types of health insurance is essential before choosing a plan.
The four health insurance types are:
I. Health Maintenance Organizations (HMOs)
An HMO typically has lower premiums but with restrictions. For example, when you have an HMO, you must go through your primary care physician (PCP) for a referral before seeing a specialist in the network.
II. Preferred Provider Organizations (PPOs)
A PPO has higher premiums but more flexibility. You can see any specialist in the network without a referral from your PCP. You also can go out of network for health care, but it'll cost you more.
III. Point-of-Service (POS) Plans
A POS plan is a combination of an HMO and a PPO. Like an HMO, you must go through your PCP for a referral to see a specialist in the network. But, like a PPO, you also have the option to go out of network for health care.
IV. Exclusive Provider Organizations (EPOs)
With an EPO, you don't need a PCP referral to see a specialist. However, unlike a PPO, if you go outside the extensive EPO network for care, you must pay 100% of the cost. The only exception is if you need emergency care.
Step 6: Peruse the 8 Insurance Options
Eight options are available regarding health insurance for full-time RVers. Each has its pros and cons. Understanding each alternative will help you choose the right health insurance for your needs.
I. Fixed-Benefit Insurance
A fixed-benefit or fixed indemnity plan is a health insurance plan that pays a set amount for each covered service regardless of the actual cost of the service. For example, suppose your plan has a $100 benefit for an office visit. In that case, you will receive $100 from the insurance company, even if the office visit costs $200.
When Sharon, a digital nomad, fell and broke her leg while hiking, she couldn't work and earn money for three months. Thankfully, she had a fixed indemnity insurance plan that paid a certain amount to her each day to help with expenses.
Her employer's insurance plan paid the rest, which was a tremendous relief. Sharon could then focus on healing her injury and getting back on her feet instead of worrying about finances.
Pros

Low Premiums
No Deductible
No Network
Cons

Doesn't Cover Pre-Existing Conditions
Annual and Lifetime Benefit Limit
Not Available In All States
II. Medicare
Medicare is a health insurance program funded by the federal government that provides health care coverage to seniors and qualified disabled individuals, which can be a lifesaver for full-time RVers 65 or older.
However, it's crucial to understand the government never intended for Medicare to be standalone coverage. Without a supplement to Medicare, you can find yourself with substantial medical expenses.
Pros

No Health Questions
Nationwide Coverage
No Referrals
Cons

Deductibles, Coinsurance, Copays
Penalties for Late Enrollment
Medical Exclusions
III. Medicaid
Medicaid is a health insurance program for low-income individuals and families jointly funded by the federal government and individual states. Each state has eligibility requirements, including asset tests and income limits.
Once you qualify for Medicaid, ongoing audits will determine your eligibility. You may lose your Medicaid coverage if your income or assets increase. For full-time RVers, your health insurance coverage can change yearly, which can be difficult to manage.
Pros

Federal Mandatory Benefits
Pairable with Medicare
Retroactive Eligibility
Cons

Strict Qualifications
Limited Medical Practices Accept Medicaid
Aggressive Estate Recovery
IV. Private Insurance
Private health insurance is the type of insurance most Americans have, typically through an employer or insurance broker. Many types of private health insurance plans vary in benefits and premium costs. For example, some programs may have higher deductibles and out-of-pocket costs, while others may provide more comprehensive coverage.
Pros

Easy to Qualify if Healthy
Must Meet Federal Minimum Standards
Many Options Available
Cons

Pre-Existing Conditions Can Hinder Qualifying
Premiums Can Be Expensive
Commission Driven Agents
V. Self-Employed Group Coverage
For full-time RVers that are self-employed, group coverage is an option that can provide much-needed protection. In addition, self-employed group coverage is typically less expensive than individual insurance and can be obtained through professional or trade organizations or purchased on the marketplace.
To qualify for membership group coverage, you must be a member of the organization and engaged in its activities. Some organizations that offer this type of coverage include the Freelancers Union, National Association for the Self-Employed (NASE), and The Authors Guild.
Pros

Cheaper Than Individual Health Plan
Obtained Through Membership or Trade Orgs.
Customized Coverage
Cons

Not Available In All States
Must Be An Active Member
Membership Fees
VI. Short-Term Premiums
Short-term health insurance plans fill temporary gaps in health coverage. These plans typically have lower premiums than other types of health insurance but with limited benefits. For full-time RVers, a short-term health insurance plan can be a good option if you're between jobs or waiting for coverage to begin. Just be sure you understand the limitations of these plans before you enroll.
Temporary health insurance worked well for Stan, who retired from his engineering job to start full-time RVing. He had three months before his Medicare coverage would begin, so he signed up for a short-term health insurance plan for an emergency or unexpected healthcare needs.
Pros

Peace of Mind
Fill Temporary Gaps in Health Coverage
Affordable Rates
Cons

Limited Benefits
Pre-Existing Conditions Can Be Excluded
Not Available In All States
VII. Affordable Care Act (ACA) Health Insurance
The Affordable Care Act (ACA), also known as Obamacare, is a health insurance program that provides subsidies to help low- and middle-income individuals and families pay for health insurance.
Since its inception, the ACA has helped millions of Americans get health insurance. For full-time RVers, the ACA health insurance program can be a good option if you don't qualify for Medicaid and can't afford private health insurance.
You can apply for ACA health insurance through the Health Insurance Marketplace. If you qualify for a subsidy, you'll be able to choose from various health insurance plans.
Pros

Guaranteed Coverage for Pre-Existing Conditions
Subsidies For Premium Cost Assistance Available
Unlimited Lifetime Benefits
Cons

Expensive Without Subsidies
Complex Application Process
Limited Open Enrollment Period
VIII. Telemedicine
Telemedicine has become a popular choice for full-time RVers, especially during the pandemic. This type of health care allows you to consult with healthcare providers via video conferencing or phone.
You can use telemedicine for various purposes, including diagnosing and treating minor health concerns, renewing prescriptions, and even counseling services.
One of the significant advantages of telemedicine is that it gives patients the flexibility to consult with a healthcare provider from anywhere. This is especially beneficial for full-time RVers who often travel to remote areas where access to quality health care can be difficult.
In addition, telemedicine can help save time and money by avoiding costly emergency room visits, urgent care stops, or trips to the doctor's office.
Pros

Used For a Variety of Health Care Needs
Convenient And Easy to Use
Less Expensive Than In-Person Visits
Cons

Doesn't Support All Medical Needs
May Require Additional Fees
Some Insurance Plans Don't Cover Telemedicine
Step 7: Consider 3 Alternative Options
Full-time RVers often have difficulty finding health insurance that meets their needs. Here are three health insurance alternative options for full-time RVers to consider.
I. Internet-Based Healthcare
Internet-based healthcare is a booming sector of the healthcare industry. Also known as telehealth or e-health, this type of healthcare uses technology to deliver care remotely.
Telehealth services can include simple emails or text reminders about prescriptions to more complex video conferencing for consultations.
As technology in healthcare continues to grow, Internet-based healthcare is likely to become an increasingly important part of the healthcare landscape.
Pros

Convenient
Reduces Costs
Good Supplement
Cons

Possible Reduced Rapport
Missed Vital Information
Lack of Physical Exam
II. Healthcare Co-Ops and Sharing Ministry Plans
Healthcare co-ops and sharing ministry plans are a type of non-insurance coverage where members share their medical expenses. These plans are organized as nonprofit, member-owned cooperatives. Unlike insurance, there is no third-party provider.
Instead, members of a healthcare-sharing ministry plan pay monthly premiums to the cooperative, which helps cover other members' medical expenses. While these plans aren't technically insurance, they can provide some financial protection in the event of an unexpected medical expense.
Pros

Cheaper Than Traditional Plans
Shared Values
No Networks
Cons

No Regulation
Must Agree With Philosophy
Not Available In All States
III. Accident Insurance
Accident insurance covers the cost of medical care resulting from an accident, including ambulance transportation, emergency room treatment, and hospital stays. Sometimes, it may also cover the cost of physical therapy or other rehabilitation services.
You can purchase this type of insurance as a standalone policy or as an add-on to a health insurance plan. For full-time RVers without health insurance, accident insurance can provide financial protection in the event of an accident.
Pros

Cheap Monthly Cost
Financial Protection
Payout Comes to You Directly
Cons

May Not Cover All Accidents
Not Comprehensive
May Include Restrictions
Step 8: Contact RVer Insurance Exchange
Full-time RVers have unique health insurance needs often not met by traditional health insurance plans. The RVer Insurance Exchange is a health insurance marketplace designed for full-time RVers.
This organization understands the challenges regarding health insurance for full-time RVers and is dedicated to helping customers find the coverage they need at a price they can afford.
Our agent was super helpful and answered all our questions. The insurance plan is reasonably priced and more than meets our needs. I would highly recommend RV Insurance Exchange to anyone looking for medical insurance.

Google Reviewer
Step 9: Read the Fine Print
It's essential to read the fine print when exploring health insurance options. This includes understanding what's covered and not covered by a particular plan.
It's also important to understand the terms of coverage, such as deductibles, copays, and maximum out-of-pocket expenses.
Step 10: Save Your Pennies Just in Case
Even with health insurance, unexpected medical expenses can occur. For this reason, it's a good idea to have an emergency fund to cover these unexpected costs.
Emergency medical funds are especially important for full-time RVers, who may not be able to access health care easily. With this type of emergency fund, you're prepared for whatever comes your way.
4 Healthcare Co-Ops Worth Considering
There are several healthcare co-ops available for consideration. Let's inspect four sharing cooperatives here.
I. OneShare Health
Like all other healthcare-sharing ministries, OneShare Health is an ACA-noncompliant plan. To be a member, you must agree in writing with their core biblical principles. Founded in 2018, they offer two health-share programs: Catastrophic and Classic.
Pros

24/7 Telehealth
Affordable Contributions
Prescription Discounts
Cons

Not Available In All States
Complex Reimbursement System
Many BBB Complaints
II. Zion HealthShare
Zion HealthShare is a nonprofit charitable organization that offers a cost-sharing program so members can help pay for each other's medical costs. The company's philosophy is to foster healthy living and provides a medical advocacy service so members get the health care they need.
Pros

Accepts All Regardless of Faith
Additional Giving Funds Available
No Lifetime Limits
Cons

24-Month Waiting Period For Prior Conditions
Not All Medical Expenses are Covered
Limited Preventive Services
III. Samaritan Ministries Health Sharing
Samaritan Ministries is a healthcare-sharing Christian organization that allows members to share their monthly healthcare bills with other members. Under this program, members agree to pay a set amount each month, which is then used to cover the medical expenses of other members in need.
Pros

Medical Discount Program
Alternative Coverage With Pre-Approval
Travel Expenses May Be Shared
Cons

Must Attend a Christian Church Regularly
Routine Care Not Covered
Initial Unshareable Amount
IV. Christian Healthshare Ministries
Founded in 1981, Christian Healthcare Ministries (CHM) is a nonprofit healthcare-sharing ministry that allows members to share their healthcare costs.
As a Better Business Bureau accredited charity, they have shared over $7 billion for members' medical bills. There are three programs to choose from, with an additional option for catastrophic events.
Pros

Available In All States
Limited Pre-Existing Coverage
Easy Application Process
Cons

Sharing Process Takes 2-3 Months
Accepts Christians Only
Maximum Sharing Limit Per Illness
Understand Your Risk Tolerance When Perusing Plans
When you are shopping for health insurance for your full-time RV needs, it's crucial to understand your risk tolerance. The first factor to consider is the coverage needed.
Suppose you're only looking for basic coverage. In that case, you may want to pay a higher deductible for lower monthly premiums. However, if looking for more comprehensive coverage, you may be less inclined to accept a high deductible.
Be sure you also understand potential out-of-pocket expenses for annual and lifetime payment caps and coinsurance.
Final Thoughts on Choosing Health Insurance for Full-Time RVers
For full-time RVers, choosing the right health insurance can be a challenge. There are various factors to consider, including coverage, costs, and access to care.
Choosing the right health insurance takes time and effort, but finding a plan that meets your needs is worth it. With some research and patience, you can find an affordable health insurance plan to give you the peace of mind you deserve on the road.
---
About the Author: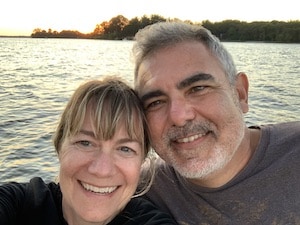 Mike Scarpignato is an avid RVer and outdoorsman. He travels with his wife Susan in their Class A 2021 Thor Challenger and their Class C 2008 Gulf Stream Conquest. Mike is also the owner of RVBlogger.com, TravelTrailerPro.com, and RV Camping Magazine.