You would be surprised how much a Class B RV can tow. Some wouldn't think it's possible, but Class B motorhomes can tow a lot.
Let's take a look at just how much a Class B RV can tow. We'll cover what kind of things you can tow with a Class B RV, what maximum towing weight levels they can pull, and some great Class B motorhomes for towing.
How Much Weight Can a Class B RV Tow?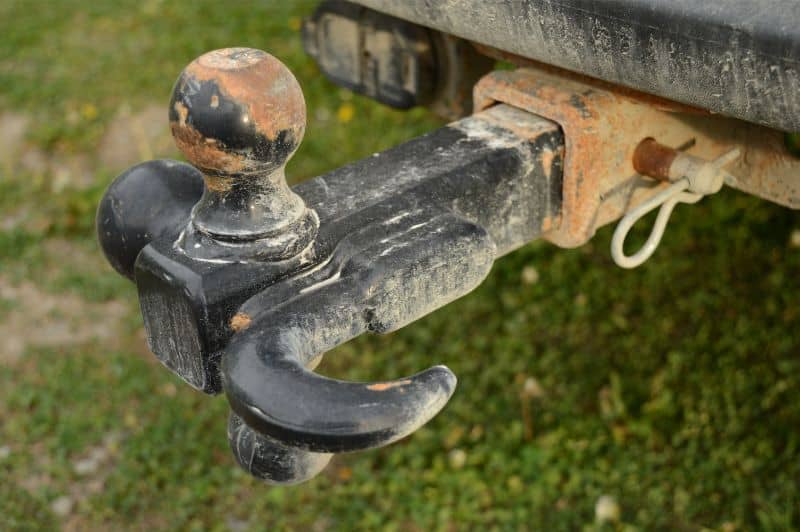 Class B RVs don't have the highest weight limits, but they can still tow what you need. Depending on the exact model, a Class B RV can tow between 3,000 and 5,000 pounds.
Most newer Class B RVs are on the higher end of this scale, making them powerful enough to easily tow small trailers, ATVs, jet skis, and more.
Can a Class B RV Tow a Car?
It's definitely possible for a Class B RV to tow a car, but you'll mostly be limited to compact sedans. Cars with the right transmission, powertrain, and weight that are less than 5,000 pounds are ideal. SUVs and pickup trucks are better suited for larger motorhomes.
If your RV's weight limit is higher, it may also be possible to tow a Jeep Wrangler, which weighs around 4,200 pounds depending on the model. 
There are three main ways to tow a car behind your RV:
On a tow dolly
On a trailer
Flat towing
Flat towing requires you to use a tow bar. It's the most lightweight and convenient option but doesn't work for every car. A two-wheeled tow dolly works for front-wheel drive cars but adds some weight when towing.
If your car isn't compatible with these methods, or you just want to avoid putting extra wear on it, a full trailer is the best way to tow.
Can a Class B RV Tow a Boat?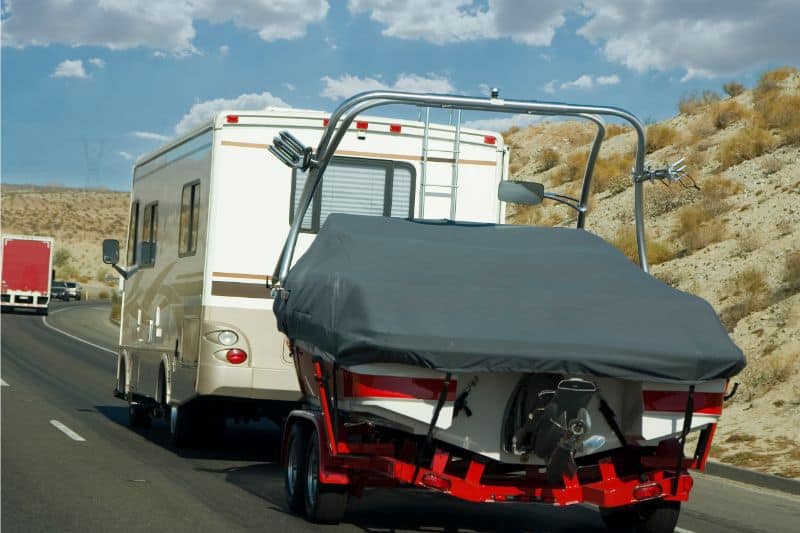 You won't tow any yachts, but a Class B RV can tow most small to mid-size boats. Skiffs, pontoon boats, and smaller fishing boats can all be easily towed by a Class B.
For example, a pontoon boat and trailer will typically weigh around 3,500 pounds combined, which most Class B RVs can tow.
What Is the Average Tow Capacity for a Class B RV?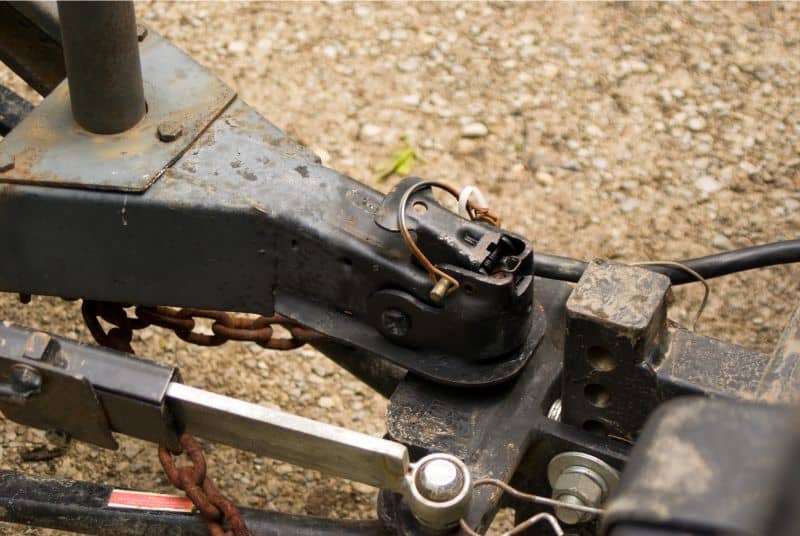 Generally speaking, Class B RVs have an average tow capacity of about 5,000 pounds. Most Class B RVs made in the last few years will be rated to tow up to 5,000 pounds. However, smaller and/or older Class Bs are often limited to around 3,500 lbs or even less.
What Factors Affect a Class B RV Tow Capacity?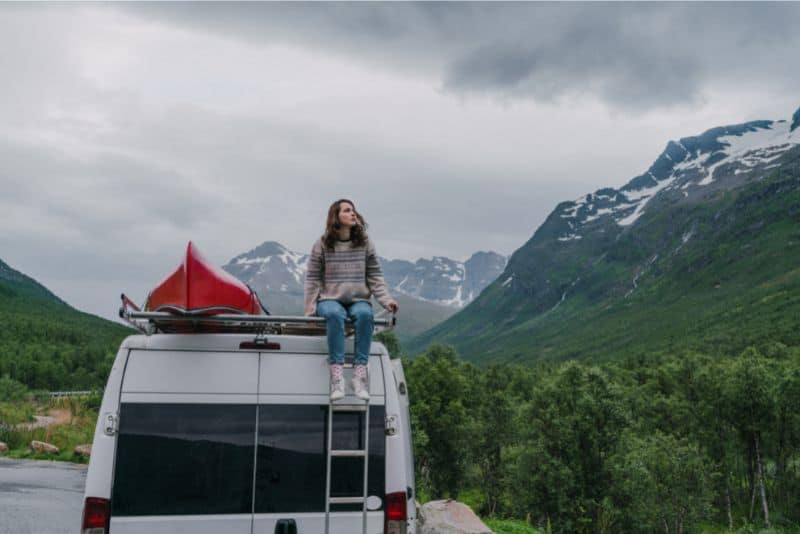 Several different factors can affect a Class B RV's tow capacity. While not a complete list, the following all contribute to an RV's towing capacity:
The chassis
The brakes
The electrical system
Engine and cooling system
Transmission and cooling system
Rear axle and ratio
Suspension
The total weight of the RV
One of the biggest factors you can control is weight. The more weight in your RV, the less extra capacity you'll have for towing. Cargo, passengers, and the fluids in your various tanks all contribute to your total weight.
Class B RVs with diesel engines also tend to have more towing power than Class B RVs with gas engines. So if you're looking for extra towing power, look for a diesel Class B.
Also, the cargo within the object you're towing can significantly affect your Class B RV's ability to tow it. The Cargo Carrying Capacity (CCC) of the boat, car, or trailer you're towing can mean the difference between a safe and unsafe towing experience.
See our sister website Travel Trailer Pro to learn more about the effects of the CCC and towing.
How Does Towing Affect Fuel Efficiency for an RV?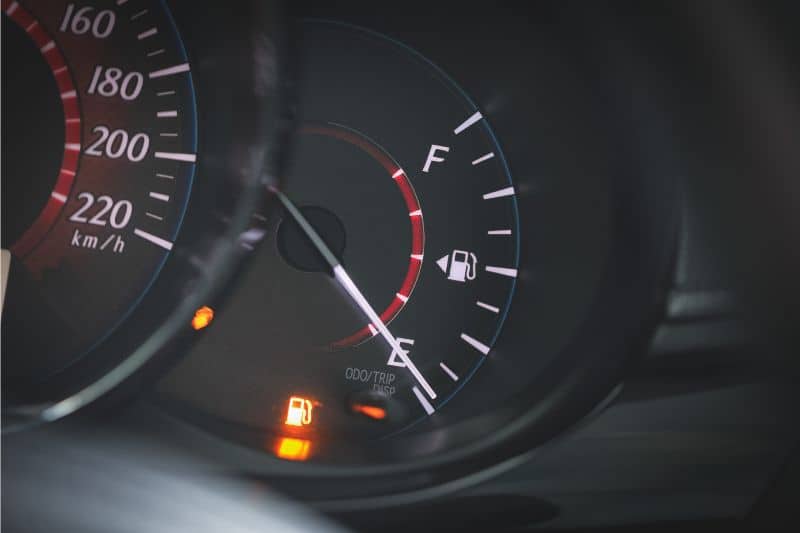 Towing anything with your Class B RV will reduce your fuel efficiency. This is because your RV's engine has to work harder to pull the extra weight. On average, for every additional 100 pounds, you could reduce your mpg by 1%.
Depending on what you're towing, you may also experience increased drag due to reduced aerodynamics. This reduced drag leads to your engine working harder to achieve the same speeds. This, in turn, leads to reduced fuel economy.
5 Class B RVs Great for Towing
Looking for a Class B RV that's great for towing? Here are five Class B RVs with enough towing capacity to fit your needs. 
1. Thor Gemini 23TW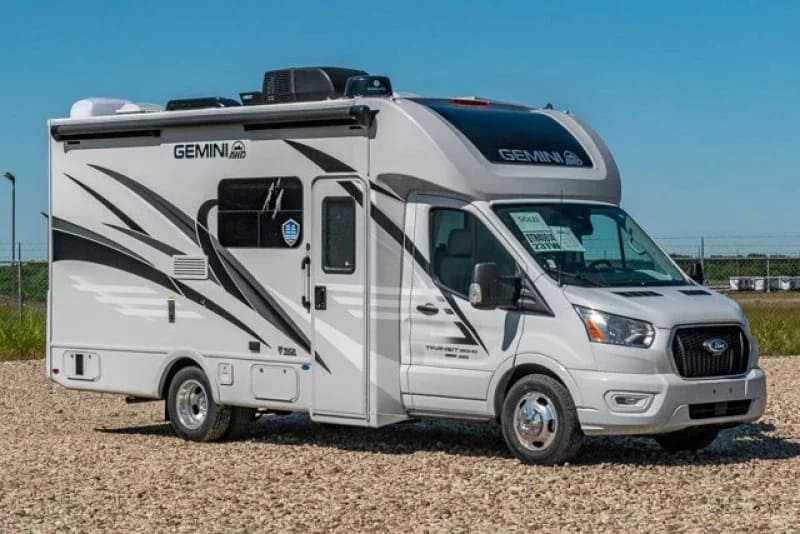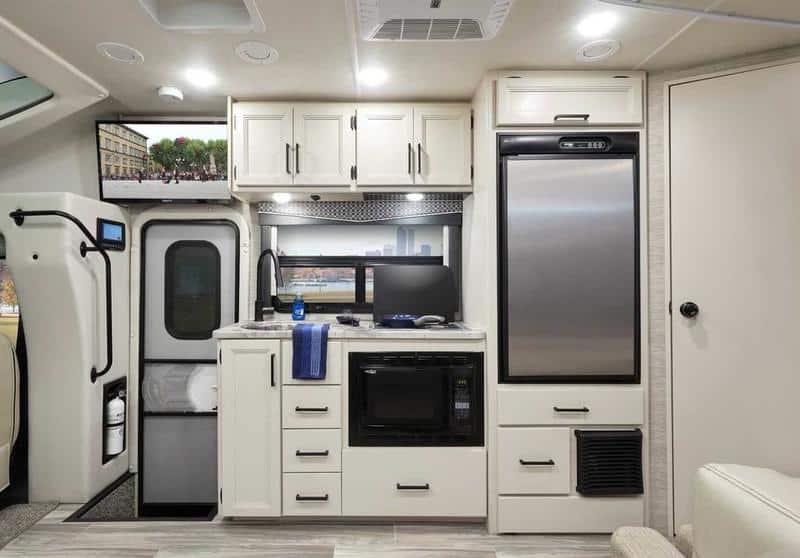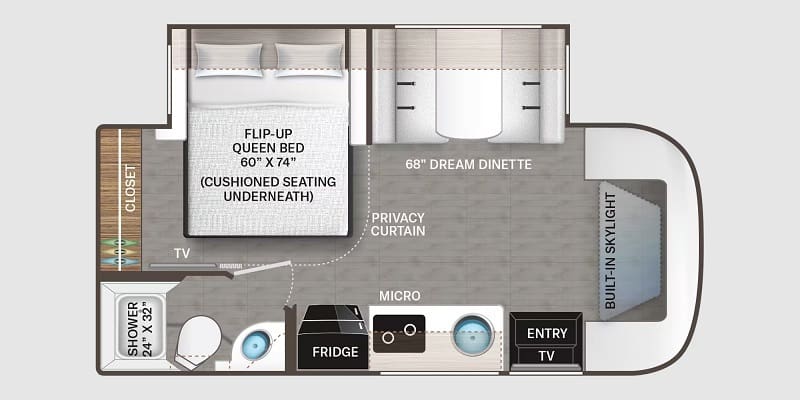 Our Pros and Cons
✅ The tankless water heater and Showermiser system are great for boondocking!
⛔ The all-wheel-drive is okay for off-pavement, but the Gemini's not a true off-roading RV.
Engine: Ford 3.5L EcoBoost® Turbo Gas
Length: 23.7 ft.
Tow Capacity: 5,000 lbs.
Chassis: Ford Transit 3500
GVWR: 11,000 lbs.
Sleep: 2-3
The Thor Gemini 23TW is a Class B+ RV that's great for towing. Based on a Ford Transit chassis and equipped with an AWD system, this RV is well-equipped for adventure. 
The B Plus is nice and spacious, with a murphy short-queen bed and a dream dinette inside the full-length road side slideout. The Thor Gemini 23TW also features a fully equipped kitchen, a full bath, and a built-in skylight over the cab. For power, it comes standard with a 100-watt solar panel and a 4.0 kW gas generator. 
2. RoadTrek Zion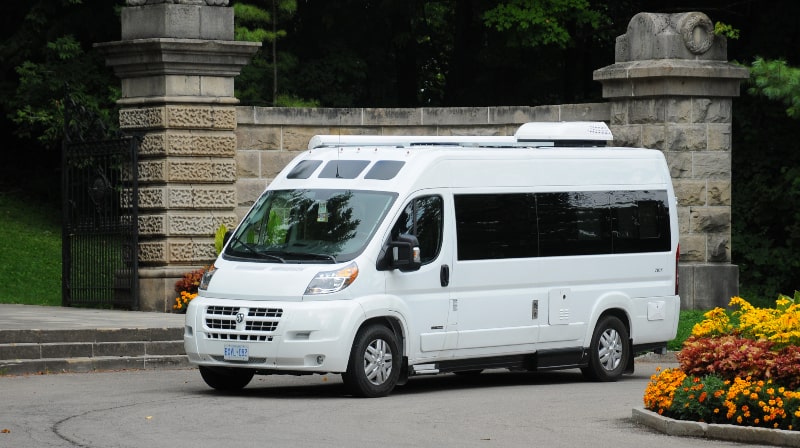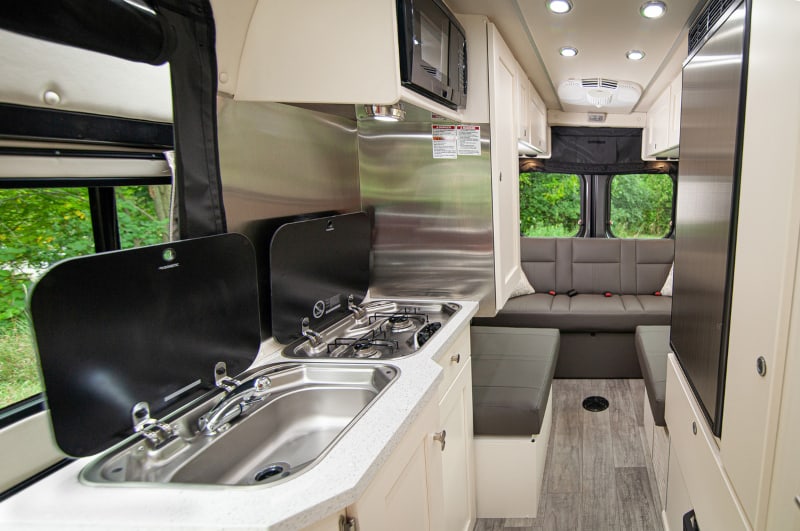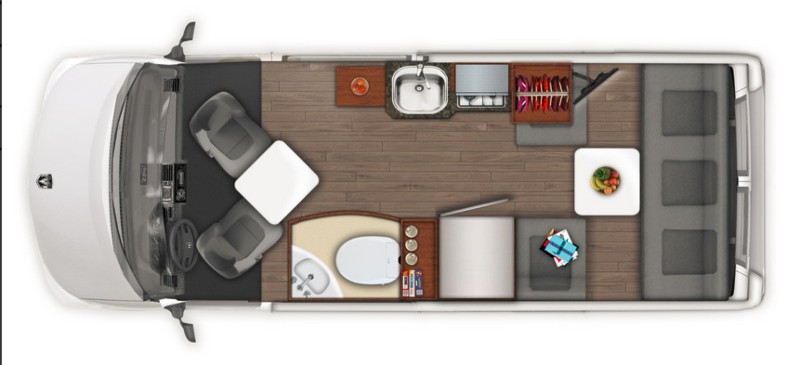 Our Pros and Cons
✅ Standard heavy-duty magnetic bug screens for the rear and side doors!
⛔ The heavier features inside reduce the towing capacity to 3,500 lbs.
Engine: Chrysler 3.6L V6 Pentastar Turbo Gas
Length: 20.9 ft.
Tow Capacity: 3,500 lbs.
Chassis: Ram ProMaster 3500 EXT
GVWR: 9,350 lbs.
Sleep: 2-3
If you want a roomy Class B RV that's great for towing, check out the Roadtrek Zion. This Class B is based on a Ram ProMaster chassis. It is the perfect combination of form and function.
Roadtrek Zion sleeps up to 3 when you lay the optional mattress across the front pilot seats. The large windows provide plenty of light and great views, while an 11,000 BTU roof mount air conditioner keeps things cool. This RV also features a fully equipped kitchen, full bathroom, and other upscale amenities. 
3. Airstream Interstate 24GL

Our Pros and Cons
✅ The new E1 Package is one of the best electric packages on the market!
⛔ Keep in mind the second-row seats reduce storage space.
Engine: Mercedes-Benz Turbo Diesel

3.0L V6 BlueTec Turbo OR
2.0L I4 OM654 Twin Turbo Diesel
Chassis: Mercedes Sprinter 3500XD
GVWR: 11,030 lbs.
Length: 24.6 ft.
Tow Capacity: 5,000 lbs.
Sleep: 2
Airstream's Interstate Series is among the best-selling Class B RVs – and for good reason. These luxury RVs are spacious and comfortable, with tons of great standard features, including 400 watts of solar panels, 2 100Ah lithium batteries, and 2 LED widescreen HDTVs. 
The Airstream Interstate 24GL also includes seating for an impressive nine people, with sleeping space for two. It also includes a full bath plus a galley kitchen equipped with a cooktop and sink. Combine all this with the ability to tow up to 5,000 pounds, and you have a truly great Class B RV.
If you want to juice up the power ecologically, look into Airstream's new E1 Package from Volta. Ditch the LP for 12,000 watt-hours of Lithium-ion energy storage, a hydronic heating system, and other features that keep you energy-independent.
4. American Coach Patriot 170MD2
Our Pros and Cons
✅ The Patriot is the most versatile Class B motorhome on our list!
⛔ The optional Ford chassis will have significant changes, so research it before purchasing.
Mercedes-Benz Diesel (Standard):
Engine:

3.0L V6 BlueTec Turbo OR
2.0L I4 OM654 Twin Turbo

Chassis: Sprinter 3500XD
GVWR: 11,030
Length: 24.2 ft.
Tow Capacity: 5,000 lbs.
Sleep: 1-2
Ford Gas (Optional)
Engine: 3.5L V6 EcoBoost
Chassis: Ford Transit T-350
GVWR: 10,360 lbs.
Length: 22.2 ft.
Tow Capacity: 6,100 lbs.
Sleep: 1-2
The American Coach Patriot is an elegant luxury Class B RV that also has solid towing capacity. This RV features luxury detailing inside and out, with a JL audio surround sound system, and a 600Ah Lithium Freedom Package option that removes the generator.
The 170MD2 has an RV workstation behind the driver and a power rear bench that converts into a full width bed. This particular layout is the most popular, but you'll find that all floor plans include a galley kitchen with fridge and stove top, plus a full bath.
In 2022, American Coach gave their customers a chassis choice. The 170MD floorplan comes standard with the Mercedes-Benz 3500 EXT chassis, but they now offer the layout on the Ford Transit 350 with the 3.5L V6 EcoBoost if you prefer a gas model.
5. Winnebago Era 70A
Our Pros and Cons
✅ The European-inspired flex bed is more sturdy than other twin/king bridge beds!
⛔ Be careful with the shower, because that shower curtain doesn't secure at the bottom.
Engine: Mercedes-Benz

3.0L V6 BlueTec Turbo Diesel OR
2.0L I4 OM654 Twin Turbo Diesel
Chassis: MB Sprinter
GVWR: 11,030 lbs.
Length: 24.3 ft.
Tow Capacity: 5,000 lbs.
Sleep: 2-4
Winnebago is a brand synonymous with RVs, and they make some of the best Class B RVs on the market. The Winnebago Era is no different: It's a powerful, reliable RV with a stylish and cozy interior. If you're fascinated with European innovation, the Era has many of the innovations from "across the pond."
The Era 70A sleeps up to three people, with two twins (that have a bridge for an RV king) and a sofa bed. It also has a kitchen and wet bath, plus two TVs for entertainment. This RV comes standard with a 200 watt solar panel system to power all your devices.
Is it a Bad Idea to Tow Behind a Class B RV?
It's not a bad idea to tow behind a Class B RV. In fact, most Class B RVs are strong enough to tow things like cars, boats, and small trailers. On average, a Class B can tow between 3,000 and 5,000 pounds. Newer camper vans generally fall in the higher end of this range.
Various factors affect your RV's towing capacity, but the point you can most control is the weight. If you want to maximize your towing capacity, cut down on extra weight in your RV. Keep in mind that extra weight from towing will reduce your gas mileage.
With a Class B RV, you have the towing power to bring along:
Jet skis
ATVs or UTVs
Compact cars
Small boats
Small trailers
All that towing power means you can bring whatever you need for your next adventure.
---
About the author:
Jennifer Jennings is a full-time RVer and part-time van lifer. She is one half of DashboardDrifters.com and the founder of RVSpotDrop, a web service for full-time RVers.