As an RV owner you've probably learned quickly and uncomfortably the cost of repairs and maintenance for your motorhome. Even the most basic maintenance tasks can cost hundreds of dollars. To avoid paying a mechanic for RV repairs and maintenance, many motorhome owners are taking the NRVTA Home Study Program.
This program gives RV owners the knowledge and information they need to make most repairs to their camper. In this article, we'll provide you with an NRVTA Home Study Program review. We'll share some of the basics of the program so you can decide if the NRVTA Home Study Course is right for you.
What Is the NRVTA?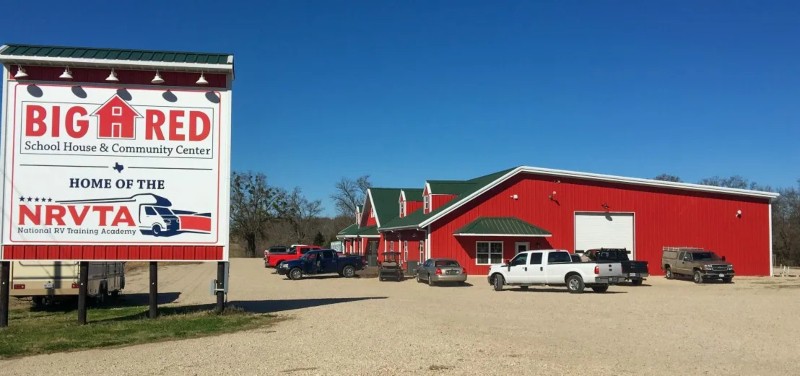 The NRVTA or National RV Training Academy is a vocational training school that specializes in training RV technicians and inspectors. They've provided onsite courses for individuals interested in an RV career.
Located in Athens, TX the NRVTA began as a dream of Mr. Terry Cooper in 2013. Cooper is best known as the "Texas RV Professor" and has spent many years teaching RV technicians the skills of the trade. The NRVTA opened its doors in 2017 and is now a gathering place for RV owners, mechanics, and inspectors to learn and build professional certifications and relationships.
Many people that take classes at the NRVTA's Big Red Schoolhouse and Community Center stay at the Texan RV Park located next door and other lodgings in the area.
Check out this video below all about the Home Study Program!
About the NRVTA Home Study Program
The NRVTA Home Study Program is a course that's designed specifically to teach RV owners the ins and outs of RV repair. By the end of the course, RV owners will know how to repair over 80% of their motorhome or travel trailer's problems.
The curriculum comes in two formats, an online version and a USB flash drive. Both allow you to take the classes at your own pace from the comfort of your home or RV. The USB format comes with printable course materials along with a nifty mini-screwdriver.
Students taking the Home Study Program can expect to learn how to troubleshoot and repair the most common problems with RVs.
The course covers the major systems of an RV and the specifics of major brand components. Knowing these skills could help you avoid the time and money spent at an RV repair facility.
The 6 Topics You'll Learn in the NRVTA Home Study Program?
If you're considering the NRVTA Home Study Program, you may be wondering about the subjects that are covered. The NRVTA Home Study Program provides basic information on maintaining and repairing the major systems in your camper or RV.
1. Fundamentals of RV Electrical Systems
In the Fundamentals of RV Electrical Systems, you'll learn the basics of the electrical networks in your motorhome and common problems. The course starts with the three types of electrical systems used in most RVs and campers:
Automotive chassis
Coach AC current
Coach DC current
From there the class moves to the differences in how direct current and alternating current are applied in the RV and what systems run on each. The electrical systems topic ends with troubleshooting electrical problems and proper operation of a Volt Ohm meter.
2. Heating and Cooling in RVs
The heating and cooling section included in the NRVTA Home Study Program covers the common types of furnaces and air conditioners in RVs.
The lesson includes some of the common problems associated with both heating and cooling systems. You'll also learn how to perform basic maintenance tasks and repairs to your furnace or air conditioning.
3. Water Heaters, Refrigerators, and Other Appliances
Surprisingly, issues with appliances are the most common reason RV owners take their motorhomes in for repairs. This lesson teaches how these appliances operate. This topic also includes the water heater and refrigerator.
The NRVTA Home Study Program covers the two most popular RV water heater brands. However, if your RV doesn't have one of these two options, you'll still get a good enough understanding of how these components work so you can troubleshoot many problems.
4. Water Tank Systems
Self-sustaining RVs provide you with plumbing for managing fresh and wastewater. The NRVTA home study program teaches you how each of these water systems works. The lesson on water tank systems covers freshwater tank maintenance and repair. It also discusses common problems with black and gray water tanks.
5. Propane and Fuel Systems
For those without the newer hydronic water heater systems, propane is essential for operating many of the appliances in your RV. LP runs components like:
2-way/3-way refrigerator
Furnace
Hot water heater
Indoor/outdoor RV cooking devices
Some generators
When your propane system goes on the fritz, it can a big inconvenience.
The lesson on propane and fuel systems teaches the RV owner how to locate the cause of common propane system problems. You'll also learn how to fix the most frequent issues with propane and fuel systems in an RV safely.
6. Workbooks and Exams to Help with Retention
The NRVTA Home Study Program provides each student with helpful workbooks for each lesson. These workbooks are a great reference to fall back on when your class is done. They're great study guides and make great reference sources should you need to make a repair to your RV at a later date.
For RV owners that purchase the USB format course, the workbooks are provided with your USB drive. If you're taking the class online, the NRVTA provides the PDF booklets via links within each lesson.
Many people that chose to take the NRVTA Home Study Program are looking to make RV repair a career. To help these individuals assess their understanding of the subjects each lesson has an exam. Exams can be used to help with skill retention or to provide an objective evaluation of your learning.
What Does the NRVTA Home Study Program Cost?
As we've mentioned previously, the NRVTA Home Study Program comes in two different formats; online and USB drive. Depending on the format that you select you'll pay a different price.
The less expensive of the two formats is the online version. For the online course, you will pay $297.00 for the full course including PDF versions of the workbooks. When you purchase the online version, you'll set up a student account where you'll be able to access the lessons, exams, and workbooks.
The USB Drive version costs $397 per person. If you purchase this version, you'll receive a physical USB drive with all of the lesson videos.
The drive will be sent to your home, along with the printed versions of all of the workbooks and a mini-screwdriver. This package is a great value as it also gives you access to all of the online lessons as well.
Mike and Susan at RVBlogger own this course themselves and highly recommend it. In fact, they reached out to the owners of the Home Study Course for a discount code so you can save a few bucks when you buy the program. The discount code is RVBLOGGER.
What If You Don't Get Your Money's Worth Out of the Course?
Many motorhome and travel trailer owners have found the NRVTA Home Study Program worth it, but it may not be useful for all RV owners. If you purchase the program and find that it isn't useful for you, the NRVTA does have a refund policy.
The refund must be requested before 30 days of your purchase. The USB drive and the complete package of the materials must be returned before a refund is processed.
Online students will receive a refund based on the number of lessons not accessed. For example, if you only accessed the first two lessons, even if you didn't complete them, your refund will deduct those lessons from the refund.
Who Is Meant to Take the NRVTA Home Study Program?
The National RV Training Academy has designed its Home Study Program for a range of individuals. However, their primary audience is RV owners that want to enjoy more time on the road and less time at repair shops.
The basic intention of this course is to teach RV owners how their camper works. Then the class takes the next step and shows motorhome and travel trailer owners how to troubleshoot and repair common problems.
The NRVTA Home Study Program gives you the confidence and knowledge to do common repairs on your RV.
Could You Start Your Own RV Repair Business with the NRVTA Home Study Program?
The NRVTA offers other courses that prepare individuals for careers in the RV maintenance and inspection industries. They're designed for individuals that want to work on RVs professionally. The NRVTA Home Study Program unfortunately isn't designed for this purpose.
The NRVTA Home Study Program is specifically designed with the RV owner in mind. The skills and information that this course provides allow you, the camper owner, to make common repairs on your motorhome.
For RV owners that want to take the next step by starting a business or want to learn more about their motorhome, NRVTA offers additional classes. Many RV owners travel to Athens, TX to take the hands-on classes at the Big Red Schoolhouse.
What Are the 4 Pros of the NRVTA Home Study Program?
If you are still undecided about whether the NRVTA Home Study Program is right for you, here are some helpful pros to guide you.
1. Convenience
The study-at-home format is great, especially if you aren't ready to travel to Texas for hands-on learning. With two program formats, you can pick the one that suits your style the best.
2. Great Information
You don't have to be a mechanic to understand the subject matter. If you're well acquainted with your motorhome, this class gives you additional, helpful information.
3. Easy to Follow
The video format is great, and the instructor makes understanding the information easy. The workbooks also help with keeping the information easy to grasp.
4. Affordable
For a low price, you can learn to do the most common maintenance and repair work on many of the systems in your RV. You'll spend at least this much to take your motorhome to an RV service center for a diagnostic.
What Are the 4 Cons of the NRVTA Home Study Program?
Maybe you're skeptical and want to know the downsides before you sign up. Here are some of the cons of using this program.
1. One Size Doesn't Fit All
This program tries hard to provide the most common information that can be applied to all RVs. However, that's a big task. If your RV has an appliance or system that's different than described, you may still have to visit a repair shop.
Also, you may feel more comfortable in a classroom setting. If so, the NRVTA offers an Educated RV Owners Course at their Athens, TX, location.
2. Computer Literacy is a Must
Not every RV owner has a computer or is comfortable enough with computer use for this course.
3. Not In-Depth Enough to Start a Business
If your goal is to start an RV repair business or work professionally, this course is just too basic. You'll want to explore some of the other in-person courses that the NRVTA offers.
4. The Refund Policy Requires Some Practicality
If you choose the online format, you don't want to watch all of the videos at once. Once you've watched one video, rewatch it, read through the PDF course booklet, and apply that knowledge in your RV.
Find those electric systems, plumbing, and other components. Essentially translate the topics to your specific situation. If the NRVTA Home Study Program doesn't sync up with your learning method, then ask for a refund.
Don't watch all the videos at once and confuse yourself, trying to keep it all straight in your mind. If you watch the whole course and can't apply the information to your RV, you're out of luck.
Why We Suggest Motorhome Owners Take the NRVTA Home Study Program
When you weigh the pros and cons of the NRVTA Home Study Program, the pros really outweigh the cons. This program is a great tool for every RV owner to have. You never know when something will break and you're miles from a repair shop.
Knowing how to make basic repairs to many of your motorhome's systems can be a lifesaver. And a money saver.
If you want to learn more about your RV and have some skills that you can share with your fellow travelers, we suggest that you consider the NRVTA Home Study Program. It might just be one of the best travel investments that you make.
Use the "RVBLOGGER" discount code to receive 10% off the online or flash drive program.
---
About the Author:
Jason Gass is a full-time freelance writer and part-time RVer whose goal is to share great stories around a campfire with good friends.
When he's not working, he spends most of his time camping, searching for the best breweries, and road-tripping in his teardrop trailer with his wife, daughter, and two dogs.