RV mail services are essential for full-time RVers who want to stay connected to the "outside world." But with so many options on the market, it's tough to know which one is right for you.
To help you decide, we've compiled a detailed review of five of the best RV mail services. From the uncomplicated and affordable to the most comprehensive and feature-rich service, we'll help you find the right RV mail service for your needs.
How Do You Get Your Mail When in an RV?
One of the great things about RVing is that you can take your home with you wherever you go. However, not all conveniences of home follow you on your travels. Take, for example, the question of how to get your mail while living in an RV.
Unlike a traditional home, an RV doesn't have a dedicated mailbox, making it tricky to stay on top of your correspondence while on the road.
One option is to use an RV mail service. These services provide you with a physical address that you can use to have your mail sent. The service then forwards mail to you, no matter where you are in the country.
Another option is to send your mail to a relative or friend's house if you have someone you trust who'll help and doesn't mind being your go-between.
The United States Postal Service offers a few options for RVers who want to receive mail while on the road. A P.O. Box or General Delivery mail are the best options for long-term stays.
You can also rent a mailbox at a UPS Store or other private mailbox service. Just keep in mind that these options can be pricier than RV mail services.
And finally, a few RV parks and campgrounds offer mail services for their guests. Unfortunately, although this can be helpful while you're staying at one campground for an extended period, it's not always possible.
No matter your choice, getting your mail while RVing doesn't have to be complicated. Using one of the RV mail services on our list, your correspondence will follow you wherever your travels take you.
What Is an RV Mail Service?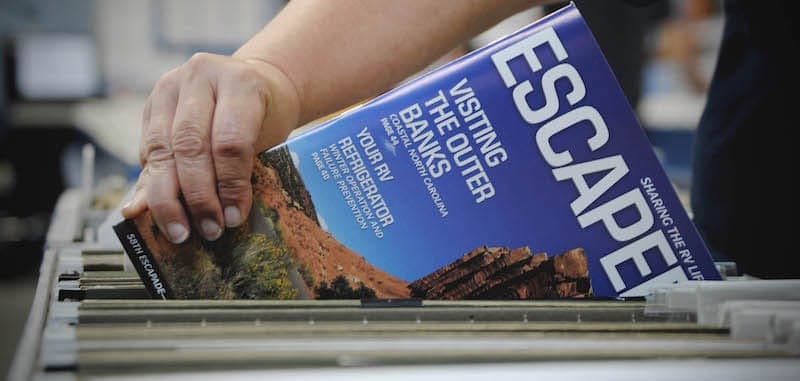 An RV mail service is essentially a mailbox on wheels specifically designed to meet the needs of RVers. RV mail services provide RVers with a physical mailing address to receive mail and packages while on the road.
What 4 Main Services Does an RV Mail Service Offer?
RV mail services are excellent for RVers on the go who need a reliable way to stay connected. The primary services RV mail services offer are:
1. RV Mail Forwarding Services
One of the most popular services RV mail services offer is mail forwarding. Having your mail sent to a central location, where the mail service will forward it to your current site, is an excellent option for those constantly moving.
2. Package Receiving
RV mail services can receive packages on your behalf and hold them until you're ready to have them forwarded.
3. Mail Scanning & Email Notifications
Some RV mail services offer scanning and email notifications, which is a good option if you want to view your mail online without waiting for it to be forwarded.
4. Domicile/Residency Declaration
Another benefit of these RV mail services is that they give you a physical address that can be used to declare your domicile state, county, and city "home" location.
This can be a huge advantage when it comes to tax season, your driver's license, RV registration, and other concerns.
What Are the 5 Best RV Mail Services?
RVers on the go need a reliable way to stay connected, and that's where RV mail services come in. Knowing which RV mail service is best for you is essential, as each offers different services and benefits. Here are the five best RV mail services.
1. Escapees RV Club
The Escapees RV Club is the country's oldest and largest RV camping club. Escapees have assisted RVers with receiving and sending mail with over twelve hundred subscribers for over thirty-five years.
The club offers a physical address in Florida, Texas, or South Dakota and will forward mail to any location in the United States.
RV mail service is an additional cost to the annual Escapees RV Club membership. There are three RV mail service subscription options:
Category A- Basic Mail Forwarding
The least expensive mail service option is Category A. It offers standard mail forwarding service regardless if it's junk mail or not, which can add to the mail forwarding expense.
Category B- Remove the Junk Mail
At Category B, subscribers receive only the mail they choose, such as magazines, newsletters, catalogs, and First Class mail. Escapees dispose of the rest of the mail, saving subscribers money to avoid unwanted forwarded mail.
Category C- Full Customized Mail Forwarding
For Category C subscribers, C stands for customization. Like Category B, Escapees only forwards the type of mail you want, but you can dive deeper into the mail specifics. For example, if you only wish for magazines that pertain to RVing forwarded, the Escapees staff toss the rest.
Mail Document Scanning
For an additional monthly fee, you can request certain pieces of mail to be opened, scanned as a PDF, and emailed for even more convenience.
Key Features
Personal mailbox
Mail review
Mail scanning
Pros
Online access
Special sorting
Mobile app
Cons
What Customers Have to Say
"They have been doing it right for many years. If you look up the history, it's impressive."

Paul McPhillips on Facebook
Our Take
Many full-time RVers use the Escapees mail forwarding service and are pleased with it. In addition, the RV Club has a long-standing reputation in the RV community and offers rich membership benefits besides the mail forwarding service.
2. Good Sam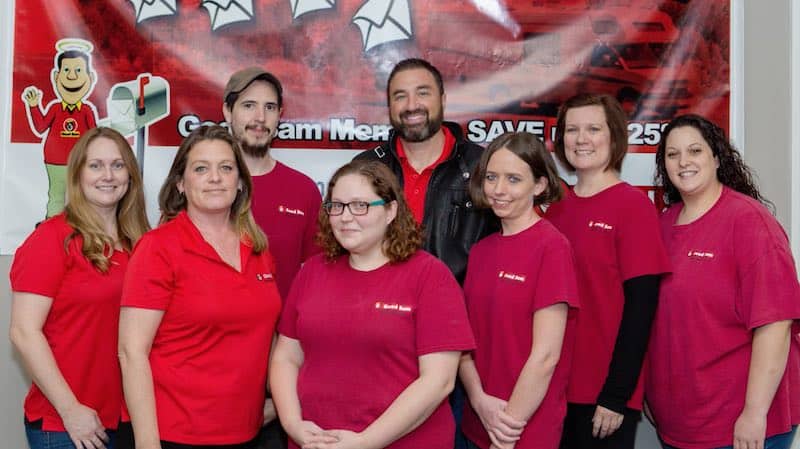 The Good Sam mail forwarding service (also known as My RV Mail) is another membership-based RV mail service. Unlike Escapees, Good Sam offers a unique mailing address only for Florida. There are two plans available: premium and business.
Premium Plan
The premium plan offers all the features you need to stay on top of your mail while on the road, like envelope content scans, email alerts, and customized shipments. Plus, you receive free check depositing.
Business Plan
For RVers with business needs, the Good Sam business plan offers everything the premium plan does and includes phone and fax services.
Key Features
Plan specific for businesses
Free check depositing
Customized shipments
Pros
Check deposit service
Exclusive business plan
Excellent customer service
Cons
Only available for Florida residents
More expensive than Escapees
What Customers Have to Say
"I have been highly satisfied with the service and could not recommend it more. We requested a bulk of mail [to] be shipped one night, and the next morning, I [had] tracking information. The setup process is easy and painless, with minimal effort needed."

Eric Drinkard on Google Reviews
Our Take
The Good Sam mail forwarding service is a popular option for Florida residents. To have specific business benefits is a plus, and their customer service is top-notch. However, we wish they had a plan for RVers outside of Florida.
3. Traveling Mailbox
Traveling Mailbox is a virtual service that caters to RVers and ex-pats, providing a unique address for customers and handling all of their mail needs.
Customers can access their mail online through Traveling Mailbox's easy-to-use platform and receive email alerts whenever new mail arrives.
Plus, they offer scanning and cloud backup services so you can declutter your paper mail and have peace of mind knowing your documents are safely stored.
Key Features
Virtual service
Unique address
Scanning and cloud backup services
Pros
Many cities for address choice
Cons
Slow mail delivery
Only UPS available for larger shipments
Address not a physical residential address
What Customers Have to Say
"I've been using Traveling Mailbox for the past 4 years and have been impressed with their service. They scan the outside of every piece of mail, and then you can elect to have the contents scanned or shredded. I've had mail forwarded and had them deposit checks without issue."

Sean C. on Yelp
Our Take
Traveling Mailbox is a great option for keeping your mail organized and accessible if you're RVing or living abroad. We love their scanning and backup services, which make it easy to declutter and go paperless.
Email alerts are also a great way to stay on top of your mail while on the road.
However, it takes longer for mail to arrive when using Traveling Mailbox since it has to be forwarded from their U.S. address and then to your location.
4. St. Brendan's Isle
If you're looking for a top-notch mail forwarding service that can assist you with establishing a domicile in Florida, look no further than St. Brendan's Isle.
Founded over thirty years ago, this unique company is popular among RVers for its easy-to-use traditional and virtual mail services.
St. Brendan's Isle is more than just a mail forwarding service—they also offer many other benefits to make your life on the road easier.
For example, they can help you get a Florida driver's license and register your vehicle. Plus, they also assist with voter registrations and driver's licenses.
Furthermore, St. Brendan's Isle provides an inactive status for part-time RVers who don't want to cancel their domicile.
Key Features
Provides an inactive status option
Traditional and virtual mail services
Assists with driver's license and other registrations
Pros
Affordable
Offers many benefits
RV friendly
Cons
Only Florida domicile is available
What Customers Have to Say
"I've used them for two years when we do our on and off travel. They are great. They email you every time you get mail. You can see all your accumulated mail online (envelopes). For a small additional fee they will also open and scan any mail you check so you can see what is in important-looking mail without waiting for it to get to you by snail mail. And of course they will send your mail wherever you want, whenever you want it."

Sunny1 says on Van Living Forum
Our Take
St. Brendan's Isle is a great choice for RVers looking for an affordable mail forwarding service with many benefits and services. However, it is only available for those with a Florida domicile.
5. Americas Mailbox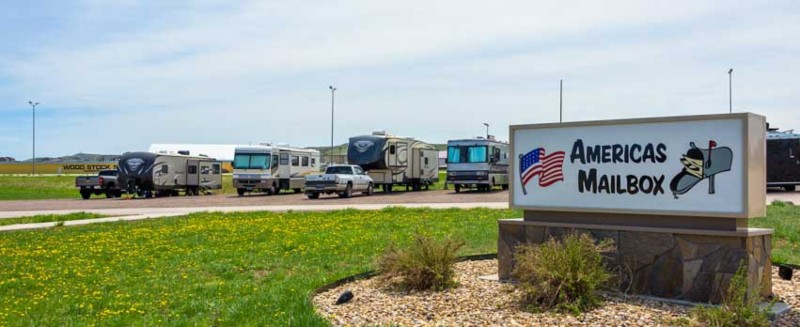 Headquartered in Rapid City, South Dakota, in 2004 by full-time RVers, America's Mailbox provides RVers with a physical mailing address and a suite of services, such as vehicle and voter registrations. 
In addition, members can manage their mail while they travel while taking advantage of a South Dakota domicile that provides unique tax advantages.
America's Mailbox offers six short-term, small-business, and full-service plans. Each plan includes unique features and services, so RVers can choose the one that best meets their needs.
In addition, you can schedule mail delivered on your timetable (daily, weekly, monthly, etc.) through USPS, FedEx, and other common carriers.
Key Features
South Dakota domicile
Notary services
Campground on-site
Pros
Provides vehicle insurance quotes
South Dakota insurance rates may be less expensive
Cons
What Customers Have to Say
"The patience, courtesy, and an informative resource that is rare to find…"

Fractal C. on Yelp
Our Take
If you're a full-time RVer or travel often, Americas Mailbox can provide you with a physical mailing address and offer other RV-related services, like insurance quotes and notary services.
South Dakota's lower insurance rates may make this service appealing to RVers. While a membership fee exists to join the Family Motor Coach Association, Americas Mailbox's benefits and services may be worth the cost.
Which RV Mail Forwarding Service Is the Best?
There are many RV mail forwarding services, and deciding which is right is tough. Your needs and lifestyle will determine the best RV mail forwarding service for you.
For example, if you're a full-time RVer, you'll need a service that can forward your mail no matter where you're set up. Or, if cost is a factor, choosing an affordable plan will take precedence.
If you're a member of an RV club, such as Escapees, Good Sam Club, or FMCA, your best bet may be to use the mail forwarding service related to your membership for an easy transition.
The best RV mail forwarding services will have a few things in common: they'll be reliable, offer excellent customer service, and have reasonable rates.
But, regardless of which service is right for you, RV mail forwarding services offer many significant benefits for full-time RVers.
RV Mail Forwarding Service FAQs
Many RVers have questions about RV mail forwarding services and what they offer. That's why it's essential to know the answers to some common RV mail forwarding service FAQs before deciding.
How Exactly Do RV Mail Forwarding Services Work?
RV mail forwarding services provide a physical address for full-time RVers and travelers. This service is beneficial because it allows you to maintain a permanent mailing address, even if you move frequently.
When you sign up for an RV mail forwarding service, the organization will assign you a unique address you can use for all your correspondence. Your mail is then delivered to that address and forwarded to your current location.
Are RV Mail Forwarding Services Reliable?
RV mail forwarding services are reliable, but with any service, mistakes can happen. If you're concerned about the reliability of a particular service, you can always read reviews from other RVers to see what their experience has been.
How Much Do Mail Forwarding Services Cost?
Various mail forwarding services are available, and the cost will vary depending on your chosen service. However, you can expect to pay around $5 per month for basic forwarding services.
You may need to pay a little more if you need additional features, such as package tracking or storage.
Overall, RV mail forwarding services are relatively affordable and can be a great way to keep your mail safe and secure.
Who Needs a Mail Forwarding Service?
An RV mail forwarding service can benefit full-time RVers, small businesses, traveling nurses and doctors, truck drivers, military personnel, and student world travelers. In essence, any nomad, anywhere in the United States.
Can I Use an RV Mail Service to Set My Domicile Address?
If your RV mail service provides you with a legal, physical address, you can use it to set your domicile address.
Are There Other Ways for RVers to Get Their Mail?
Yes, there are other ways for RVers to get their mail. For example, some RVers may use a family or friend's address, a post office box, or a commercial mail-receiving agency (CMRA).
Why Can't You Just Send Your Mail to the RV Park You're Staying At?
RV parks rarely allow guests to use their addresses for mail delivery. Many don't want to take the responsibility for keeping guests' mail and delivering it to them (remember, we're dealing with federal law).
If the RV park receives a piece of mail for a prior guest or one that hasn't shown up yet, it then becomes the RV park's owner or manager to track that person down and send them their mail. Even if it's a piece of junk mail, it's an issue that can become too difficult for them to complete.
Another reason many RV parks don't allow guests to use their addresses for mail delivery is because of liability. RV parks don't want the responsibility of holding someone's mail if it gets lost or stolen.
Do Snowbirds Need a Mail Service?
If you're a snowbird who travels between two residences, you may not need a mail service. You can keep your domicile address at your primary residence and use the U.S. post office's mail forwarding service to send your mail while you're away.
However, some RVers may want to use a mail service that offers an inactive option like St. Brendan's Isle.
Does It Really Matter Which RV Mail Service I Choose?
Yes, it matters which RV mail service you choose to ensure the company meets your needs.
Unfortunately, not all RV mail services are created equal. Some mail forwarding services are nothing more than a glorified post office box, while others offer a wide range of services.
Is an RV Mail Service Worth It?
Whether an RV mail service is worth it is 100% up to you. Some RVers find that the convenience of using a mail service is worth the cost. Others are perfectly content using alternative methods to get their mail.
There's no right or wrong answer regarding using an RV mail service. Ultimately, the decision is yours to make.
Final Thoughts on Choosing the Best RV Mail Service for You
Consider your needs and budget when choosing the best RV mail service. Research each company thoroughly to ensure they're a good fit. Read reviews and ask for recommendations from other RVers.
By choosing the best RV mail service for your needs, you can have the peace of mind your mail is safe while you travel. We hope this guide has helped you choose the best RV mail service.
---
About the Author: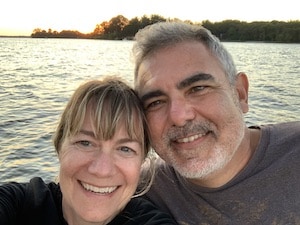 Mike Scarpignato is an avid RVer and outdoorsman. He travels with his wife Susan in their Class A 2021 Thor Challenger and their Class C 2008 Gulf Stream Conquest. Mike is also the owner of RVBlogger.com, TravelTrailerPro.com, and RV Camping Magazine.