If you're anything like us, an RV coffee maker is a must-have. So, when we head out in our camper, we like to have a great way to make our morning coffee. There are many coffee makers on the market, but which are the best RV coffee makers?
There are several factors that you need to consider when you are shopping for an RV coffee maker. Things like power, fuel source, and size are all important to consider when looking for the best RV coffee makers.
To help ease the effort to find a coffee maker for your RV, we've compiled a list of our favorites. This article will show you the 19 best RV coffee makers. We'll also give you some features to consider when shopping for your own RV coffee maker.
The 19 Best RV Coffee Makers
French Presses
1. Cafe Du Chateau French Press
Making French press coffee adds a little class to your camping adventure. The Café Du Chateau French Press is a beautiful tool for making coffee. This is a great RV coffee maker selection if you want a fancier option for your breakfast table.
French press coffee makers make a more robust cup of coffee. The Café Du Chateau French press has a unique four-level filtration system. Fine screens keep grounds out of your delicious and bold cup of coffee.
The body of this French press is made from heat-resistant glass and stainless steel. These durable materials make this a great French press option for traveling. The Café Du Chateau French press is compact, easy to store, and simple to clean.
2. Secura French Press Coffee Maker
The French press is an excellent way to make coffee when you want a more robust coffee but don't have room for a big coffee maker. The Secura French Press is ideal for camping thanks to its durable stainless steel and double-walled insulation.
Secura offers four different size French presses. Depending on how much coffee you need to make, there's a great option for your camping needs. You'll not have to worry about extra coffee getting cold in this insulated French press. The quality construction and 18/10 stainless steel keeps coffee warm for 60 minutes longer than similar products.
Percolators
3. Coletti Bozeman Camping Coffee Pot
The Coletti Bozeman camping coffee pot is a great RV coffee maker for RVing off the grid. The Bozeman coffee pot is an old-school way of making coffee. This percolator makes coffee on your propane stove or campfire grill. There's no electricity required to brew up your morning cup.
Coletti's percolating coffee pot is made from highly polished stainless steel. It's durable and compact, so it fits easily into snug van or truck camper storage. The coffee pot has an attractive wood handle that allows you to pour coffee even when the pot is still hot.
An added bonus is that this percolator comes with a built-in filter. The medical-grade filter keeps fine grounds out of your coffee cup.
4. Primula Stovetop Espresso and Coffee Maker
Primula brings you the European coffee experience in your motorhome. The stovetop espresso and coffee maker allows you to enjoy European-style coffees, including espresso, in the comforts of your RV.
Brewing from your stovetop means that you don't have to have shore power to have a delicious cup of coffee. The Primula espresso and coffee maker is ideal for boondocking in your RV or when you need your coffee at a highway rest stop.
The Primula Stovetop Espresso and Coffee Maker comes in five different sizes and three attractive colors. The smaller size of this coffee maker works well for RVs and campers with limited storage. This coffee maker can complement your normal coffee-making routine if you need that extra shot of espresso in your cup of joe.
5. Farberware Classic Yosemite Coffee Percolator
A percolator is a great option if you want a coffee maker that brews delicious coffee even when you're camping off the grid. The Farberware Classic Yosemite Coffee Percolator makes a robust cup of coffee on your stovetop or campfire grill (beware of the handle melting on the campfire).
This coffee maker comes in two sizes, an 8-cup or 16-cup option. Both are stainless steel with an ergonomic, heat-resistant handle. When you want to clean this coffee maker really well, take it home and toss it into the dishwasher. The stainless-steel construction is durable and perfect for any style of camping.
Both size options fit in tight RV kitchen cabinets or drawers. This coffee maker is also safe to use on gas stoves in your camper or a standard camp stove.
Farberware doesn't directly say one way or the other, but you'll find coffee percolator customer reviews that say percolators work or don't work on induction cooktops. We recommend conducting your own research on this and deciding for yourself what's best.
Single-Serve Coffee Makers
6. Keurig K-Mini Coffee Maker
If you like the reliability of a name-brand appliance, the Keurig K-Mini Coffee Maker will make a great addition to your RV or camper. Keurig invented the single-serve coffee maker. The K-mini is an ultra-compact version of their handy coffee maker.
The compact size of this coffee maker is ideal for motorhomes or travel trailers that don't have a lot of counter space in the kitchen. The K-mini uses standard-size K-cups and can make either 6-ounce or 12-ounce cups of coffee.
One of the fun features of the Keurig K-Mini is that it comes in various colors. You can match your coffee maker with your RV's interior colors or just pick a color that makes your morning coffee routine cheery.
7. Mueller Ultimate Single-Serve Coffee Maker 
Single-serve coffee makers are really popular right now, so we found an excellent one for our list. The Mueller Ultimate single-serve coffee maker is perfect for your motorhome travels.
This electric coffee maker uses single-serve coffee pods to make a delicious cup of coffee. The versatility of the pods allows you to try different types of coffee depending on your mood or preference.
The Mueller single-serve coffee maker is a bit more expensive than other options, but it's by far one of the most reliable single-serve coffee makers on the market today. It's simple to use and comes with a really nice warranty.
8. NESCAFÉ Dolce Gusto Genio 2 Coffee Machine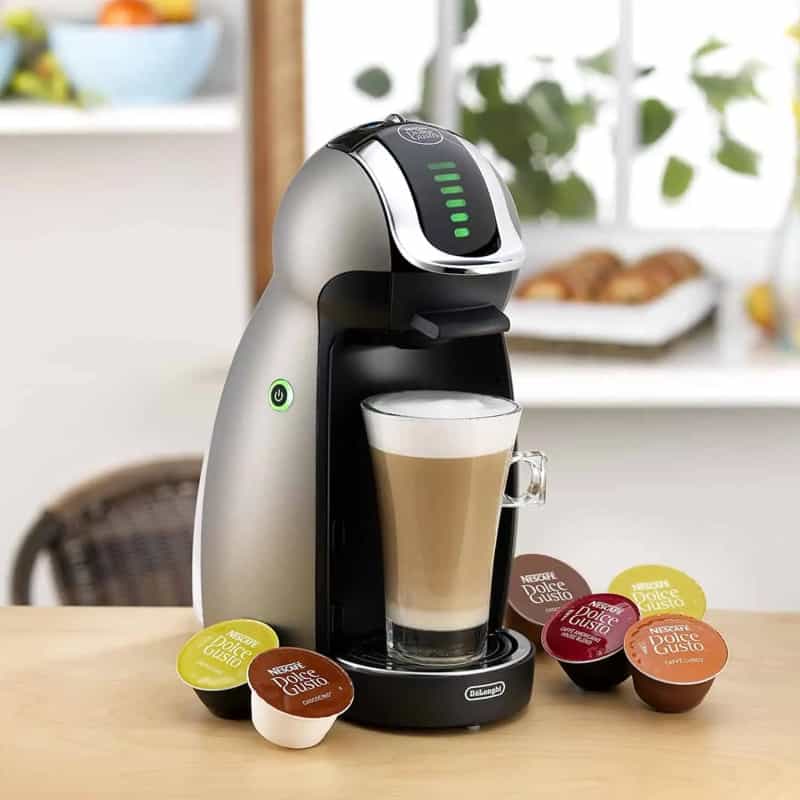 Are you nestled in the woods and craving a latte or cappuccino? If a town is too far away, but you want "fancy" coffee, the Nescafé Dolce Gusto Genio 2 Coffee Machine is your RV's coffee maker. 
The Dolce Gusto is a multi-function coffee maker. It makes regular black coffee, and the 15 brewing options make coffee house favorites. The 15-bar maximum pressure makes a perfect espresso for lattes or cappuccinos. This coffee maker also brews cold coffee.
You'll need to purchase the Nescafé coffee pods for this coffee maker. These pod packages include the milk and coffee mixture within the pods for the perfect latte or other coffee drinks. An additional milk frother or steamer is unnecessary with the Nescafé coffee pod kits.
9. Instant Pot Solo 2-in-1 Single Serve Coffee Maker
Instant Pot has ventured into the coffee-making game with its single-serve coffee maker. This is another RV coffee maker option for smaller motorhomes and travel trailers with limited counter or storage space.
The Instant Pot Solo coffee maker uses standard K-cup pods for brewing coffee. The single-serve brewing allows you to change your coffee preference depending on your mood. The Instant Pot coffee maker also has an adjustable brew option for lighter or bolder brewing.
Drip Coffee Makers
10. Coleman QuikPot Propane Coffee Maker
The Coleman QuikPot is a versatile coffee maker. This coffee maker utilizes a one-pound propane bottle for power. It's perfect for campervans or small campers.
People have trusted the Coleman brand for over 100 years, and this propane RV coffee maker is another great product from this company. The 10-cup carafe holds plenty of coffee for two or three people. The insta-start button allows you to fire up this coffee maker without matches.
All of the removable parts of the Coleman QuikPot are removable and dishwasher-safe. It even comes with a handy storage bag for easy storage.
11. Coleman Grill Top Coffee Maker
Another Coleman is the Coleman camping coffee maker. It fits over the burner of a standard 2-burner camp stove. This is a great RV coffee maker option for boondocking. It's also a great pick for owners of Class B and C motorhomes with limited space.
This Coleman coffee maker is larger than some of the other versions on our list. It makes up to 10 cups of coffee. If you don't need the burner, this coffee maker can also keep your coffee warm.
Another great feature of the Coleman camping coffee maker is the Pause 'N Serve feature. With Pause 'N Serve, you can get your first cup of coffee before brewing has finished.
12. Mr. Coffee 5-Cup Mini Brew
The Mr. Coffee 5-Cup Mini Brew Coffee Maker is the perfect option for small spaces. The tiny footprint of this coffee maker is ideal for smaller entry-level motorhomes.
This is a simple-to-use, basic coffee maker. If you just want a quick cup of coffee to start your day, the mini brew has you covered. The 5-cup capacity is perfect for two 12-ounce cups of coffee. The single on/off button is as technical as it gets. 
The black and white color scheme of the Mr. Coffee makes the 5-cup mini brew fits with any RV interior. All of the removable parts, including the filter basket, are dishwasher-safe.
13. Cuisinart 4-Cup Coffeemaker
The Cuisinart 4-cup coffee maker is great for smaller RVs and travel trailers. This electric coffee maker is super compact, allowing it to fit nicely on RV counters. It also stores easily, thanks to its small size.
The Cuisinart has a thermal carafe that keeps your coffee warm for longer than the typical glass carafe. The smaller capacity coffee maker brews only 4-cups at a time, but it's more travel-friendly since the stainless steel can hold up against road conditions. Solo coffee drinkers or lone travelers will find the Cuisinart the ideal size.
The Cuisinart Brew Pause feature allows you to enjoy your coffee before brewing is complete. The 30-minute automatic shut-off feature is also really handy. You don't have to worry about the coffee maker wasting wattage.
14. Vinci Express Cold Brew Electric Coffee Maker
Another new coffee experience is cold brew at home. Having a hot cup of coffee on a hot day at the lake or at your campsite is not always enjoyable. The Vinci Express Cold Brew Coffee Maker gives you the option of delicious cold coffee instead.
This small, electric coffee maker brews delicious coffee in as little as 5-minutes for a light brew. The narrow size is perfect for your compact Class C kitchen. The coffee maker doubles as a carafe that holds your brewed coffee in the fridge for up to 10-days.
This coffee maker does require standard 110 power, so you'll need to be plugged into shore power or run a generator.
15. Calphalon Programmable Coffee Machine
Just because you're traveling in your RV, you don't have to sacrifice the comforts of home. The Calphalon 12-Cup Programmable Coffee Machine is a perfect full-size coffee maker for your RV. This electric coffee maker has all the features that allow you to enjoy a great cup of coffee leisurely.
While you'll be able to make 12-cups of coffee with this coffee maker, you won't be sacrificing a ton of counter space. The styling of this coffee maker is perfect for deep Class A motorhome kitchen counters or your RV outdoor kitchen.
The Calphalon coffee machine offers customizable brewing strength, adjustable warmer plate temperature, and an auto-start feature. The showerhead-like hot water dispenser in the lid distributes water evenly over the coffee grounds. This mimics the "Bloom Process" that's ideal when brewing coffee by pour-over or French press methods.
16. Hamilton Beach Programmable Coffee Maker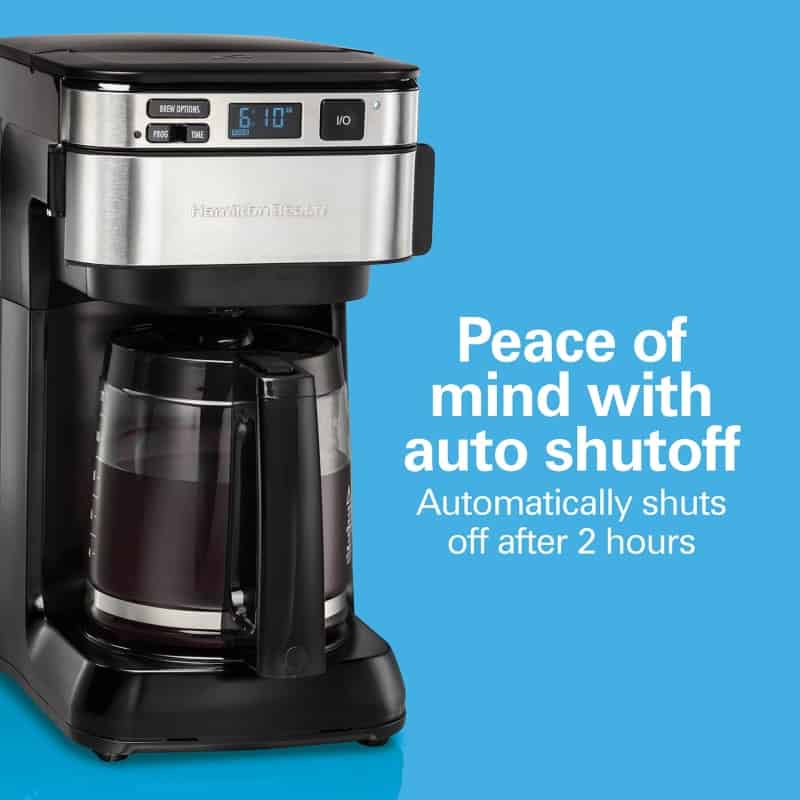 Hamilton Beach is a well-known name in small kitchen appliances. This company has been around for years. They make reliable appliances that are also affordable. The Hamilton Beach coffee maker is no exception.
The Hamilton Beach Programmable 12-cup Coffee Maker is one of the few that don't require you to pull the coffee maker out from under your RV cabinets to fill. The front opening tray allows you to add coffee grounds and water without moving the whole coffee maker.
Besides being stationary, this coffee maker offers versatile brewing options. This particular model (#46310) allows you to choose the strength of your coffee. If you don't need a full pot, it has a feature that lets you easily brew smaller pots of coffee.
17. Black + Decker 12-Cup Thermal Coffee Maker
The Black + Decker 12-cup Thermal Coffee Maker increases the enjoyment of your morning coffee by eliminating the potential for scorching. Nothing is less satisfying than a cup of coffee that has spent too much time on the warmer. Thermal coffee pots are a great way to keep your coffee warm without the hot plate.
The Black + Decker coffee maker is an easy-to-use RV coffee maker that lets you adjust your brew strength and amount. This sleek coffee maker is styled with kitchen efficiency in mind. The small footprint takes up minimal space in your camper.
The thermal stainless steel decanter is an excellent choice for those with 4×4 Super C motorhomes. After rolling through some rough roads and trails, you can have peace of mind knowing your coffee pot is still intact.
18. Black+Decker SpaceMaker Programmable Coffee Maker
Solve your countertop and storage space issues with Black+Decker's 12-Cup Programmable Coffee Maker. When secured to your Class A or Class C motorhome's overhead kitchen cabinets, your permanently-mounted coffee maker is always ready to go.
The removable reservoir keeps this refillable water tank as painless as your RV's freshwater tank. The power LED light shuts off 20 minutes after brewing, showing the freshness of the coffee and keeping the wattage use down to a minimum.
Impatient coffee drinkers can sneak a cup without messing with the spring-loaded cut-off feature.
19. Nostalgia 3-In-1 Breakfast Station
Camper van, B Plus, Compact Class C, and even Class A motorhomes under 30 feet will find the Nostalgia 3-In-1 Breakfast Station the perfect RV multi-functional kitchen solution. Besides a toaster and flattop grill, it also comes with a 20-fluid-ounce coffee maker.
Boondockers will want to prepare for the 1,500 watts of power it uses, but having your cooking devices and RV coffee maker all in one will save you storage space and help you elongate your propane usage. The reusable mesh-cone coffee filter avoids dealing with disposable coffee filters.
Things to Consider When Buying an RV Coffee Maker
Having a coffee maker in your RV makes traveling a little nicer. You can enjoy the comforts of home and a relaxing start to your morning. However, not all coffee makers are right for RV. You'll need to carefully select the best RV coffee makers for your motorhome or travel trailer. Here are some factors to consider while shopping for your RV coffee maker.
1. What Size Coffee Maker Fits in Your RV
Size is one of the most important considerations when you're shopping for a coffee maker for your motorhome or travel trailer. You want to select a coffee maker that works well but still leaves you counter space.
Most RVs have limited counter space. It's helpful to measure the area where your coffee maker will sit and use those dimensions when shopping.
2. Where You'll Store Your Coffee Maker
The best place to store your RV coffee maker is to mount it under your cabinetry. Mountable RV coffee makers leave your countertops wide open. Unfortunately, Very few brands make them, they don't have decanter warmers, and they can get in the way of taller countertop items.
Depending on what your RV coffee maker is made from will guide you on where you can store it. Durable materials like stainless steel or plastic are great for countertop storage. If you've got space in a cabinet where your coffee maker is protected, a glass French press or carafe isn't a problem.
If you need some ideas on how to store your RV coffee maker safely, check out our article on the Best Organizational Hacks and Bonus Tips for some great ideas.
3. Ingredients You'll Need for Brewing
Brewing good coffee only requires two ingredients: ground coffee and water. It seems simple, but there are some different grind options that can make your coffee experience better.
Pre-ground Coffee – Purchasing a bag of pre-ground coffee is easy, and you don't need extra equipment if it's the right consistency. If you want fresh ground coffee, grind bulk beans at your favorite grocery store or coffee house before hitting the road.
Whole Beans – Whole beans are ideal for a great cup of coffee. Freshly ground beans create a completely different flavor for your morning joe. However, you'll need a grinder if you want fresh ground beans. Whole beans may not be ideal if you have limited space to store kitchen appliances.
Coffee Pods– K-cups or coffee pods are necessary if you've selected a single-serve coffee maker. These pods are prefilled with enough grounds for a single cup of coffee. The nice thing about coffee pods is the variety. You can often buy packages of pods in different flavors and cappuccino drinks.
When it comes to water for coffee, filtered water is best. Filtered water doesn't add flavors to your coffee. If you use your freshwater storage instead of city water, you may consider making coffee with bottled water. Sometimes your freshwater tank can give water a plastic-y taste.
Motorhome FAQs Fact When Storing Coffee: Did you know that you can lose your coffee's best flavor when you store it in the refrigerator? Once you remove it from the fridge, the beans will start absorbing the air moisture as it warms up to room temperature. Keep your whole or ground beans in an insulated container that's well-sealed. This way, when you're ready to brew up your morning brew, you'll have the best flavor.
4. How Many Volts Does It Take to Run a Coffee Maker?
The voltage required for an RV coffee maker depends on the type used. Most standard household coffee makers use 110 to 120 volts of power. If you have a household coffee maker in your RV, you'll need AC power to run your coffee maker.
If you're running on your RV's battery, consider an inverter to run the AC side of your coach electronics. Generators usually run both the AC and DC sides of your RV. Some coffee maker brands make 12-volt RV coffee makers. Otherwise, look into a propane-powered version.
Percolators, French presses, or pour-over coffee makers only require a way to heat water. This can easily be done in any RV with a propane source. Or, if you're boondocking, boil water on your camp stove.
5. Can You Use a Keurig in an RV?
Keurig coffee makers are a nice option for RVs. They're quite compact and don't need a decanter. Also, since Keurig coffee makers use a water reservoir, you can fill these easily with bottled or filtered water whenever you make coffee.
Keurig coffee makers use a lot of power and require a 110V outlet. If you're camping off-grid and relying on a generator or battery for power, your Keurig isn't a great option. Even if you have a DC power inverter, the amps necessary for a Keurig would place a large draw on your alternative power source.
6. How Many Amps Does an Electric Coffee Maker Use?
Each coffee maker uses a different number of amps. To determine the amps required for the coffee maker you want, you'll need to know the watts for your coffee maker. You can typically find the watts and volts on the sticker under the base.
For instance, the Keurig mini requires 1,500 watts and is 120 volts. To calculate the number of amps necessary, you simply divide the watts by the volts. The Keurig mini needs 12.5 amps:
1,500 watts/ 120 volts= 12.5 amps
The amp measurement is an instantaneous rating, so this is the power needed when running. If you're considering amps per hour (Ah) based on the watts per hour (Wh), the amperage of your coffee maker will be much lower. To calculate the draw on your battery while running your coffee maker, you'll use the following formula:
Amps x 60 minutes = amp hours
If your coffee maker is only running for 5 minutes at a time, you will want to divide the 5 minutes by 60 minutes. Using our Keurig mini as an example, the calculation looks like this:
12.5 amps x (5 minutes / 60 minutes) = Ah
12.5 x 0.0834 = 1.04 Ah
Final Thoughts on Choosing an RV Coffee Maker 
Having a coffee maker in your camper or RV can make mornings at camp a little happier. If you're like us, a good cup of coffee when camping starts the day right.
Whether you enjoy a pot of drip-brewed coffee or a robust cup of a French press, there's a great option for your motorhome or travel trailer.
With so many models available, narrowing down the best RV coffee makers can be challenging. Our list has an option for every coffee drinker and every RV category.
We hope that we've given you some great RV coffee maker ideas for your coach. The right RV coffee maker will allow you to enjoy the perfect cup of joe no matter where your travels take you.
---
About the Author:
Jason Gass is a full-time freelance writer and part-time RVer whose goal is to share great stories around a campfire with good friends.
When he's not working, he spends most of his time camping, searching for the best breweries, and road-tripping in his teardrop trailer with his wife, daughter, and two dogs.