Before you know it, you look at the clock, and you're now retired and thinking about the best RVs for seniors.
Many people hit the road in RVs during their senior years. They can go anywhere they want when they want and see some fantastic sights along the way. But not just any RV will do.
The best RVs for seniors are the ones that fit their lifestyle. For some, it may mean a big and luxurious motorhome with all the bells and whistles. For others, a small, lightweight camper fits nicely.
3 Reasons You Should Buy an RV When You Retire?
If you're like most people, you spent your working years dreaming of retirement. No more alarm clocks! No more rush-hour traffic!
Now it's time to consider buying an RV when you retire.
Here are a few reasons an RV is a great retirement choice for seniors:
1. RVs Are Versatile
Unlike a traditional home, you can take an RV wherever you go. So whether you want to spend your retirement traveling the country or simply exploring your own backyard, an RV will let you do it in style.
2. RVs Can Be Affordable
Not all RVs are luxury vehicles with a hefty price tag. However, one of the best things about RVs is that they come in all shapes and sizes. So you can find one that fits your needs and budget.
3. RVs Offer Freedom
Once you retire, it's time to enjoy life on your terms. And with an RV, you can hit the open road and see the world at your own pace.
Is a Towable or Drivable RV Best for Seniors?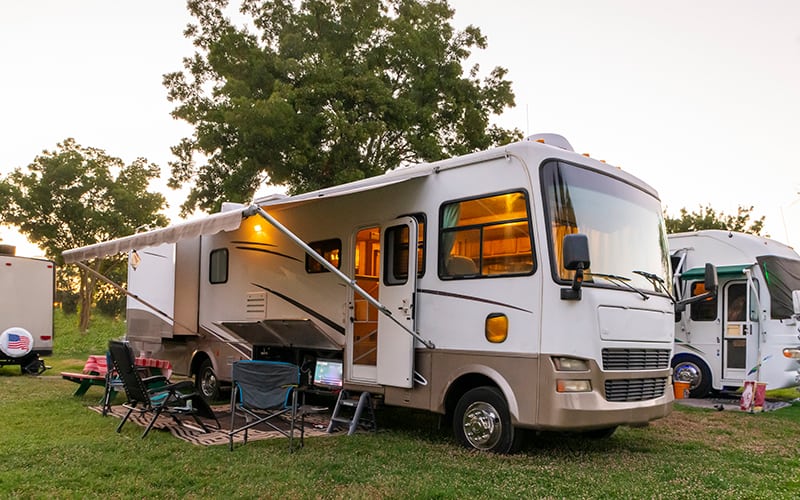 One of the first decisions you'll need to make when shopping for an RV is if a towable or driveable RV is best for seniors.
Towable RVs include teardrops, pop-up campers, travel trailers, and fifth wheels that are towed behind SUVs or trucks. Typically they're typically less expensive than drivable RVs.
Drivable RVs include Class A, B, and C motorhomes that are self-contained and drive like a bus, truck, or van.
10 Best RVs for Seniors
Here are the 10 best RVs for seniors. They all have features that make life on the road more manageable and more enjoyable for those a little older.
1. Tiffin Allegro Breeze 33BR – High Quality Motorhome for Seniors
✅ Use the dinette with the computer station to Zoom with the family!
⛔ Binge watchers may not like the living room TV positions.
Engine: Cummins B 6.7L I6 Diesel
Length: 33.2 ft.
Tow Capacity: 5,000 lbs.
Chassis: Tiffin PowerGlide RED Chassis

(RED= Rear Engine Diesel)

GVWR: 25,500 lbs.
Sleep: 2-6
The Tiffin Allegro Breeze 33BR is a Class A 33-ft diesel pusher with excellent gas mileage for a drivable RV. It's one of the best small motorhomes on the market and ideal for seniors who don't want to deal with the hassle of a big rig.
The Breeze has several features that make it ideal for seniors. It has an air ride suspension system making for a smooth ride and a front-end collision avoidance system to help avoid accidents.
They also designed the interior for comfort and convenience. The couch and dinette convert into beds for family and friends, and there's plenty of storage for all your belongings.
If you choose the dinette with a computer workstation, you'll lose the sleeping space, but you have a great place to set up your computer for your work on the road job or video conference with family and friends.
2. Jayco Redhawk 29XK – Best RV Sleeping Arrangements for Families of Seniors
✅ The Redhawk has plenty of sleeping space for family weekends!
⛔ Place RV jack pads under the wheels to level. RV stabilizer jacks are optional for Class C's.
Engine: Ford 7.3L V8 Triton Gas
Length: 25.2 ft.
Tow Capacity: 7,500 lbs.
Chassis: Ford E-450
GVWR: 14,500 lbs.
Sleep: 2-7
The Jayco Redhawk 29XK is a Class C motorhome that's perfect for seniors who want the convenience of a drivable RV without the size and expense of Class A.
The Redhawk is easy to drive and maneuver, making it an excellent choice for seniors RVing for the first time.
The loft is great for grandkids, and the fold-out sofa and U-shaped dinette provide comfortable seating for meals and socializing.
The primary queen bedroom is spacious and private. There's plenty of walkway space around the bed, so you don't have to worry about disturbing your partner.
If you want to see more Class C RVs for Full-Time Living, check out our article, 8 Best Class C RVs For Full-Time Living.
3. Newmar Dutch Star 4311 – Best ADA Compliant RV for Seniors
✅ Newmar's ADA-compliant floorplan continues to make the RV features reachable for all!
⛔ If you need more medical customization, Winnebago's AE program is a better way to go.
Engine: Cummins L 8.9L I6 Diesel
Length: 43.9 ft.
Tow Capacity: 15,000 lbs.
Chassis: Freightliner XCR RED
GVWR: 51,000 lbs.
Sleep: 2-4
Are you looking for a top-of-the-line motorhome to make your traveling dreams come true? Check out the all-new Newmar Dutch Star 4311, completely redesigned for 2023, with updated front and rear caps, a brand-new dash, and plenty of other exciting changes.
Standard features include a king bed with a 48″ x 36″ shower, ceramic tile flooring with a matte finish, theater seating, a full kitchen, bathroom, and 1/2 bath.
Since the first mobility-accessible floor plan in 2012 on the Canyon Star, this Dutch Star layout is also one of the best RVs for seniors that need an RV that works for them.
The ADA-compliant features like lower countertops, a roll-in shower, and a wheelchair lift are a few of the many thoughtful amenities that make this drivable motorhome a luxury liner for all.
With a wider center aisle in travel mode, able-bodied folks will appreciate the convenience of using the lift for heavy items or hauling groceries without making multiple trips.
If the 4311 layout isn't what you're looking for, Newmar has 12 other versions for the Dutch Star. After all, earning the Most Popular 2021 Diesel Motorhome title still means something.
4. Entegra Coach Ethos 20T – Best RV that is Easy to Drive
✅ The Entegra Ethos 4-seater can be used as a daily driving vehicle.
⛔ Your small to medium-sized dog is the ideal weight for the king bed bridge.
Engine: Chrysler 3.6L V6 Pentastar Gas
Length: 20.9 ft.
Tow Capacity: 3,500 lbs.
Chassis: Ram Promaster 3500
GVWR: 9,350 lbs.
Sleep: 1-2
The elegant 2023 Entegra Coach Ethos 20T is here to prove camper vans aren't just for kids anymore.
This stylish Class B Motorhome has a rear wet bath and plenty of space to make your camping trip luxurious. The twin beds mean you won't disturb your partner at night, and you can change the mattress to fit your comfort style.
The van comes with Entegra Coach's exclusive E-Z Drive system, making driving a breeze. And the integrated suspension system with Hellwig helper springs ensures a smooth ride, no matter where the road takes you.
5. Winnebago Sunstar NPF 29NP – Smallest Class A for Seniors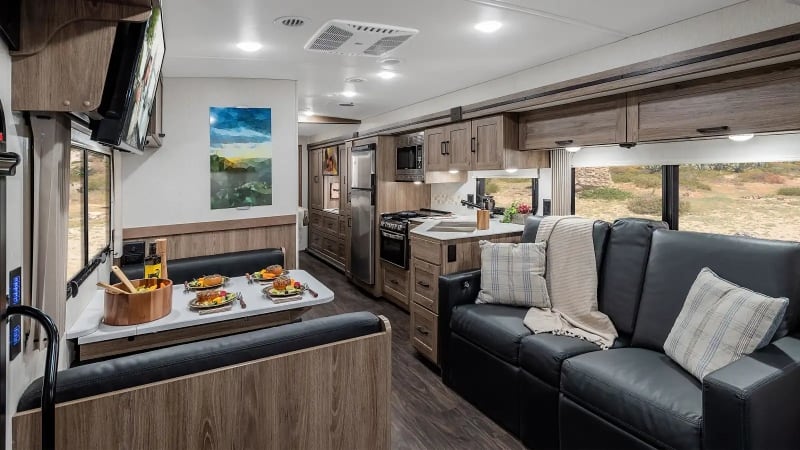 ✅ Surprisingly roomy for a 30-footer!
⛔ Some may not like the darker decor.
Engine: Ford 7.3L V8 Triton Gas
Length: 30 ft.
Tow Capacity: 5,000 lbs.
Chassis: Ford F-53
GVWR: 18,000 lbs.
Sleep: 2-8
For all those National Park enthusiasts looking for the best RV for seniors, look no further than the Winnebago Sunstar NPF 29NP.
This Class A gas coach measures precisely 30 feet, making it an easy fit for the average National Park campsite length. It also offers off-grid features for primitive camping when you want to escape it all.
The contemporary interior is comfortable and stylish, with plenty of features to keep you entertained. And the grandkids will love the optional powered loft bed above the driver cab.
A favorite feature is the RV outdoor kitchen for cooking the catch of the day or whipping up a tasty trailside meal.
And best of all, when you purchase a Winnebago Sunstar NPF 29NP, a portion of the proceeds go to support the National Park Service.
6. Wildwood Heritage Glen Hyper-Lyte 19RBHL – Best Travel Trailer for Seniors
✅ Smaller travel trailers don't require large vehicles to pull them!
⛔ There's no extra sleeping space for guests with the theater seats.
UVW: 4,788 lbs.
Tongue Weight: 520 lbs.
Length: 23.10 ft.
GVWR: 2,642 lbs.
CCC: 2,732 lbs.
Sleep: 1-2
Are you in the market for a travel trailer with style and substance? If so, you'll want to check out the Wildwood Heritage Glen Hyper-Lyte 19RBHL. The manufacturer, Forest River, loaded this Wildwood Heritage Glen Hyper-Lyte with features that seniors love.
One of the first things you'll notice is the RV's comprehensive stance axle system that provides greater stability, making it easier to set up and park.
The Step Above aluminum entry steps and XL Lend-a-Hand entry grab handle make it safe and easy to get in and out of the RV.
And once inside, the panoramic windows on the main slide provide a superb view while you're cooking or relaxing in the living area.
Another prominent feature for seniors is the dual bed cubbies with power outlets, making it easy to keep your CPAP or other equipment charged and within reach.
7. Coachmen Northern Spirit 2557RB – Best Travel Trailer for Full Time Senior RVers
✅ All of the hidden storage systems organize everything perfectly, including the pet center!
⛔ Counter space isn't the best.
UVW: 5,842 lbs.
Tongue Weight: 648 lbs.
Length: 29.3 ft.
GVWR: 7,600 lbs.
CCC: 1,758 lbs.
Sleep: 2-4
There's nothing like spending a few days in nature, surrounded by the peace of the great outdoors. But sometimes camping can be a challenge. That's why the Coachmen Northern Spirit 2557RB travel trailer made our list.
From the set-up to the amenities, Coachmen has considered everything to make your camping experience enjoyable with its "Camping Simplified" approach.
For example, the Northern Spirit has an easy-to-use leveling system that takes all the guesswork out of setting up your campsite.
And, once you're settled, you can whip up a delicious meal in the RV outdoor kitchen while appreciating your surroundings.
The storage system under the master bed and the pantry behind the entertainment system provide ample space for belongings. And a dish drawer under the dinette is great for storing dishes and keeping them out of sight.
8. Harbor View 36HCKWT – Perfect for Mobility Equipment
✅ Like the motorhomes, this travel trailer is ADA-compliant but is so much more affordable!
⛔ All but the longest model comes with full-size master beds.
UVW: 5,842 lbs.
Tongue Weight: 940 lbs.
Length: 37.8 ft.
GVWR: 10,400 lbs.
CCC: 1,758 lbs.
Sleep: 2-5
In the past, finding an RV that accommodates accessible needs for those limited in mobility has been challenging until now. The perfect travel trailer for those with accessibility needs exists, and its name is the Harbor View 36HCKWT by HL Enterprise.
When you step into the Harbor View, you'll immediately notice how open and spacious it feels thanks to the extra-wide pass-through doors, which make moving around the unit comfortable. And everything in the trailer, from the appliances to the LED lighting, is designed with accessibility in mind.
But the Harbor View stands out because of its commercial-grade Ricon K2003 chair lift. This feature allows those with limited mobility to safely get in and out of the trailer.
Another prominent Harbor View feature is the roll-in shower for those who have difficulty stepping over a traditional shower threshold. The shower has a built-in seat and grab bars for safety and comfort.
There's a hide-a-bed sofa and convertible dinette for the grandkids. And the primary bedroom has walkway space for able-body partners to climb into bed. So yes, able-body spouses can enjoy the RV experience too.
9. Northwood Arctic Fox North Fork 29RK – Perfect for Four Seasons
✅ Stay comfortable in Montana Winters and Arizona Summers with a true all-season RV!
⛔ True 4-season travel trailers need big tow vehicles due to their weight.
UVW: 8,510 lbs.
Tongue Weight: 805 lbs.
Length: 32.3 ft.
GVWR: 10,400 lbs.
CCC: 1,890 lbs.
Sleep: 2-6
The Northwood Arctic Fox North Fork 29RK is an excellent RV for seniors for several reasons. But first, let's talk about the rear kitchen.
For those who love to cook, the back kitchen is a chef's dream, with ample counter space and amenities needed to whip up a delicious meal.
Because the North Fork is an all-season RV built to withstand hot weather, there are no problems while camping in the Arizona desert in July. And you can soak up all that sun using the standard 45W solar panel.
The bedroom sports a queen-size bed with a dual entry to the bathroom. And there are wardrobes on each side of the bed and a full closet on a slide for even more storage space.
10. Airstream Pottery Barn Edition – Luxury Glamping Ready
✅ Pottery Barn edition also comes complete with dishware and linens made for the coach!
⛔ Airstreams are heavy, don't have slideouts, and aren't made for new RVers.
UVW: 6,600 lbs.
Tongue Weight: 900 lbs.
Length: 28 ft.
GVWR: 7,600 lbs.
CCC: 1,000 lbs.
Sleep: 2-5
For those who have been waiting for the day to combine luxury camping with the love of designer home goods, your wait is over with the Airstream Pottery Barn Edition.
Airstream, the iconic travel trailer company, has teamed up with Pottery Barn to create a limited-edition line of products inspired by the brand's vintage trailers.
The collection includes furniture, bedding, and decor designed to evoke the spirit of a home away from home travel. They crafted the pieces with attention to detail and a focus on quality, making them ideal for those who appreciate the Airstream design.
The Airstream Pottery Barn Special Edition Travel Trailer comes in queen or twin-bed floor plans, with a custom-designed kitchen, a full-size bathroom, and a living area outfitted with Pottery Barn furniture and decor.
One of the best features of the Airstream travel trailer is that you can tow it behind SUVs or half-ton trucks, making it easy to take on your next camping adventure.
What Are the Different Types of RVs for Seniors?
There are many different RVs, each with features that make it unique. Here is a look at some of the most popular RVs.
1. Class A Motorhome
The largest type of motorhome is called a Class A, resembling a bus. Class A's usually have slide-outs, which are sections that extend out from the main body of the RV to provide more interior space. They often come with luxury amenities like fireplaces and 1-2 bathrooms.
2. Class B Motorhome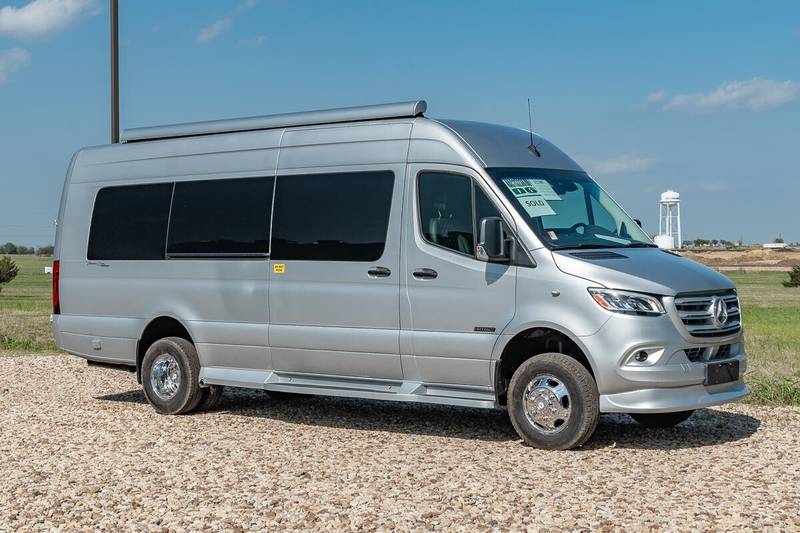 Officially titled Class B motorhomes are the smallest type of RV, known as camper vans. They build them on a van chassis and usually have enough room to sleep two people.
3. Class C Motorhome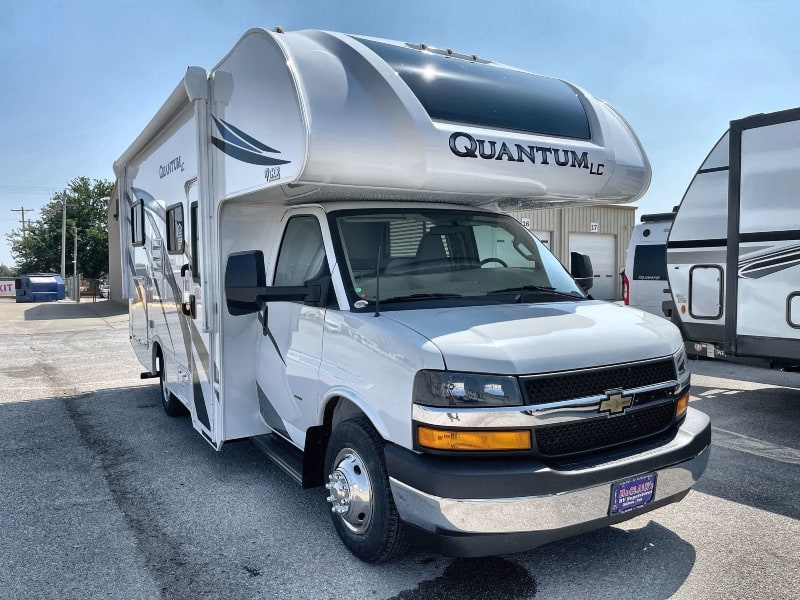 Larger than Class B but smaller than Class A, the Class C RV is the perfect balance of space and drivability. They build them on a truck or van chassis and often have slide-outs. A section often serves as an extra sleeping area above the main cab.
4. Fifth Wheel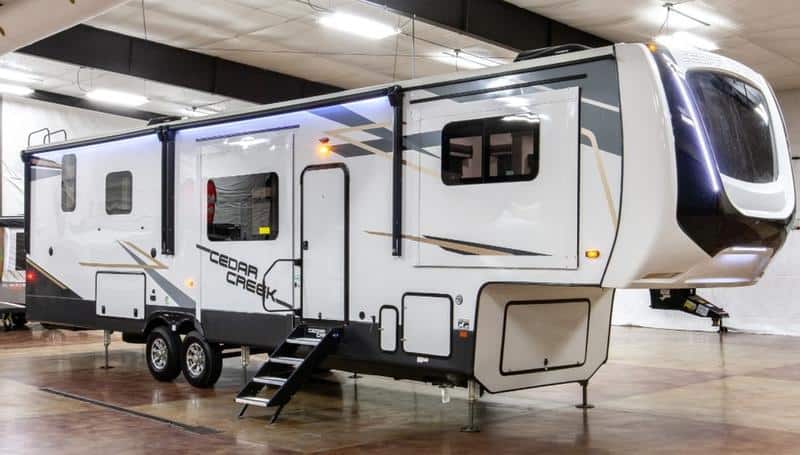 Using a hitch in a pickup truck's cargo bed, fifth wheel trailers are like travel trailers, giving you equal or higher-level features. Many full-time RVers prefer them. Fifth wheels are typically larger than travel trailers and have more features, making them ideal for longer trips or larger families.
5. Travel Trailer 
SUVs and pickup trucks tow travel trailers of various sizes. They usually have one or more bedrooms, a kitchen, and a living area. Some travel trailers have slide-outs to provide more interior space.
6. Truck Campers
A great way to get the best of the drivable and towable worlds is truck campers. They're surprisingly spacious, you don't have the issues of towing like a travel trailer, and they don't extend your length by much.
Which RV Type is Best for Seniors?
There are a few different popular RVs among older adults. However, the best kind of RV for seniors depends on their individual needs and preferences.
Some seniors prefer the simplicity of a camper van, such as a Class B. These smaller versions of RVs have the same amenities as their larger brethren but are scaled down to fit.
Others prefer the amenities of a travel trailer. Travel trailers come in various sizes and floor plans, so there's one to fit every need and budget.
Many RVers prefer the freedom of a motorhome. Class As are the largest and most luxurious, while Class Cs are smaller and more affordable. Both offer seniors the ability to travel without having to tow a trailer.
The best type of RV for seniors is the one that fits their needs and preferences. There's no wrong answer, so seniors should take the time to figure out which type is best for them.
Which RVs for Seniors Is Easiest to Drive?
There's no question RVs can be a handful to drive. But what if you're a senior citizen who wants to enjoy the RV lifestyle? Which RV is the easiest to drive?
If you're looking for the most uncomplicated RV to drive, you'll want to go with a Class B.
Class B RVs are smaller and more maneuverable than their Class A and C counterparts, making them a breeze to drive, even in tight spaces.
And because they're not as big or bulky as other RVs, they're also easier on gas.
Which RV Is Safest to Drive?
Class B RVs are also the winners regarding which RV is safest to drive. Because Class Bs have the lowest center of gravity, they are more stable on the road.
Class B RVs have wider turning radiuses, making them easier to maneuver. They also have superior brakes and suspension systems, making them better able to stop and absorb bumps on the road.
Overall, Class B RVs are the safest to drive and are an excellent option for those who want to enjoy the outdoors without sacrificing safety.
9 Top Considerations For Finding the Best RVs For Seniors
When choosing the best RV for seniors, consider nine things when buying an RV.
1. Full-Time vs. Part-Time RVing
Do you plan to live in your RV full-time or use it for occasional trips? When you live in your RV full-time, you need a comfortable RV with all the amenities of a home. Part-time RVers can get by with a more rugged, less durable RV.
2. Budget
How much can you afford to spend on an RV? RVs can range in price from a few thousand dollars to hundreds of thousands. Therefore, a budget is essential before you shop for an RV.
3. Length and Maneuverability
How long and how easy is the RV to maneuver? RVs come in different lengths, from small Class B RVs to large Class A RVs. If you plan to do a lot of driving, you'll want an RV that is easy to maneuver. Class A RVs can be difficult to operate, so if you're not experienced in driving one, consider a smaller RV.
4. Towing vs. Driving
Do you plan to tow your RV or drive it? Towing an RV can be difficult and requires a larger vehicle. If you don't have a large truck or are not experienced in towing, consider an RV you can drive.
5. Interior Space
How much interior space do you need? First, you must decide how much space you need for your belongings, family, and friends. And if you plan to live in your RV full-time, you'll need more space for comfort and livability.
6. Sleeping Accommodations
How many people need to sleep in the RV? Some RVs have beds for only two people, while others can accommodate six or more. You'll need to decide how many people will sleep in the RV so you can choose one with the number of beds.
7. Ease of Set Up
How easy is the RV to set up and tear down? If you're not experienced in setting up and tearing down RVs, you'll want one that is easy to do. You can set some RVs up in just a few minutes, while others may take an hour or more.
8. Reliability
How reliable is the RV? RVs can break down just like any other vehicle. So you'll want to choose an RV known for its durable construction and reliability.
9. Generator Capacity
Does the RV have a generator? If you plan to boondock (camp without hookups), you'll need an RV with a generator. It's also important to know the generator's power capacity to determine how long it will run.
Final Thoughts on the Best RVs for Seniors
Choosing the best RV for seniors is a personal decision. We hope this article has helped you with your research. It's a big decision, but it can be fun too! Ultimately, the best RV is the one that meets your needs and makes you happy out there exploring the great outdoors.
---
About the Author: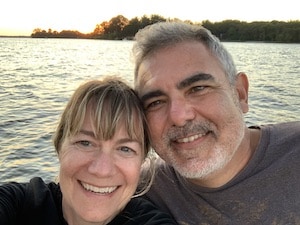 Mike Scarpignato is an avid RVer and outdoorsman. He travels with his wife Susan in their Class A 2021 Thor Challenger and their Class C 2008 Gulf Stream Conquest. Mike is also the owner of RVBlogger.com, TravelTrailerPro.com, and RV Camping Magazine.