We found the 10 Smallest Class B RVs With a Bathroom. Due to their small stature, manufacturers have to pack a lot into a tiny space, and for the most part, they succeed in high style. 
Also known as camper vans, Class B Motorhomes are basically suped-up vans with more length and a little more width. They're often a great choice for those who want an easy and way to travel.
The best part is, they pack all of the amenities you will find in bigger drivable motorhomes in a much smaller space. That also includes bathrooms. When it comes to bathrooms, however, that's where things get interesting. 
Why Don't All Class B RVs Have a Bathroom?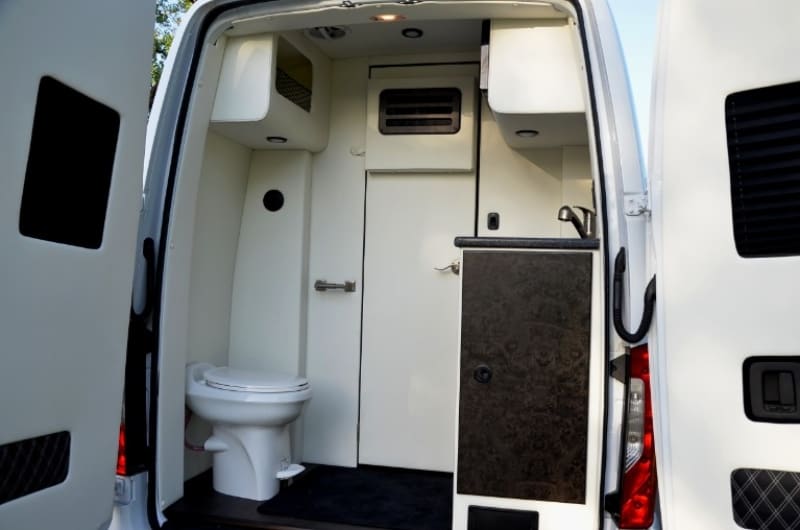 Because sometimes it's simply the best option. A lot of people might cringe at the idea of not having Class B RVs bathroom features in their motorhome until they try to use one or empty a black tank for the first time. There are several advantages, in fact. 
No black tank to clean or empty
Much roomier
Less weight
You don't have to winterize the van
It opens up some interesting alternative options
Manufacturers aren't stupid. They know some would prefer the extra space instead of a bathroom.
There aren't a lot of Class B Motorhomes that lack a bathroom, but these are the primary reasons you still find Class B's that don't have a bathroom.
2 Types of Class B RV Bathrooms
Class B Motorhomes typically have two types of bathrooms—wet and dry. While they might not be the most creative adjectives, they're apt descriptions. 
1. Wet Bath
A wet bath contains a sink, shower, and toilet in one space. These are normally pretty cramped because everything has to go in one spot while taking up as little space as possible. 
2. Dry Bath
A dry bath has its own separate shower, toilet, and sink. Dry bathrooms are uncommon in Class B RVs because they take up a lot of space.
10 Smallest Class B RVs with a Bathroom
Finding Class B RVs with bathroom accommodations that you want isn't always easy. Hopefully, we've narrowed it down for you with this list of ten. 
1. Pleasure-Way Tofino
Our Pros and Cons:
✅ Includes a roof, pop-up tent with a 2" foam mattress
⛔ Includes a roof rack, but it has to be removed if you want to use the pop-up
Engine: 3.6L V6 Pentastar
Chassis: Ram ProMaster 1500 Van Chassis
Length: 17' 9"
GVWR: 8,550lbs
Tow Capacity: 2,950lbs
Sleep: 4
Have you ever wondered what you would get if you paired a pop-up tent with a Class B Motorhome? Well, the Pleasure-Way Tofino settles that question for good. The 49" by 72" pop-top is a unique feature that creates additional sleeping space for a third person. 
You also have optional packages that include either a 100-watt or a 200-watt solar panel. With an MSRP of $70,850, the Tofino is on the lower end of Class B Motorhome options. The interior holds a freshwater holding tank for sink and bathroom duties, with an exterior spray port and hose for showering. 
2. Winnebago Solis Pocket
Our Pros and Cons:
✅ Overall size is perfect for a daily driver and a camper
⛔ Exchangeable propane tank could leak if fitting is not connected correctly
Engine: 3.6L V6 Pentastar
Chassis: Ram ProMaster 1500 Van Chassis
Length: 17' 10" 
GVWR: 8,550lbs
Tow Capacity: 3,500lbs
Sleep: 3
As with everything that sports the Winnebago name, luxury and style are at the forefront. The Solis Pocket is a camper van that can sleep more than 2 people too!
The sofa has a unique folding style that converts into a bed or opens up a center aisle if you're in the mood for kayaking and need storage space. The Winnebago Solis Pocket is very flexible, with swivel seats and a portable cassette toilet. 
3. Thor Motor Coach Rize 18M
Our Pros and Cons:
✅ Rear compartment shower is integrated with the furnace water heater
⛔ Generator and battery are under the axle
Engine: 3.6L V6 Pentastar
Chassis: Ram ProMaster 1500 Van Chassis
Length: 17' 11" 
GVWR: 8,550lbs
Tow Capacity: 3,500lbs
Sleep: 2
The generator can be easily damaged while off-roading. Other than that, the Thor Motor Coach Rize 18M is luxurious and maintains all the amenities without sacrificing space. 
The Rize 18M is fully loaded with plenty of storage space, a full standing shower and sink in the rear, two AGM Deep Cycle batteries, an Onan RV QG 2800 gas generator, dual burners, and one of the best kitchens on this list, and more.  
The exterior is luxurious too. The 190-watt solar panel, 10' electric awning, bike rack, and keyless entry system are fantastic and offer the feel of luxury in small packages. 
4. Grech RV Turismo 4×4
Our Pros and Cons:
✅ The Timberline system provides continuous-flow hot and cold water, with a full wet bath
⛔ Pop-up kitchen counter blocks the doorway
Engine: 3.6L V6 turbo-diesel
Chassis: Mercedes Benz Sprinter 2500 Chassis
Length: 19' 
GVWR: 8,550lbs
Tow Capacity: 5,000lbs
Sleep: 2
Not to be confused with Gran Turismo of Playstation fame, the Grech RV Turismo 4×4 isn't going to win any elaborate races. But it does come with a full wet batch, with the shower encompassing the toilet and the sink, all enclosed in composite and leak-free. 
The Timberline system is a "forever hot water heater," which saves a good deal of space and provides hot water on demand. The lithium-ion battery system is capable of powering everything in the Turismo for 16 to 20 hours. 
5. Midwest Automotive Designs Weekender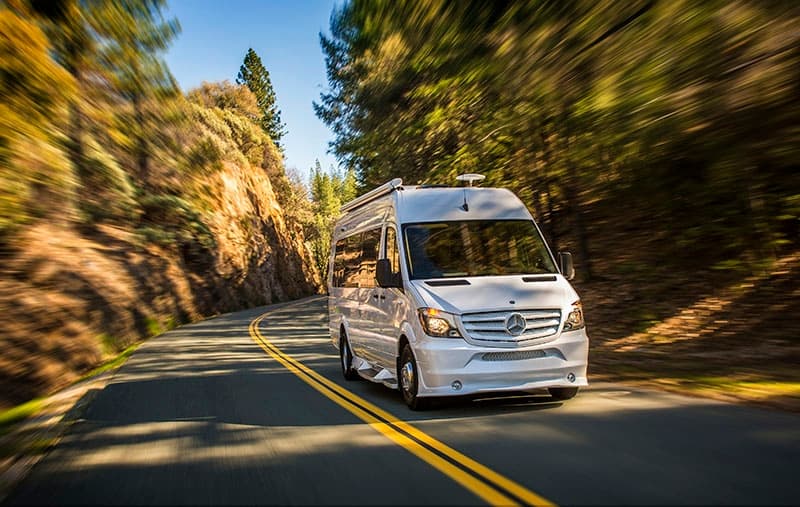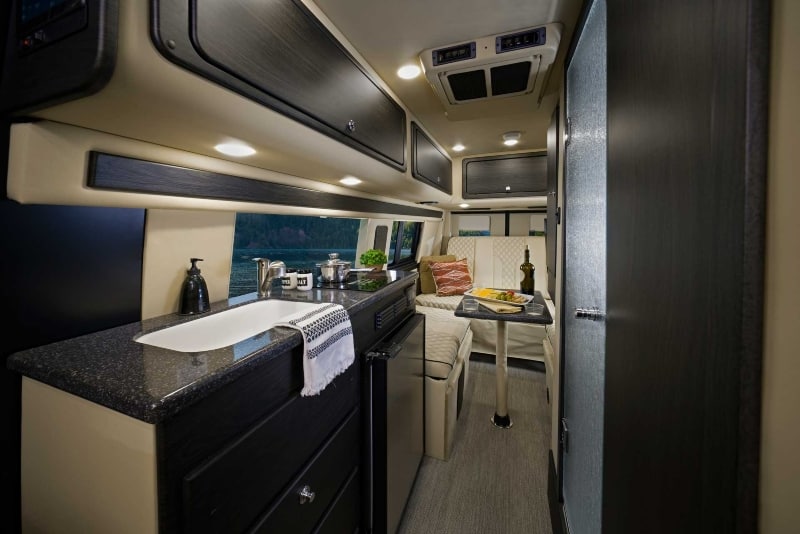 Our Pros and Cons:
✅ Premium leather and wood interior designs
⛔ Bathroom door location is a little in the way
Engine: Mercedes Benz 3.0L V6 Turbo-Diesel
Chassis: Mercedes Benz Sprinter 1500
Length: 19' 
GVWR: 9,050lbs
Tow Capacity: 5,000lbs
Sleep: 2
Though Midwest Automotive Designs Weekender may not sound familiar, they are owned by REV Group, the parent company of Fleetwood. Midwest not only builds camper vans but also does van conversions. 
The midcoach wet bathroom sits accross from the kitchen. It includes a porcelain toilet, and a sink, and has a shower. The bathroom shower floor has plenty of room to stand up while preparing for the day. 
6. Coachmen Nova 20RB
Our Pros and Cons:
✅ Twin beds make it easy to get to the wet bath without disturbing your companion
⛔ Plan your meals carefully with a small kitchen and fridge
Engine: Chrysler 3.6L Pentastar V6
Chassis: Dodge RAM Promaster 3500
Length: 20'11" 
GVWR: 9,350lbs
Tow Capacity: 7,500lbs
Sleep: 1-2 
From the outside, the Coachmen Nova 20RB looks like a regular Dodge Ram Promaster 3500. When you get inside this Class B RV, it's a whole other story. This stealth camper van holds twin beds, an excellent sized rear bathroom, and a innovations all over the place.
Whether you'll enjoy the induction cooktop, large storage spaces, or just the ease of driving it, the Nova is better on the inside!
The bathroom is separated from the galley with an accordion sliding door. The toilet is pushed back enough so there is a lot of standing space for the shower. It's a wet bath bathroom with everything, including the toilet, sneakily hidden throughout. When you're all cleaned up, your wardrobe is right there, so you can continue to have privacy while you get ready for the day.
7. Airstream Interstate 19
Our Pros and Cons:
✅ Features a unique inside and outside camping tent for extended space
⛔ Fold-down TV gets in the way of accessing the cab
Engine: Mercedes Benz 3.0L V6 Turbo Diesel
Chassis: Mercedes Benz Sprinter 2500
Length: 19' 5" 
GVWR: 9,050lbs
Tow Capacity: 5,000lbs
Sleep: 2 
Owning an Airstream of any kind places you in a culture of iconic Airstream enthusiasts. The Airstream Interstate 19 is no exception. It's a beautiful Class B motorhome loaded with amenities and luxuries you would expect from anything built on the Mercedes Benz platform. 
It includes a European-style wet bath with a toilet, sink, and pull-out showerhead. This time, it's not located in the back but strategically placed in the center, behind the driver. 
The shower wand is actually the sink faucet, and it pulls out when you need it. The bathroom also includes a soap dispenser, shower curtain, and clothesline.
8. Tiffin Cahaba 4×4
Our Pros and Cons:
✅ The Volta Power System provides 12,100 watt-hours with no generator system
⛔ The 4×4 feature is an option while the 4×2 is the standard drivetrain
Engine: Mercedes Benz 3.0L V6 Turbo Diesel OR 2.0L I4 OM654 Twin Diesel
Chassis: Mercedes Benz Sprinter 2500
Length: 19' 5" 
GVWR: 9,050lbs
Tow Capacity: 5,000lbs
Sleep: 2 
No matter what you might be thinking about Class B motorhomes, Van Tiffin is the owner of Tiffin Motorhomes, and he's a legendary kicker from the University of Alabama. That alone gives him every benefit of the doubt. Roll Tide! Besides that, the Cahaba is an incredible step in Class B design and modernization. 
The Volta Power System runs everything with the power equivalent of ten lithium-ion, deep-cycle batteries, which doesn't include the 6,900-watt Volta alternator. The bathroom is a wet bath with the shower and toilet combined into a single unit behind the driver. 
9. Regency RV Xalta Ranger RL 4×4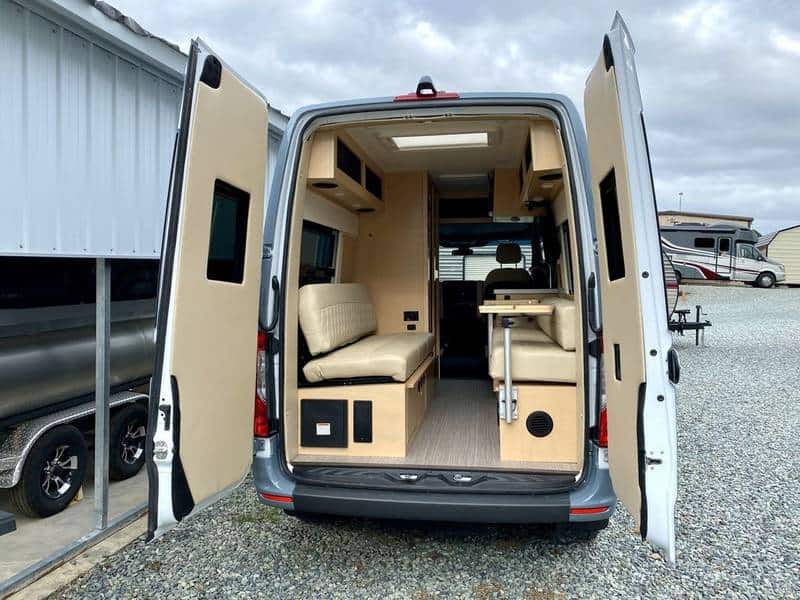 Our Pros and Cons:
✅ Runs on an innovative SPARK system, removing the need for a generator
⛔ Cooking is restrained to a single-burner stove top
Engine: Mercedes Benz 3.0L V6 Turbo Diesel
Chassis: Mercedes Benz Sprinter 2500
Length: 19' 6" 
GVWR: 9,050lbs
Tow Capacity: 4,500lbs
Sleep: 1-2 
The Regency RV Xalta Ranger 4×4 comes in two chassis options—144" and 170". Besides the difference between sleeping four people or sleeping two, the only change is in the additional space. The Xalta, like the Tiffin Cahaba, uses a lithium-ion power system to run everything, known as SPARK. 
The wet bath is located behind the driver seat and contains a shower/toilet combination, which is pretty standard for this van's size and chassis. It's also loaded with overhead storage and opposing sofas that slide together for one of the largest Class B beds. 
10. Jayco Terrain 19Y 4×4
Our Pros and Cons:
✅ The powered bed folding system offers incredible storage options
⛔ The digital control panel is incredibly complex and requires a learning curve
Engine: 3.0L V6 Engine with 188HP
Chassis: Mercedes Benz Sprinter 4×4 Premium Chassis
Length: 19' 7" 
GVWR: 9,050lbs
Tow Capacity: 5,000lbs
Sleep: 2  
Jayco aggressively marketed the Terrain 19Y 4×4 to compete with the Winnebago Revel. Like the Revel, the bed completely folds out of the way for extra storage space when needed. It also features a Coleman Mach 10 heat pump on the roof. 
The bathroom is a wet bath combination of toilet and shower, with a 200-watt rooftop solar panel and 210-amp-hours of power coupled with a 48-volt alternator. Like many of the new Class B RVs with bathroom amenities, Jayco is riding on the idea of full battery power at the expense of propane and gas/diesel.
Check Out These YouTube Videos Below About Class B RVs with Bathrooms
What is the Largest Class B RV with a Bathroom?
The largest Class B Motorhome that has bathroom amenities is the Airstream Interstate 24, which measures 24' 6" and features a large, three-piece wet bath. You can see it in the video below!
What Kind of RVs Don't Have Bathrooms?
The smallest Class B RVs don't have bathrooms mostly because it would be a waste of time and cost more than what the RV is marketed for. Some RV owners prefer not to have a bathroom, especially in small, enclosed spaces after taco night. 
Do You Really Need a Bathroom in Your Class B RV?
Do you want a bathroom in your Class B RV? Most people don't need one. As mentioned above, you can purchase alternative outside bathrooms, including composting or portable toilets and shower heads. If you only hit up campgrounds, chances are you will always have a bathroom nearby. 
Final Thoughts on Choosing a Small Class B RVs with a Bathroom
Most Class B RVs bathroom models are available in many sizes. You have to choose whether you want a dry bath, wet batch, exterior bath, or depend on the public restrooms at the various campgrounds you travel to. 
When traveling, a bathroom is a luxury because it's something you don't need but something you might want. It's also a matter of space. When you shop for Class B Motorhomes, there is little doubt that space is also a luxury. 
---
About the Author
Thomas Godwin is a full-time freelance writer with a BFA in Creative Writing, a U.S. Marine, and an avid outdoorsman.
When he's not writing, he's raising chickens and Appleyard ducks. Thomas also constructs teardrop campers (attempting to anyway) and kayaks the Blackwater River with his wife, two daughters, and his Dobermans.