Cheap Class B RVs are a great way for many people to enjoy life on the road. These smaller RV options provide the comforts of larger motorhomes and travel trailers.
Exploring the country in one of the many cheap Class B RVs available offers an ideal compromise between luxury and easy operation for many people. Class B motorhomes can also be cost-effective for maintenance and basic operating needs.
You may be surprised by the sticker price if you're in the market for cheap Class B RVs. However, that doesn't mean there aren't affordable options out there. Below, we'll show you 9 cheap Class B RVs and some helpful information about these compact motorhomes.
What Qualifies as a Class B Motorhome?
Class B motorhomes are simply campers that are built in a van chassis. These RVs are often called camper vans because they look more like conversion vans than traditional motorhomes.
9 Cheap Class B RVs
1. Pleasure-Way Tofino
Our Pros and Cons
✅ The Tofino has a massive 70 cu. ft. of rear storage!
⛔ Study up on boondocking techniques to compensate for missing components.
Engine: Chrysler 3.6L V6 Pentastar Turbo Gas
Length: 17.9 ft.
Tow Capacity: 2,950 lbs.
2023 Starting MSRP: $85,150
Chassis: Ram ProMaster 1500
GVWR: 8,550 lbs.
Sleep: 2-4
The Pleasure-Way Tofino is the perfect Class B RV for the weekend adventurer. This budget-friendly RV has a kitchenette, sink, fridge, and induction stove for meals. The Ram ProMaster 1500 chassis has its own infotainment system that connects to your smart device via Bluetooth.
Though compact, the Tofino easily fits a family of four thanks to its legendary pop-top roof with an overhead loft that kids will enjoy. Parents will find the convertible rear bench comfortable sofa that measures to a spacious queen bed. 
The Tofino is fully customizable, but the base model is well-appointed. Boondockers will love this Class B RV for off-pavement adventures. Campground fans will find this Class B RV easy to pull in and out of the smallest campsite.
2. Thor Motor Coach Scope 18A 
Our Pros and Cons
✅ The drawer-style 12v fridge makes inside and outside access better!
⛔ The 72 x 39-inch pull-out bed can be tight sleeping quarters for some adults.
Engine: Chrysler 3.6L V6 Pentastar Turbo Gas
Length: 17.11 ft
Tow Capacity: 3,500 lbs.
2023 Starting MSRP: $113,680
Chassis: Ram ProMaster 1500
GVWR: 8,550 lbs.
Sleep: 1-2
The Thor Scope 18A is a great starter RV for a couple or individual that's looking for a compact, cost-effective RV for their traveling adventures. The Class B Scope 18A has great features that make traveling comfortable and fun. 
The Scope 18A sits on the Dodge Ram ProMaster 1500XT chassis, providing a smooth ride even on rough roads. The narrow van body allows you to camp in spots other RVs and travel trailers can't reach. Stay connected with the Wingard ConnecT 2.0 system.
The interior of this camper is well-appointed, with plenty of storage, a convenient galley, and even a wet bath. Bring your eBike by stowing it on the standard Thule bike rack. This is a perfect Class B RV for minimalist travelers who still want a bit of elegance.
3. Winnebago Solis Pocket 
Our Pros and Cons
✅ The 5-way convertible dinette is a true innovation in the RV world!
⛔ Since the murphy bed mattress bends, it's difficult to upgrade it.
Engine: Chrysler 3.6L V6 Pentastar Turbo Gas
Length: 17.10 ft.
Tow Capacity: 3,500 lbs.
2023 Starting MSRP: $114,945
Chassis: Ram ProMaster 1500
GVWR: 8,550 lbs.
Sleep: 2-3
The Winnebago Solis Pocket 36A is perfect for traveling during all sorts of weather. It's equipped with the Truma VarioHeat, which allows you to camp even during colder winters. This is an ideal Class B RV for people interested in a more nomadic way of life and is considering full-time RV living. 
The Solis Pocket has one of the most convenient floor plans that we've seen. It preserves storage space with an elevated fold-down murphy bed and a convertible dinette with five different configurations. This RV is great for couples or small families. 
We also like the location of the galley in this camper. It's positioned at the sliding door and has a fold-out table so that you can cook and eat outdoors.
4. Gulf Stream RV BT Cruiser 5210
Our Pros and Cons
✅ The BT Cruiser has the most towing capacity on our list!
⛔ The 7.3L V8 has a lower mpg than its Euro-style contemporaries.
Engine: Ford 7.3L V8 Triton Gas
Length: 22.6 ft.
Tow Capacity: 7,500 lbs.
2023 Starting MSRP: $119,619
Chassis: Ford E-350
GVWR: 12,500 lbs.
Sleep: 1-2
If you're looking for a Class B camper that looks more like an RV and less like a van, then this is a great option for you. Value-oriented buyers will like the Gulf Stream BT Cruiser 5210 for its great looks and features. 
One of the things we like best about this RV is its storage capacity. Not only will you enjoy plenty of cabinets, but the over-cab area is open for storing larger items that you may want to tuck out of the way.
This camper sleeps two people, so it's perfect for singles and couples who want more room in a Class B RV. 
Another great feature of the BT Cruiser 5210 is its two different seating arrangements. Select dual jack knife sofas or a sofa and dinette, depending on your preference. Owners like the extra room in the dry bath and the menu of optional features that Gulf Stream offers for this B Plus motorhome.
5. Roadtrek Play
Our Pros and Cons
✅ The front cab seats can become a sleeping space!
⛔ Keep up with dumping your holding tanks, so the driver isn't distracted by the smell.
Engine: Chrysler 3.6L V6 Pentastar Gas
Length: 20.9 ft.
Tow Capacity: 3,500 lbs.
2023 Starting MSRP: $134,610
Chassis: RAM ProMaster 3500
GVWR: 9,350 lbs.
Sleep: 2-3
The Roadtrek Play is a slightly longer Class B camper van option. At just under 21 feet long, this RV is set on a Ram ProMaster 3500 extended van chassis. This is a great camper for small families and couples, as it can comfortably sleep three people. 
There are two available floor plans for the Roadtrek Play. Choose between two twin beds or the front-facing sofa options. Both layouts can convert to a single king-size bed if you desire. The Play also has a small bathroom with a sink, toilet, and shower. 
Of the many campervan options available, the Play seems to have one of the most open floor plans we've seen.
The Play comes standard with a power awning, flip-up counter in the kitchen, and other convenient features you're sure to enjoy on your RV vacation. The optional folding mattress across the driver and passenger seat may be worth it if you have a child or pre-teen coming with you.
6. Thor Tellaro 20L
Our Pros and Cons
✅ The flip-up countertop is ideal for an RV workstation for laptop users.
⛔ Meals will be regulated to whatever you can do with 2 burners and a microwave.
Engine: Chrysler 3.6L V6 Pentastar Gas
Length: 21.1 ft.
Tow Capacity: 3,500 lbs.
2023 Starting MSRP: $134,260
Chassis: Ram ProMaster 3500
GVWR: 9,350 lbs.
Sleep: 1-2
About: The Thor Motor Coach Tellaro 20L is another longer-length camper van for adventures that require more space. This camper is a favorite with boondockers because it sits on the easily upgraded Ram ProMaster 3500XT window van chassis. 
The V6 engine makes this a great camper for mountain excursions and smooth highway driving. The Tellaro is a Thule-equipped van featuring a folding bike rack on the back doors, an automatic awning, and a compact, extendable Thule ladder for roof access. The Tellaro has 4 different floor plans, but the 20L is the perfect option for the budget-conscious traveler.
You'll love the European-styled cabinetry that gives the Tellaro an elegance to the interior. The many windows also give the camper van plenty of natural light during the day. That'll save you wattage when you're cooking up your favorite meal in the compact kitchen.
7. Leisure Travel Vans Wonder Rear Lounge 
Our Pros and Cons
✅ The kitchen has a long countertop prep space!
⛔ There isn't a bridge pillow to connect the dual twin beds.
Engine: Ford 3.5L V6 EcoBoost Gas
Length: 24.9 ft.
Tow Capacity: 2,000-3,000 lbs.
2023 Starting MSRP: $162,470
Chassis: Ford Transit T-350
GVWR: 11,000 lbs.
Sleep: 2-4
The Leisure Travel Vans Wonder Class B+ RV straddles the line between a Class B and Class C RV. This larger-sized Class B Plus RV provides more space for full-time RV life. You'll have no trouble getting where you want to go with the Ford 3.5L EcoBoost V-6 engine. 
The Wonder is a joy to drive, thanks to performance features like driver-assist technologies, adaptive cruise control, wind stabilization, and many other safety and performance enhancements. The Wonder comes with 4 floor plan options. Depending on your floor plan, this camper van can sleep up to four people. 
With more interior space than other camper vans, you might think that this RV would be larger on the outside. However, you'll find that this RV fits easily into just about any camping or parking space.
8. Jayco Swift 20A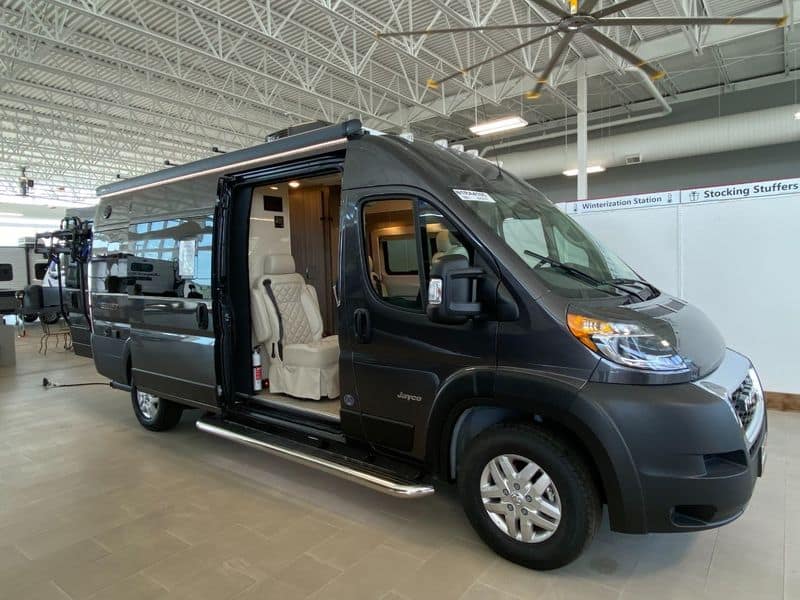 Our Pros and Cons
✅ The Jayco Swift 20A is versatile enough to also use as a daily passenger vehicle.
⛔ Anyone over 6.3 feet may not feel comfortable on the extended bed.
Engine: Chrysler 3.6L V6 Pentastar Gas
Length: 20.11 ft.
Tow Capacity: 3,500 lbs.
2023 Starting MSRP: $147,150
Chassis: RAM ProMaster 3500
GVWR: 9,350 lbs.
Sleep: 1-2
About:  The Jayco Swift 20A is another great campervan option for off-grid camping. The swift allows you to boondock in style or just enjoy limited amenity campgrounds. It has standard features like the 190W roof-mounted GoPower solar panel and integrated controls. 
In the city or tight campsites, the ParkSense parking assist system allows for easy parking. You'll also enjoy the Infotainment system from Pioneer that'll pair up with your smart device. Of course, since it's a Jayco, it comes standard with the JaySmart System that lets you control the coach components from your phone.
The heavy-duty suspension makes for a smooth ride, even on bumpy roads. The Swift 20A sleeps two people on the convertible sofa. Cooking in the Swift 20A is a delight, with more kitchen counter space than you'll find in many other camper vans on the market. 
9. Winnebago Roam AE U59RPT
Our Pros and Cons
✅ The overhead cabinets lower down, so everyone has access to them!
⛔ The space between the wet bath and flip-up dinette is tight, so decide whether to back in or go forward with your wheelchair.
Engine: Chrysler 3.6L V6 Pentastar Gas
Length: 19.9 ft.
Tow Capacity: 3,500 lbs.
2023 Starting MSRP: $134,581
Chassis: RAM ProMaster 3500
GVWR: 8,900 lbs.
Sleep: 2-4
Mobility-challenged adventurers no longer have to feel stuck at home. The Winnebago Roam AE (accessibility enhanced) is a wheelchair-accessible camper van with all home comforts. 
Compared to other accessibility-enhanced motorhomes, the Roam AE is a cheap Class B RV that allows individuals with mobility challenges to enjoy camping thanks to its many features.
The Braun-Ability wheelchair lift stores under the van chassis when it's not needed, so it doesn't take up any interior space. Those in wheelchairs will feel secure due to the tie-downs and seatbelt that secures to the RV's frame. The cabinetry and controls are all ADA-compliant for easier reach.
The 2 floor plans are essentially the same, but each has a unique feature. The U59RPT has a pop-top roof loft space for extra sleeping space. The U59RAC has a rooftop RV air conditioner in place of the loft.
Does Size Affect the Price of Class B RVs? 
Even though class B RVs are smaller, many people are surprised that they often cost more than larger Class A RVs or travel trailers. To make a Class B motorhome functional, many features must be downsized. Smaller kitchens, bathrooms, cabinetry, and other components often increase the price of many class B camper vans.
Is It Affordable to Maintain a Class B RV? 
Because most camper vans are built using van or truck chassis and engines, you don't need a specialty mechanic to work on your motorhome. Most mechanics or car dealership service departments can work on your class B motorhome. Additionally, because these camper vans are smaller and have standard-size engines, you won't spend much on gas.
Is It Better to Buy a Cheap New Class B RV or a Used One?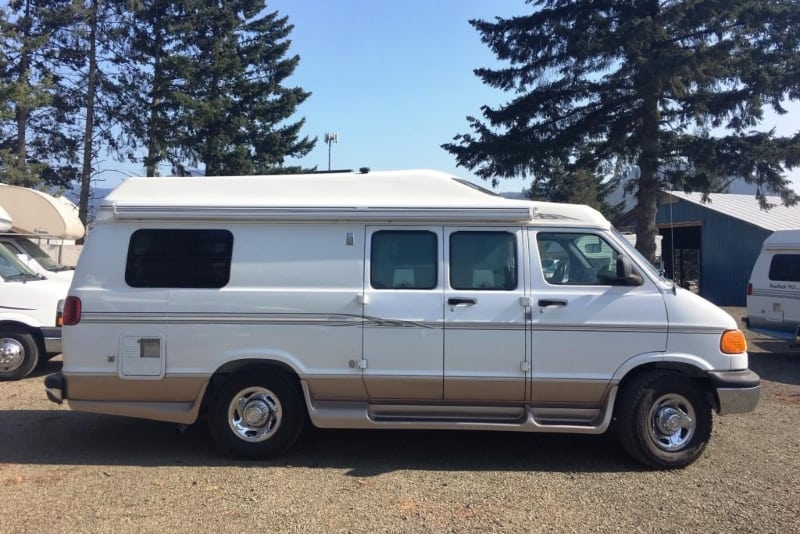 If saving money is your main objective, buying an used cheap Class B RV is a better choice. A new RV may be better if you're looking for particular features like wheelchair accessibility or sleeping space for more than two people.
If you're looking for Class B RVs with good towing capabilities, you may want to choose one of the older American-styled Class B RVs with more muscle underneath the hood.
It also depends on how soon you want to travel. Waiting for the perfect used RV may not be a great option if you need to get on the road sooner than later.
How Much Can You Save Buying a Used Class B RV?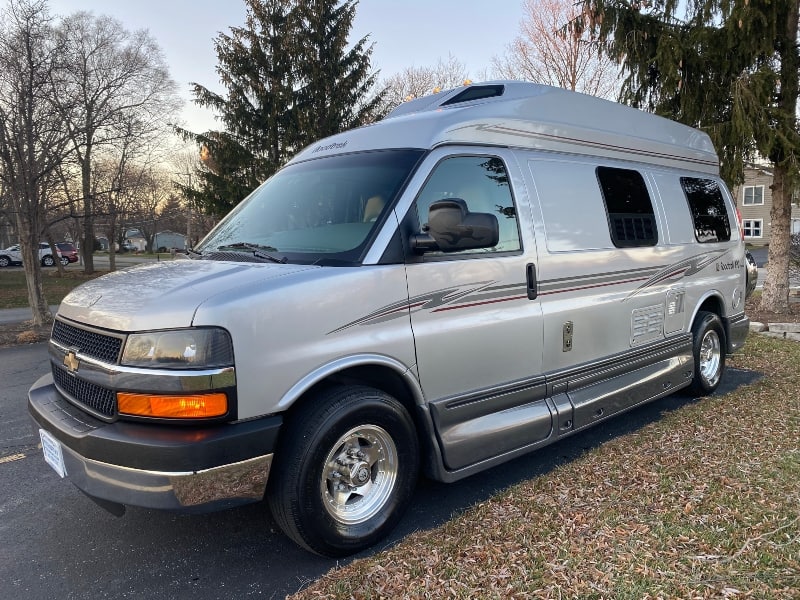 Once upon a time (ok, pre-COVID), we would have said that buying a used Class B motorhome is a more budget-friendly option. Today, however, there's little difference between the cost of a used and a new class B RV. 
With that said, if you still want to save money, used RVs are still a bit more affordable than new ones. Class B motorhomes tend to hold their value, so look for a camper van that's at least 5 years old for the greatest savings.
Is a Van Conversion Cheaper Than a New Class B RV?
Converting a van to a camper van is generally cheaper than buying a new class B RV. However, this is highly dependent on the features you add. The cost also increases if you hire a professional to do the work. 
If you can find a nice, used van for a good price, expect to add an additional $10,000 to $30,000 on the conversion. Where a new class B motorhome costs $70,000 on the low end, you can DIY a camper van for less.
Why Aren't Class B RVs More Affordable? 
If you're shopping for a Class B motorhome, you probably had a bit of sticker shock. Many Class B RVs are more expensive than larger class A motorhomes and travel trailers. This may have you scratching your head, wondering why. 
The answer is quite simple. Downsizing the features you find in a full-size camper to fit in a van isn't easy. Class B RVs require additional engineering, unique design features, and different materials. All of this leads to a higher price tag for Class B motorhomes.
What Is the Best-Selling Class B RV?
Winnebago holds the title for the best-selling class B RV. Winnebago actually has a few options available in their Class B line-up. But the Winnebago Travato is the most popular, best-selling Class B RV in North America today. 
This Class B RV comes in four floorplan options that range in price from $152,504 to $187,269. Most people pick the Winnebago Travato because it has great fuel efficiency. It also is one of the best Class B RVs for year-round camping and traveling. Each Travato comes with many of the comforts of home. 
Convenience features include a bathroom, a well-appointed galley, an automatic awning, and an advanced energy system. The advanced energy system allows you to adventure off-grid for a longer time than with many other camper van options. This makes the Travato an ideal RV for boondocking or dispersed camping.
What's the Cheapest Class B RV?
For 2022, the cheapest Class B motorhome on the market was the Pleasure-Way Tofino. This RV is a great value with a starting price of just over $85,000. It's also an affordable option for families and couples that want an RV that's smaller and easier to manage. 
Is a Buying a Cheap Class B RV Worth It? 
Cheap Class B RVs are the ideal motorhome option for many people. They're compact, easy to drive and have lower maintenance costs. You'll find that many cheap Class B RVs offer many features of larger camper vans. They're perfect for singles, couples, and even small families. 
Many Class B motorhomes are also great for off-grid adventures thanks to unique features and the smaller footprint. All of this makes the Class B RV worthy of consideration for people who want an RV's comfort in a smaller package. 
---
About the author:
Jason Gass is a full-time freelance writer and part-time RVer whose goal is to share great stories around a campfire with good friends.
When he's not working, he spends most of his time camping, searching for the best breweries, and road-tripping in his teardrop trailer with his wife, daughter, and two dogs.