Owning a Class C RV under 25 feet has many advantages. These beauties are easy to drive, maneuver well, and will get you into just about any RV park where you want to stay. Whether you're traveling on four-lane highways or back roads, you'll be comfortable on the road.
Getting into gas stations without being concerned about getting out in one piece isn't a problem. If you like to boondock, no worries, many of these Class C RVs under 25 feet have great options to keep you off-grid for a while.
What Is a Class C RV?
Motorhomes come in three categories: Class A, B, and C. A Class C RV is a motorhome that's built on a van or truck chassis. These motorcoaches are considered easier to drive because they're like moving vans or trucks. Most have an overcab loft sleeping area, which is great for young campers, or storage if you don't need the extra bed.
Some Class C RVs have folded beds that fold in half to accommodate the slide or Murphy beds that fold into the wall to allow for extra room and seating.
How Long Are Class C RVs?
Most Class C's are between 28 and 33 feet. We'll discuss those Class C RVs under 25 feet long from bumper to bumper. They weigh between 10,000 and 14,500 pounds.
Check out a few of our favorite Class C RVs under 25 feet.
👇 Check out this YouTube Video below!
10 Best Class C RVs Under 25 Feet
1. Thor Motor Coach Tiburon 24TT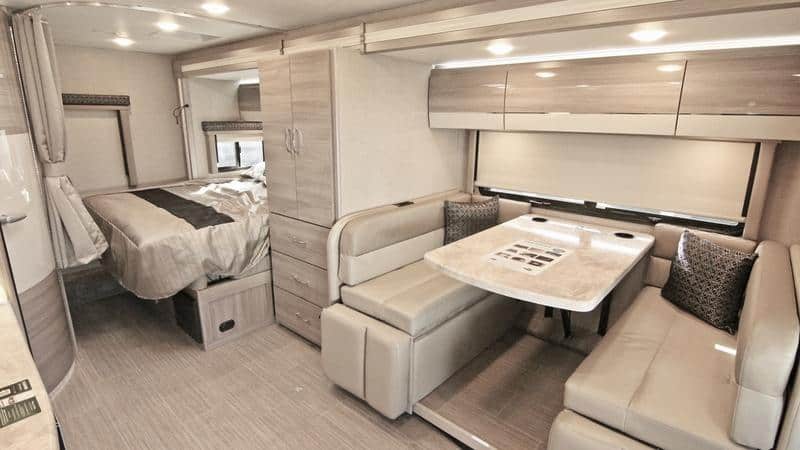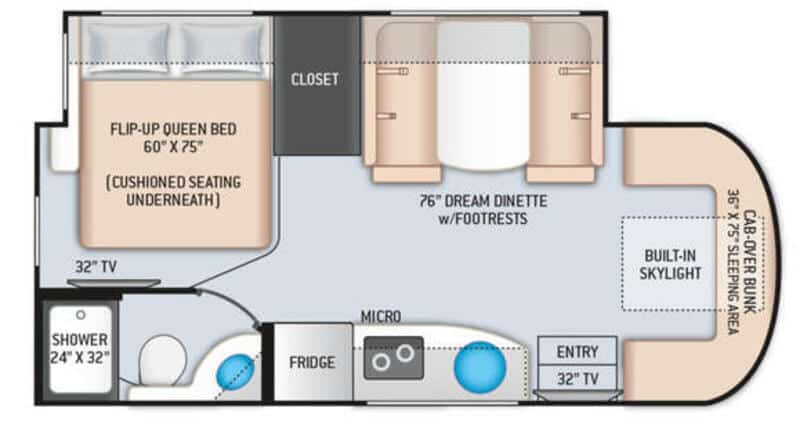 Our PROS and CONS
✅ Thor put all of the pre-wiring in this Class C for your mobile devices and electronics.
⛔ The far side of the queen bed is the only nightstand.
Engine: Mercedes-Benz Turbo Diesel

2022: BlueTec 3.0L V6 Turbo
2023: OM654 2.0L I4 Twin Turbo
Chassis: Mercedes Sprinter 3500
Tow Capacity: 5,000 lbs.
GVWR: 11,030 lbs.
Length: 24.9 ft.
Sleep: 3-6
The Thor Motor Coach Tiburon 24TT will amaze you with its awesome features in a small package. Built on a Mercedes-Benz Sprinter chassis, this model features MB's Driver Assistance Package.
When you get to the campground, the electric stabilizing jacks or the optional automatic leveling jacks will help you get set up fast. The power tower countertop outlet and charging station will keep all your appliances going and wirelessly charge your mobile devices too.
The 80-inch interior height, plus the full driver's side slideout, will make this coach seem quite spacious. High-gloss, euro-style cabinetry will make you feel right at home. Other standard features include LED lighting, USB ports, a dream dinette booth, and an RV short queen-size bed.
If you enjoy cooking, the galley in this Class C RV under 25 feet has all the appliances you want. The Tiburon has a 12V refrigerator, a two-burner gas cooktop with an electric start, a convection microwave, a single-bowl stainless steel sink with a pull-down sprayer, and much more.
2. Coachmen Prism Select 24CB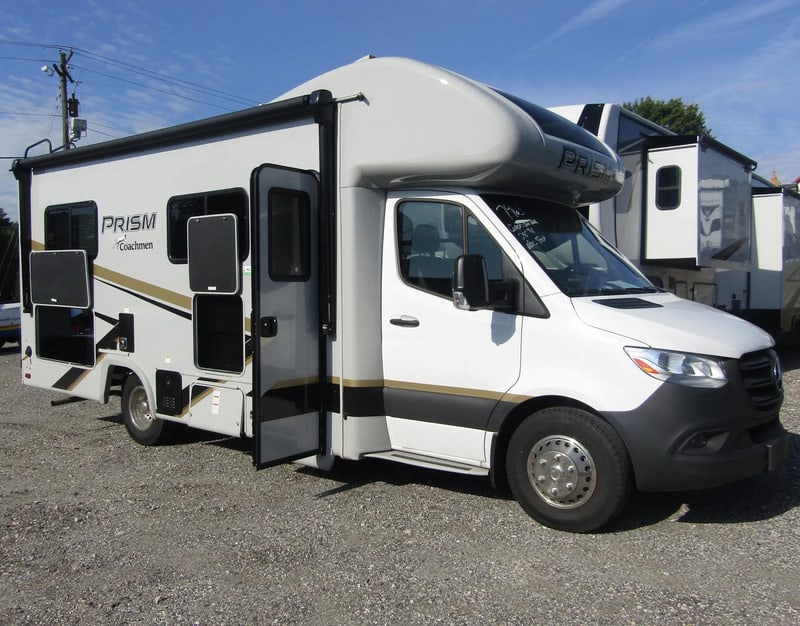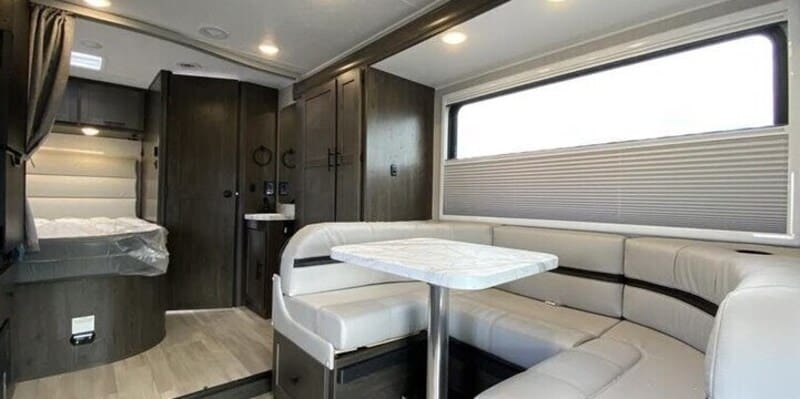 Our PROS and CONS
✅ The Prism Select is pretty luxurious itself.
⛔ Changing the linens on the master bed can be difficult.
Engine: Mercedes-Benz Turbo Diesel

2022: BlueTec 3.0L V6 Turbo
2023: OM654 2.0L I4 Twin Turbo
Chassis: Mercedes Sprinter 3500
Tow Capacity: 5,000 lbs.
GVWR: 11,030 lbs.
Length: 24.11 ft.
Sleep: 3-6
While this is the shortest of the Prism floorplans, this model offers some great features. You won't need to worry about storage space with large closets and room for sleeping or storage in the cab-over bunk, as well as plenty of exterior storage as well.
The Coachmen Prism Select 24CB is prepped for solar and has options such as hydraulic and/or electric leveling jacks and an exterior entertainment center.
Your drive will be easy and stress-free with the automatic 7G-Tronic transmission, active lane-keeping assist, attention assist, adaptive cruise control, MBUX multimedia system with navigation, and intelligent voice control system. Side and rearview cameras are standard.
While the Select 24CB has many luxury features on its own, if you want to step it up even more, you can get the same layout in the Elite trim level. The only difference is that many of the optional features become standard at the higher level.
3. Phoenix Cruiser 2351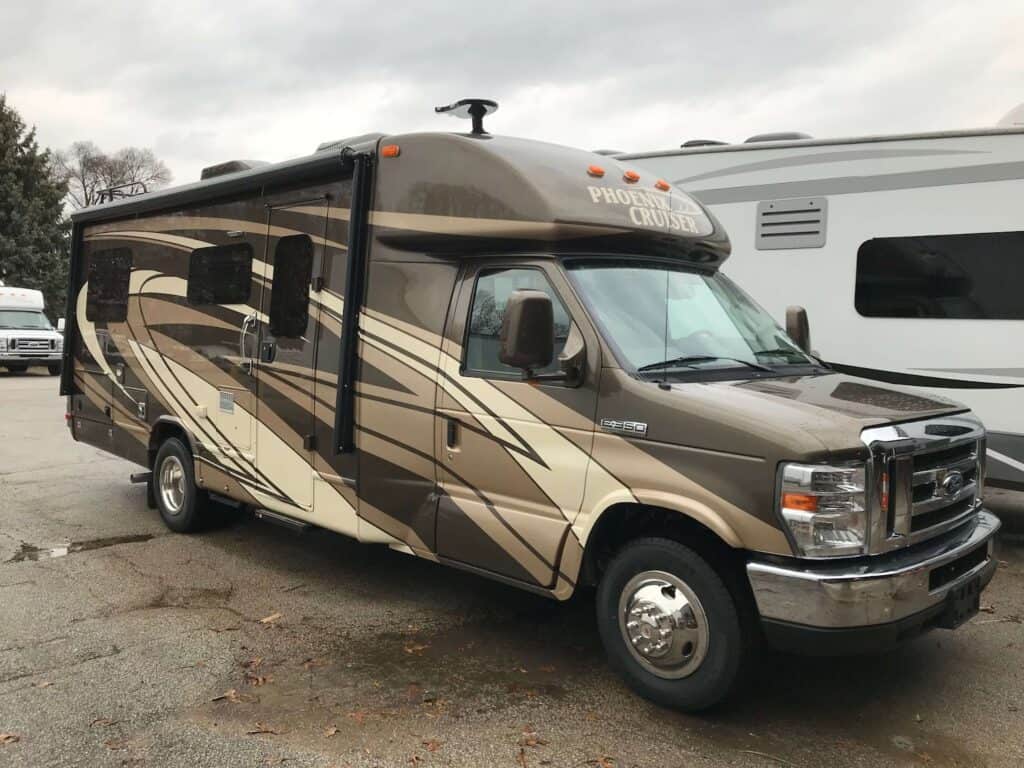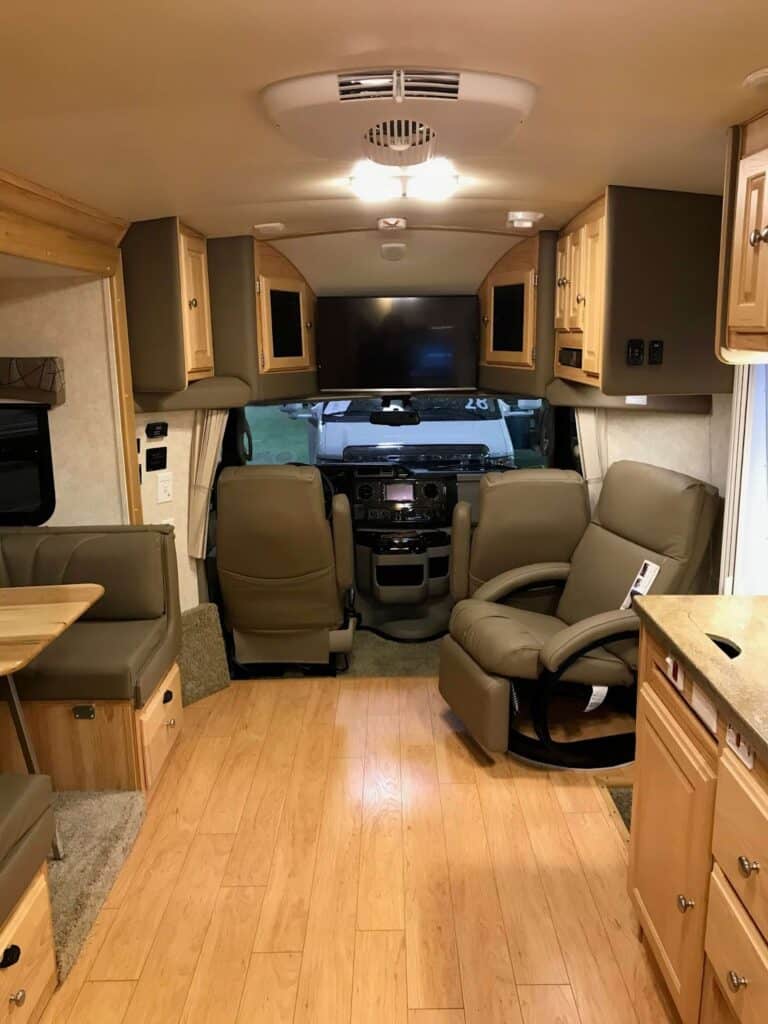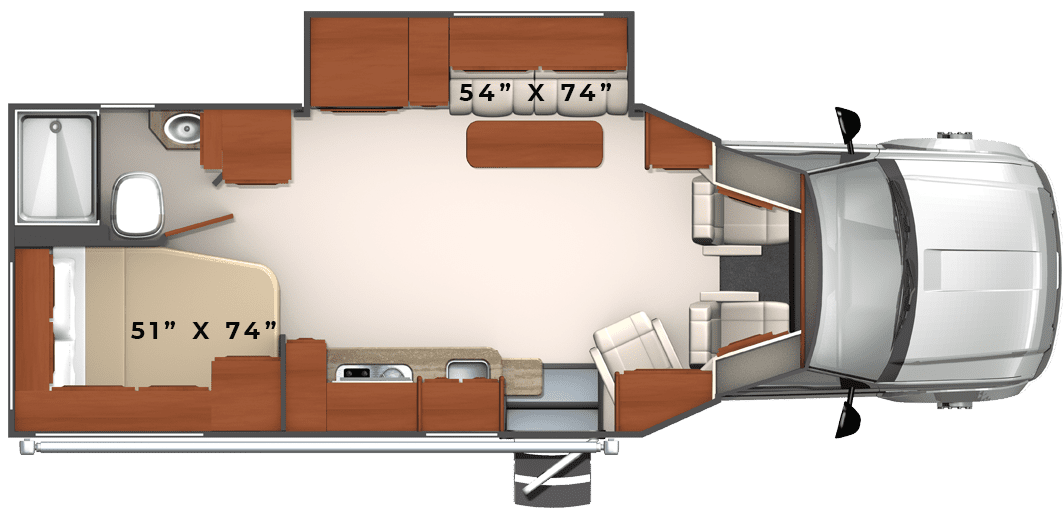 Our PROS and CONS
✅ The commode passes the elbow test with leg room as well.
⛔ For 2023, Phoenix Cruiser replaced the sofa with a four-seater dinette (pictured above).
Engine: Ford Triton 7.3L V8 Gas
Length: 24.11 ft.
Tow Capacity: 5,000 lbs.
Chassis: Ford E-450
GVWR: 14,500 lbs.
Sleep: 2-4
You'll feel right at home in the spacious Phoenix Cruiser motorhome. The one slideout maximizes the coach's interior. The whole RV's design focuses on comfort, style, and utility.
The 51 x 74-inch bed allows you to sleep peacefully while you travel, have fun and make memories. Meals are easy on the two-burner range top, and the double-door refrigerator/freezer will allow for plenty of groceries.
Speaking of storage, you'll have a big pantry, wardrobe, and many overhead cabinets for everything you need and want.
Hickory wood cabinets, solid wood tabletops, and Corian countertops make this small Class C RV feel luxurious. New features on the Phoenix Cruiser include keyless entry, dual heat, and sound insulation in the cab floor for a quieter ride. All of the seat cushions, including the cab seats, use memory foam for the ultimate comfort.
4. Thor Motor Coach Compass AWD 23TW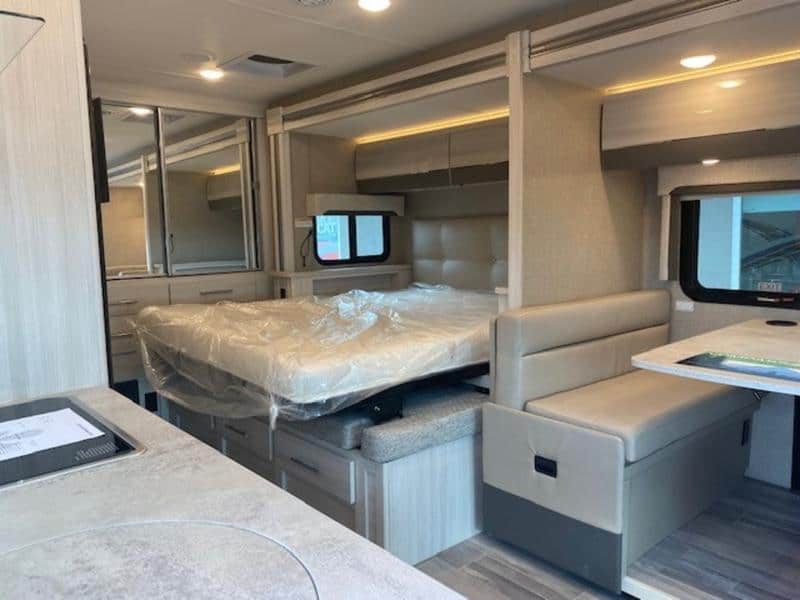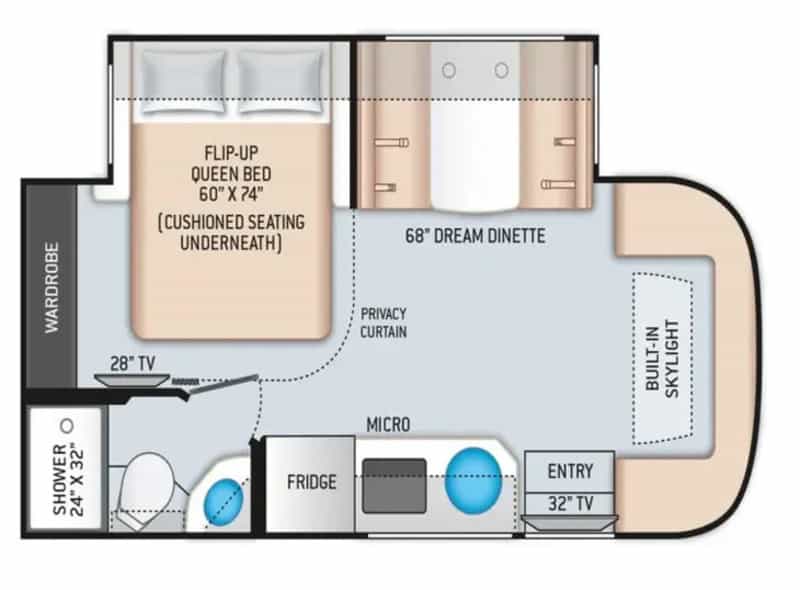 Our PROS and CONS
✅ You can seat many people for a drive while on vacation!
⛔ You can't lay down on the master bed while traveling.
Engine: Ford EcoBoost 3.5L V6 Gas
Length: 23.7 ft.
Tow Capacity: 5,000 lbs.
Chassis: Ford Transit T-350
GVWR: 11,000 lbs.
Sleep: 3-6
With the V6 EcoBoost Turbo, all-wheel drive, and Ford Safety Systems, the Thor Motor Coach Compass AWD 23TW will take you anywhere you want to go in style. This coach features an electric stabilizing system, a rearview mirror and backup monitor, leatherette seats, and a single passenger-side swivel seat.
The kitchen features a single-door refrigerator, a two-burner gas cooktop with an electric start, a convection microwave, and a large under-mount stainless steel single-bowl sink with a cover.
The all-wheel-drive Compass also features a comfortable flex-style bed support, a flip-up queen-size bed, a reversible mattress, and a cushioned seat.
You can opt for high-gloss euro-style cabinetry with complementary cabinet door hardware and hidden hinges. There's also an option for a full-body paint and graphics package.
5. Nexus Phantom 24P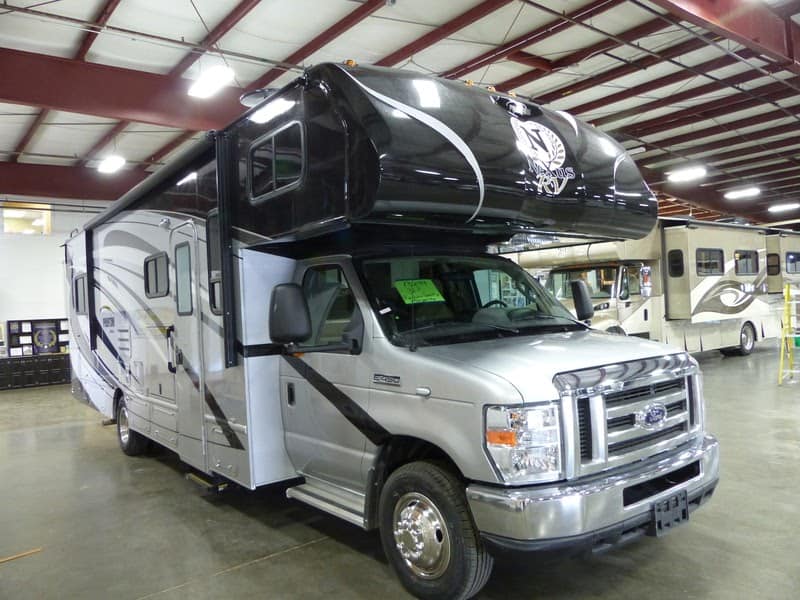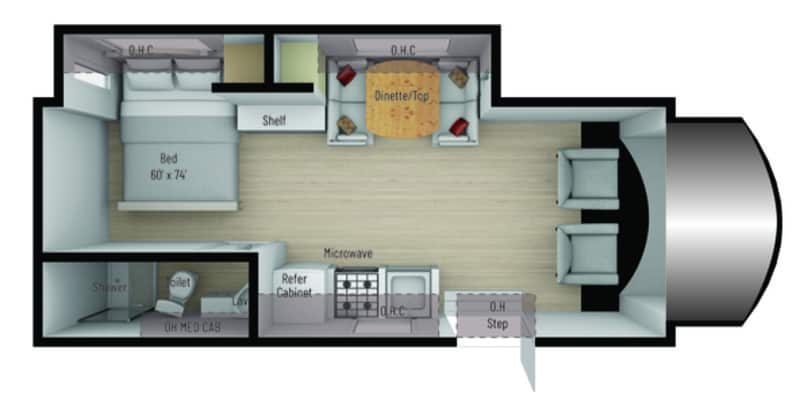 Our PROS and CONS
✅ The walkway space around the master bed is wide!
⛔ You'll need to use the stove and sink cover for counter space.
Engine: Ford 7.3L V8 Triton Gas
Length: 25 ft.
Tow Capacity: 7,500 lbs.
Chassis: Ford E-450
GVWR: 14,500 lbs.
Sleep: 2-6
You'll ride and live in style with this 25-foot Nexus Phantom 24P. This coach is built with fiberglass sidewalls, a high-strength low alloy lightweight steel cage, a laminated steel-framed floor, along with radius tinted windows, rubber-lined galvanized trunk boxes, and much more.
The coach is also equipped with 2 deep cycle 12-volt coach batteries, a 4,000-watt generator, 13,500 BTU ducted roof A/C, 25,000 BTU furnace, above-floor heat ducts, and heated and enclosed holding tanks.
You'll fall in love with the raised panel hardwood cabinetry, nickel pull handles and fixtures, upgraded linoleum flooring, and plentiful LED lighting. The kitchen features a stainless steel sink with a sink cover, a residential faucet with a sprayer, a 12-volt refrigerator with its own 1,000-watt inverter, an over-the-range microwave with an exhaust fan, and three burner stove top with a glass cover.
The bathroom has a stainless steel sink, dual control faucet, medicine cabinet, and porcelain toilet.
6. Winnebago Ekko 22A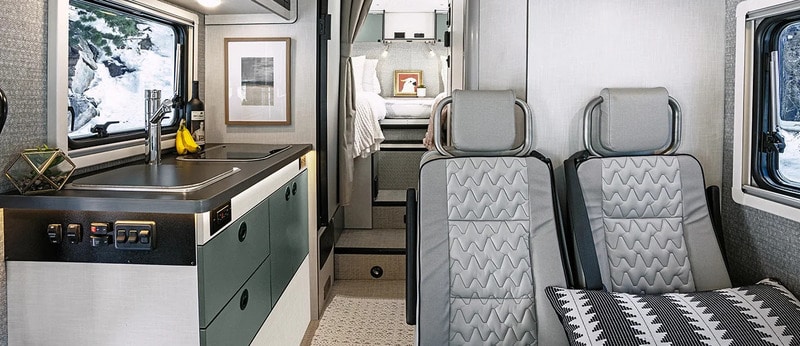 Our PROS and CONS
✅ The AWD and all-season insulation makes the Ekko good for cold-weather camping.
⛔ The main awning and rear-to-road-side batwing awning don't provide continuous coverage.
Engine: Ford 3.5L V6 EcoBoost Gas
Length: 23 ft.
Tow Capacity: 5,000 lbs.
Chassis: Ford Transit T-350 AWD
GVWR: 11,000 lbs.
Sleep: 2-4
If you're looking for a small Class C RV that'll take you anywhere, check out the Winnebago EKKO. This coach combines a camper van's efficiency and a Class C's capacity for a whole new level of adventure.
It features a large heated pass-through gear garage large enough to store bicycles, inflatable kayaks, and other outdoor gear. You also won't lack living, sleeping, or cooking space in the EKKO.
You'll find an 8-inch color, multi-function touch screen, navigation, USB ports, rear camera display, and a wifi hotspot in the cab. The Ekko also comes with the FordPass Connect, which is a modem that enables the vehicle to connect to the internet.
The Ekko will get you through some snow and mud, but it's not equipped to hit the back trails in February.
7. Jayco Melbourne Prestige 24LP
Our PROS and CONS
✅ Enjoy 2 separate living room spaces!
⛔ The water closet may be tight quarters.
Engine: Mercedes-Benz Turbo Diesel

2022: BlueTec 3.0L V6 Turbo
2023: OM654 2.0L I4 Twin Turbo
Chassis: Mercedes Sprinter 3500
Tow Capacity: 5,000 lbs.
GVWR: 11,030 lbs.
Length: 25.2 ft.
Sleep: 2-5
You will get maximum performance on the Jayco Melbourne Prestige 24LP due to the upgraded premium Mercedes-Benz 3500 chassis. The rig includes the 10.25-inch integrated Mercedes-Benz infotainment center with GPS.
Even though it's a smaller unit, Jayco doesn't skimp on luxuries, including features such as active brake assist, adaptive cruise control, heated captain's seats, upgraded lighting, traffic sign, lane-keeping assist, and much more.
Outside amenities include StongholdVBL roof, floor and sidewalls, bead-foam insulation, premium full body paint, electric stabilizer jacks, a 3,600-watt generator, a 190W solar panel with a dual controller, and the list goes on.
On the inside, you'll find a queen bed, overhead bunk with 750-pound capacity, high-gloss hardwood fascia, plenty of LED lighting and USB charging ports, Blu Ray player, 2-burner cooktop, convection microwave, stainless steel sink with wooden cover/cutting board, porcelain toilet and water filtration system.
Customer value package items include frameless windows, backup and side-view cameras, a 1,000-watt inverter, heated holding tanks, keyless cab entry, and swivel driver and passenger seats. Options are hydraulic leveling jacks, a 3,200-watt diesel generator, a B-plus front cap, and a theater seating dinette.
8. Forest River Forester LE 2151SLE
Our PROS and CONS
✅ This Forester LE has a convection microwave in the oven's spot!
⛔ It can be difficult changing the sheets on a corner master bed.
Engine: Chevy 6.6L V8 Vortec Gas
Length: 25 ft.
Tow Capacity: 5,000 lbs.
Chassis: Chevy Express 3500
GVWR: 12,300 lbs.
Sleep: 2-6
Ford Motor Company has dominated the gasser motorhome arena for the past few decades. During the RV Boom, Chevy Class C motorhome chassis has taken a significant chunk of the B Plus and Class C RV market in the past 2-3 years.
Using their 6.6L V8 Vortec engine that gets 401 horsepower @ 464 lb./ft., the Chevy Express 3500 and 4500 cutaway chassis has a slight fuel efficiency advantage over the Godzilla Ford 7.3L V8 Triton that gets 430 hp @ 475 lb./ft. Yet, if you want to see the real-world difference, take a test drive in the Forest River Forester LE 2151SLE with both chassis.
Forest River's Forester LE series comes in both the Chevy Express 3500 and Ford E-350 chassis. While you're trying out the performance, watching the gas gauge, and trying not to look like you're having fun, don't forget to tour the coach section.
FR solved the problem that many limited edition smaller models have: cramped bathroom and the dinette taking up most of the floor space. To solve it, they added a road side slideout and moved the bathroom sink outside of the bathroom.
Whichever you choose, The Blue Oval or the Golden Bowtie, the Forest River Forester has been a long-running brand that many have enjoyed. So will you.
9. Gulfstream Conquest 6245
Our PROS and CONS
✅ The optional storage cabinets in the loft can be your storage solution!
⛔ Be mindful of the step from the living room to the bedroom.
Engine: Ford 7.3L V8 Triton Gas
Length: 24.11 ft.
Tow Capacity: 7,500 lbs.
Chassis: Ford E-350
GVWR: 12,500 lbs.
Sleep: 2-6
The Gulfstream Conquest 6245 is a great, affordable Class C to travel with for families, couples, or individuals. 2023 marks the 40th Anniversary of Gulf Stream RV.
The company is celebrating with new floor plans, updates, upgrades, and rereleases of the legacy RV series. Of course, they didn't forget their longest-running motorhome series, the Conquest.
Key features include the "Cradle of Strength" construction for a safe and fun time away. That includes the reliable, fuel-efficient Ford chassis, a seamless EPDM rubber roof, welded aluminum perimeter frame, and a laminated steel frame floor with a metal underbelly.
For style, enjoy the Roanoke light cherry cabinetry, double-door refrigerator, three burner range and oven, microwave, all stainless appliances, upgraded LED interior and exterior lighting, and 4,000-watt Onan generator.
Popular options include power leveling jacks, heated holding tanks, heated remote control rear view mirrors with turn signal, 8.0 cu. ft double-door refrigerator, 40-inch LED HDTV, and more.
10. Dynamax Isata 3 24RW
Our PROS and CONS
✅ The rear slideout allows you to still use the queen bed while traveling.
⛔ The convection microwave is installed high.
Engine: Mercedes-Benz Turbo Diesel

2022: BlueTec 3.0L V6 Turbo
2023: OM654 2.0L I4 Twin Turbo
Chassis: Mercedes Sprinter 3500
Tow Capacity: 5,000 lbs.
GVWR: 11,030 lbs.
Length: 24.7 ft.
Sleep: 2-5
At just under 25 feet, the Dynamax Isata 3 24RW has plenty of living space with a slide that extends the length of the coach for a spacious and luxurious feeling. The private rear bedroom has a queen size bed and a large wardrobe.
The kitchen area features a pantry, and a 4-seater booth dinette, which makes it into a bed.
The fully equipped kitchen provides a 6.0 cu. ft. 2-way, double-door refrigerator, a gas range, convection microwave, solid surface countertops with an extension, LED edge lighting, and backsplash. The stainless steel sink has a solid surface cover and a residential stainless steel spring gooseneck faucet.
Keeping you safe on the road is 1 ½ inch aluminum-framed, laminated sidewalls with block foam insulation, aluminum-framed roof trusses, crowned, one-piece fiberglass roof, foil-lined ductwork throughout, and gel-coat fiberglass walls.
Options include low-temp lithium batteries, dual, power reclining theater seats in place of the dinette, a 3,200-watt Onan diesel generator, or a tire pressure monitoring system with metal valve extensions.
Pros and Cons of a Class C RV Under 25 Feet
Of course, the positives of Class C under 25 feet must be the drivability and maneuverability of these smaller RVs. They allow an easier drive-through at gas stations, parking lots, and maybe even your own driveway.
You don't have to hitch up to a truck every time you move, although you may want to tow a car when you get to your RV site. Many of these Class C RVs under 25 feet have a towing capacity of 5,000 lbs., so towing a two-door Jeep Wrangler or lighter is possible.
Negatives include the size of the RV. Because of space limitations, these are probably not common coaches for full-time RVers. You'll likely find these have less storage space than their longer cousins and will be more expensive than a towable.
Using your hitch receiver for equipment racks is your best bet if you want to bring along bicycles or kayaks. Yet some find roof attachments that might work for your needs.
5 Ways to Choose the Best Class C RV Under 25 Feet
Choosing the best Class C RV under 25 feet will require serious research. You'll need to consider many factors, such as budget, brand, and your needs. Take time to peruse online forums where you can search out the pros and cons of different brands, makes, and models.
Ask other RVers or join a Facebook group like our "RV Camping For Newbies" page. You can see how others use their Class C motorhome and what some they recommend.
1. Make a List of Amenity Priorities
My husband and I are currently looking for a new-to-us RV; we have a list of amenities that we can or can't live without. When you're looking, skip the ones that don't have what you want.
The process of finding the right RV can be overwhelming. The more you narrow down your search, the better you'll feel about the process.
2. Consider Its Intended Use
Your new RV could be used for full-time living, part-time living, or weekends only. Some choose to focus on boondocking, staying at campgrounds or mixing it up. All of these could require you to have different amenities, cargo space, towability, and more. If you can narrow down your intended use, it'll also narrow down your potential options.
3. Decide Between Gas and Diesel
Choosing between gas and diesel will further narrow down your potential options. Gas is usually a bit cheaper than diesel, but a diesel engine will likely last longer than a gas engine. This might be very important if you're considering a used vehicle.
A diesel RV engine lasts around 300,000 miles, while the average gas RV engine lasts 200,000 miles. Yet, with proper maintenance and repair, many of each type of engine have far exceeded those limits.
4. Consider the Foundation–Chassis, and Engine
The foundation of your Class C RV is also an important factor. Generally, you'll find Class C RVs on the following chassis (not including Super C Motorhomes):
Mercedes-Benz Sprinter 3500
Ford Transit T350
Chevrolet Express 3500 & 4500
Ford E-350 & E-450
Freightliner M2
The Ford E-Series is the most popular chassis used for standard-size Class C RVs, but not every Ford service center can repair them. The same is true with Chevy motorhomes as well. This is due to the fact that the service center needs special equipment and certified RV technicians to make the repairs. Yet many Mercedes-Benz dealerships can work on the Sprinter chassis.
If you plan to tow a vehicle or trailer behind your small Class C, you must ensure your RV is up to the task. Towing involves the torque from the engine, transmission gearing, chassis, suspension, and many other components. That's why you'll see similarly equipped motorhomes with different towing limits.
If you want to tow a vehicle or something heavy, look for a Class C RV with a big tow capacity.
5. Think About Renting Before Buying
You might want to consider renting a Class C RV before buying one. Renting allows you to get the feel of driving one and get the firsthand experience of the living space. There are plenty of RV rental companies and even some individuals who rent their motorhomes.
There are many peer-to-peer RV rental companies that let you rent RVs from real owners. Outdoorsy, RVnGO, RV-Ezy, and RVshare offer great rates, quality rental insurance, and streamlined rental processes.
4 FAQs About Small Class C RVs
1. What Is the Shortest Class C RV?
The shortest Class C RV available is 21 feet long, which is still considered a Class C. If you find motorhomes that are shorter than 21 feet, they're likely a Class B or B plus motorhome.
2. What Is the Most Reliable Class C RV Under 25 Feet?
[ FIX ]Everyone will have their opinion on the most reliable Class C under 25 feet, but most would agree that every brand has its ups and downs. The most important thing is how the RV is maintained throughout its lifespan.
3. Do Class C RVs Under 25 Feet Get Good Gas Mileage?
Gas mileage for Class C motorhomes is generally 16-22 miles per gallon. You certainly can improve on that with less weight, no tow vehicle, flat roads, and ideal driving conditions.
4. Can You Live Full Time in a Class C RV Under 25 Feet?
You can live full-time in a Class C RV under 25 feet. How much space you want or need is all up to you. All the motorhomes we listed have full bathrooms and nice size storage tanks. Some with tank heater options. These RVs would be easy to boondock in, and some have solar options as well.
Can You Tow a Car with a Small Class C RV?
All of the above Class C RVs have plenty of tow capacity to pull at least a small SUV, which weighs around 3,000-4,000 lbs. Just make sure you know how much your vehicle weighs and the correct way to tow your particular model—flat tow or tow dolly. Only certain passenger vehicles can be flat towed.
Do They Make 20-Foot Motorhomes?
20-foot motorhomes are usually Class B motorhomes, also known as camper vans. They range in length from 18-24 feet.
This category can have similar features to compact Class C RVs under 25 feet on European-style van chassis. Some can sleep up to four and can cost less or more than a Class C motorhome.
What Is the Most Affordable Class C RV Under 25 Feet?
Standard Class C RVs at the entry level, like the Gulfstream Conquest 6237LE, are the most affordable Class C RVs under 25 feet. Surprisingly, the Compact Class C RVs can be more expensive due to the engineering and building challenges required to manufacture them.
What Is the Most Luxurious Class C RV Under 25 Feet?
There are many luxurious Class C RVs under 25 feet. We've already featured a few above. If you're looking for a top-end Class C at this shorter length, look for state-of-the-art electronics, appliances, and the best materials. But expect an extra large price tag.
Is It Difficult to Drive a Small Class C Motorhome?
A small Class C motorhome under 25 feet is easy to drive, maneuver, and park. Many first-time RVers start at this level to ease into the RV lifestyle.
Which Class C RV Under 25 Feet Would You Buy?
A Class C RV under 25 feet is the perfect option to get around easily. You won't have to worry about having enough room to get into gas stations or back into a site.
Set up should be a breeze with these small motorcoaches; many have the option for power leveling jacks, taking that concern out of the picture. Any of the Class C's we mentioned would be a great option with lots of storage space, beautiful décor, and many amenities.
All the brands above are from great manufacturers and have good structures, so they'll be around for the long haul. If you buy a pre-owned motorcoach, make sure you do your due diligence, take a road test, and get an inspection. Also, choose a good brand, and you'll have some great adventures in your small space.
---
About the Author:
Terri Nighswonger and her husband Todd have been RVing and work camping for five years with their Cavalier King Charles Spaniel, Newton, and their Minnie Australian Shepherd, Remi.
They originate from the Midwest but plan to enjoy the West for a few years, wintering in Arizona and summering wherever the road may lead. Writing is Terri's passion, but she also loves hiking, kayaking, walking her dogs, and anything she can do outdoors.