As John and Samantha searched for an RV, they wondered if they could create a DIY RV office space. They loved the idea of hitting the open road but needed room to work. Unfortunately, every RV they saw had too little or no RV office space.
But then they had an idea. They gutted a closet and turned it into a DIY RV office space for John. Then they added shelves for storage, a comfortable chair, and a small desk.
For Samantha, who could work anywhere, they designed a comfortable DIY RV office space using the dinette. They added a few throw pillows, a small stand for her laptop, and converted a light scone for extra power outlets.
If you're like John and Samantha and need a DIY RV office space, this article will explore functional and stylish examples to inspire your own DIY RV office space creation.
5 Benefits of Creating a DIY RV Office Space
What are the benefits of creating a DIY RV office space? People love to have their own space, a favorite chair, a corner nook, or a cozy office. But when living in an RV, you have limited room, making it tricky to find that ideal spot.
Creating a DIY RV office space is a great way to add function and style to your rig. Not only will you have a dedicated space to work, but you can also design it to fit your needs.
The benefits of creating a DIY RV office space are endless, but here are a few reasons you should consider adding one.
1. You'll Have a Dedicated Space to Work
Living in an RV makes it easy for work and personal life to blend. A dedicated workspace helps keep things separate, leading to a more productive work day.
2. You Can Design It to Fit Your Specific Needs
When you create your own DIY RV office space, you can design it specifically for your needs. For example, you can add shelves if you need storage space. Or, if you work better at a standing desk, you can add one that raises or lowers.
3. It Can Help You Stay Organized
When you have a dedicated workspace, it helps you stay more organized. You can find what you need faster when you have a place for work-related items.
4. You Can Make It As Cozy or Stylish As You Want
One of the best parts about creating a DIY RV office space is making it as cozy or stylish as you want. For example, you can add some throw pillows and a blanket if you want a comfortable area to curl up in with your laptop. Or, if you want a more stylish space, you can add some wall art or a cute rug.
5. It Can Help You Feel More Productive
Having a designated space to work can help you slip into a work mindset, causing you to be more productive.
6 Things Your DIY RV Office Space Should Have
If you're planning on creating a DIY RV office space, it's vital to ensure it has all the essentials. Here are six things your DIY RV office space should have.
1. Desk
A Desk is essential for any office space, but finding a suitable one can be challenging with limited space. You can either purchase a small desk or build your own.
2. Comfortable Chair
Using a comfortable chair is critical when working in an RV office space. Make sure your chair supports your back so you can sit without pain and has wheels to make it easy to move.
3. Proximity to Outlets 
It's tough to stay productive when your devices run out of battery. Add a charging station to your DIY RV office space if needed, or position your desk near outlets so you can quickly charge your devices.
4. Privacy or Separate Space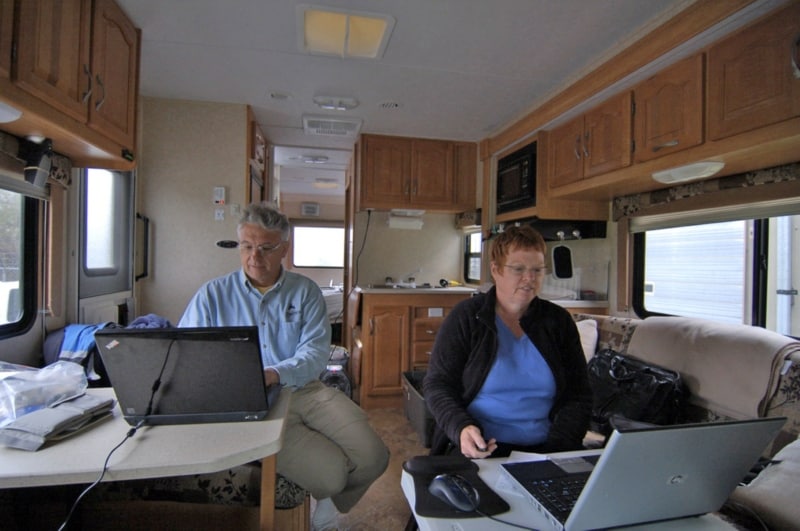 It was important to John and Samantha that they have their privacy or separate space for their DIY RV office spaces. Having a spot you can call your own can help you stay focused and be more productive. If you can't have a different area, consider adding curtains or a privacy screen to create separation.
5. A Backdrop for Zoom Calls
A backdrop for zoom calls is a must for any DIY RV office space. You can either purchase a backdrop or make your own.
A simple sheet hung with Command strips can make a creative DIY backdrop. You could use a virtual backdrop, but slower computers show a cascading effect on the other end.
6. Good Lighting
Natural light can be scarce in an RV. So add a lamp or two to your DIY RV office space to help you see while you're working. You can also add a light to your backdrop to create a better visual for zoom calls.
What Will a DIY RV Office Cost?
A DIY RV office can cost as little or as much as you desire. If you want to add a few simple items, like a small desk and chair, you can probably get away with spending less than $100 at a yard sale.
However, if you want to create a more luxurious space with built-in shelving and custom storage, you could easily spend a few thousand dollars.
If you take your time and shop around, you should be able to find everything you need to create a DIY RV office space on a budget that works for you.
9 Desks That Work Best in an RV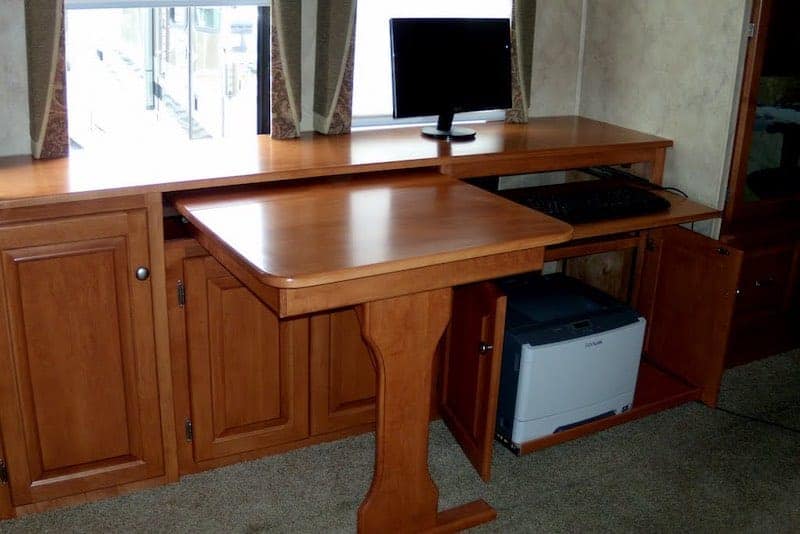 Look no further if you're looking for the perfect desk in your DIY RV office space. Here are nine desks that work best in an RV.
1. Anything With a Small Footprint
Anything with a small footprint is always appropriate for RV life, and desks are no exception. You can find small desks at most big box stores, but you'll want to ensure it's the right size for your RV.
Once you know the dimensions of your area, you can start shopping for a desk. Just be sure to leave enough room for a chair.
2. Use IKEA Furniture 
Adding IKEA furniture is excellent for creating a DIY RV office space. IKEA has everything you need to create a functional and stylish office with a wide variety of desks, chairs, and storage options.
Best of all, IKEA furniture is affordable and easy to assemble. You can get your office up and running in no time.
3. Standing Desks
If you're tight on space but still need a dedicated workspace, a compact standing desk like this one from Tangkula is an excellent solution.
You can easily adjust the height to suit your needs, and the efficient design won't take up too much precious real estate.
In addition, the built-in storage shelf works well for housing your laptop, notebooks, and other office supplies.
4. Lap Desks
Lap desks are the solution for anyone who wants to create a DIY RV office space. With a sturdy surface for writing and working on a laptop, a lap desk is a must-have for anyone who wants to be productive on the road.
5. Wall-Mounted Desks
A wall-mounted desk is a versatile desk you can use as a workstation, computer desk, or even a children's crafting table. The Haotian wall-mounted desk features storage shelves with a trestle desk design that's easy to set up and take down.
6. Fold-Out Murphy Desks
A fold-out murphy desk is a wall-mount desk that you can use for DIY RV office space in a small RV. When folded, the desk takes up little space, but when unfolded, it provides a large, sturdy surface for working.
7. Folding Tables
If you're working on a tight budget, folding tables are a great way to get the most bang for your buck. You can use their versatile design for various purposes, from dining to working to storage—even picnics. And when you're not using them, just fold and store them.
8. C-Shaped Side Table
C-shaped side tables are ideal for creating a DIY office space in your RV. With a small footprint and sleek design, this type of table is optimal for holding a laptop, an art project, or even a stack of books.
Like tables on wheels used in hospitals, the C-shape design allows you to slide the table close to your body, making it easier to access.
9. Coffee-Table Desk
A coffee-table desk has a big surprise hidden underneath—a pull-out desk! With its lift-top design, you can store your laptop and other work supplies using the tabletop for your workspace. The sleek design is attractive and modern, making your RV feel more like home.
Due to space considerations, coffee-table desks work best in Class A motorhomes with dual slide living rooms due to space considerations. Towable RVers may find this type of coffee-table comfortable in fifth wheels and fifth-wheel-style travel trailers.
Should You Buy or Build a Desk?
You have two options when creating a DIY RV office space: buy or build a desk. Both options have pros and cons, so it's essential to consider your needs before deciding.
Building a desk is the way to go if you're handy with tools and want one uniquely yours. You'll have complete control over the design, materials, and finish. However, building a desk takes time and effort, and it may be more expensive than buying a ready-made desk.
Buying a desk is quick and easy. You can find desks in every style, size, and finish imaginable. However, you may compromise on the design or materials if you're working with a limited budget.
Ultimately, deciding whether to buy or build a desk for your DIY RV office space comes down to preference. Consider what's most important to you and make the choice that will help you create the office space of your dreams.
How Do I Make Space for an RV Office in My Small RV? 7 Suggestions
Working on the road is becoming increasingly popular as digital nomads, and remote workers embrace the freedom of the open road. But many wonder how to make space for an RV office in a small RV. 
Here are seven suggestions for creating a DIY RV office space in a small RV.
1. Store a Lap Desk Under the Bed
You can store a small, portable lap desk under your RV bed. It's just right for those who don't have a lot of space to spare, and it's easy to set up and take down.
2. Squeeze a Standing Desk into the Corner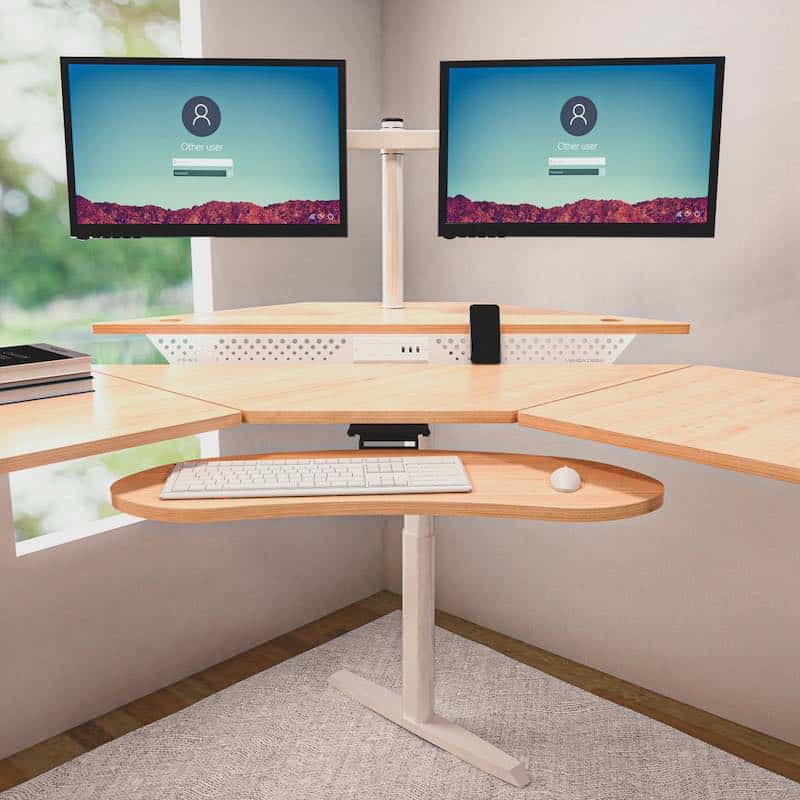 If you have more space to work with, try squeezing a small standing desk into the corner of your RV. It's a great way to get some extra height for working, and it's perfect for those who like to move around while they work.
3. Install a Murphy Desk
A Murphy desk is a great way to create a DIY RV office space for a small RV. Simply fold it up when you're not using it, and it disappears. When you're ready to work, open it for an instant workspace.
Some Class B motorhomes use this method with the rear beds. Look at how the camper van manufacturers attach these platforms to the van at the next RV show you attend and the August 2022 Edition of RV Camping Magazine to see which ones have this feature.
4. Use the Dinette Nook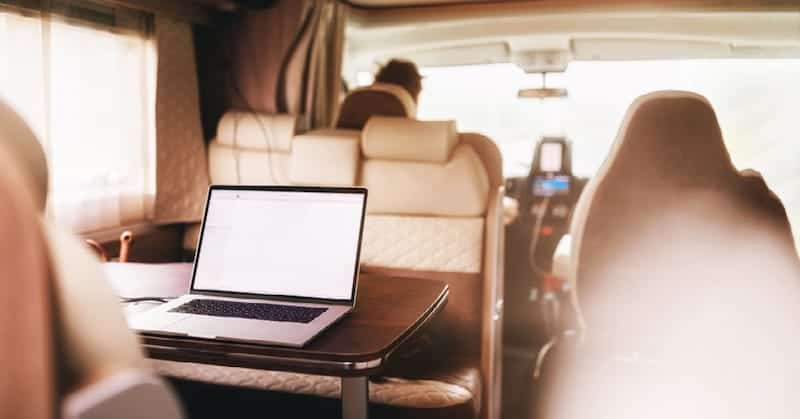 The dinette nook is an excellent spot for a DIY RV office space. It's usually near a window, so you'll have plenty of natural light for working. Plus, it's out of the way, so you won't have to worry about using too much space.
5. Utilize the Toy Hauler Garage Space
A toy hauler garage space is ideal for a DIY RV office. It's usually large and open, so you'll have plenty of room to spread out. Plus, you can close the door when you're working to keep your office separate from the rest of the RV.
6. Add a Desk By the Bed
Consider adding a small desk if you have space by the bed. It's a great working spot, and you can use it as a bedside table when you're not working.
7. Modify Your Dresser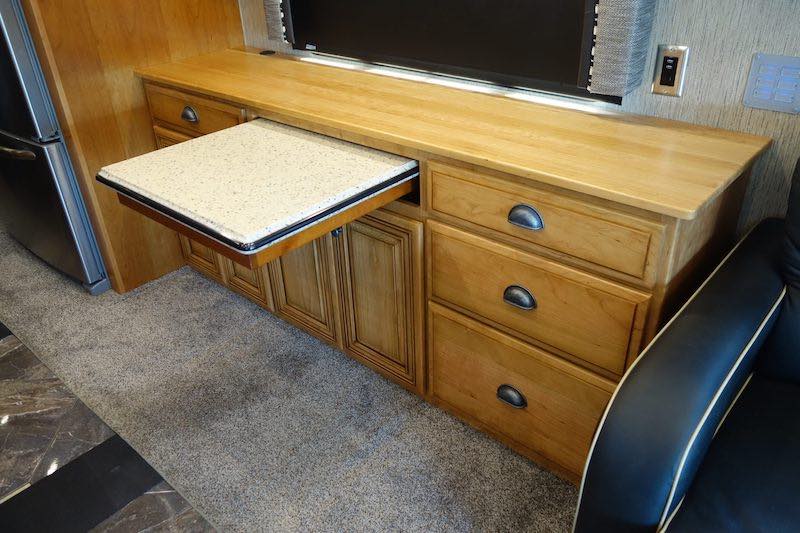 Modifying your dresser into a DIY RV desk is a great way to save space. You can easily add a few shelves and cubbies to store your office supplies. The top of the dresser makes a suitable work surface.
6 Places Where You May Have Extra Space in Your RV
If you're looking for a DIY RV office space, it's time to get creative and search for where you might have extra space. Here are some ideas to spark your imagination.
1. Utilize the Bunk Beds Area
You can convert an RV with bunk beds into an incredible DIY RV office space. Use the bottom bunk as a desk and the top bunk for storage.
2. Repurpose the Closet
The closet is a great spot for a DIY RV office space. You can add a few shelves and cubbies to store your office supplies and use the hanging space for a bulletin board or whiteboard.
3. Use Vertical Space to Your Advantage
Don't forget to use vertical space to your advantage. For example, install shelving units or hooks to hang supplies and equipment. Also, use the walls to store paperwork or other office supplies.
4. Get Rid of Unused Furniture
If you have furniture you don't use, get rid of it. Removing useless furniture will free up space for a DIY RV office space. Examples are RVs with two couches or extra dining table chairs you don't use.
5. Use a Motorhome Passenger Seat
Many motorhome passenger seats have a hidden table inside the armrest, which you can use for an excellent workspace area. And because the chair swivels, it's easy to move around while working.
6. Convert the Pantry into an Office
Consider converting the kitchen pantry into a DIY RV office space. You can even use the built-in shelves to store office supplies.
Consider a Pop-Up Office
A pop-up office brings the outdoors into your work life. DIY your own pop-up office space with some creativity and inexpensive materials. You can use a pop-up tent or clamshell shelter as a base. Then add a few camping chairs, a small table, and other necessary supplies.
Modify Your RV vs. Work within the Space–Pros and Cons
DIY RV office spaces are trending as more people work remotely, especially since the pandemic. The appeal is obvious. What's more perfect than having a place to work as you travel the country? However, should you modify your RV or work within the area? Let's explore the pros and cons of each option.
Pros of Modifying Your RV
Tailor the space to fit your needs.
Work in privacy and comfort.
Have more storage for office supplies.
Cons of Modifying your RV
Modifications can be expensive.
You could void your RV warranty.
Construction errors can create more problems than solutions.
Pros of Working Within the Space
Save money and time.
Able to move around different work areas.
Possible better resale.
Cons of Working Within the Space
Finding a workspace that is both comfortable and efficient can be challenging.
You may feel unproductive working in your living space.
Storage space for your office supplies may cause disorganization and clutter.
If you need to make the most of your storage space for your DIY RV office space, check out our article 17 Organization Hacks For Your RV and Bonus Tips. You'll be amazed at how much more space you'll find.
5 Examples of Fantastic DIY RV Office Spaces
DIY RV office spaces can be both functional and stylish. Here are 5 examples of fantastic DIY RV offices from fellow RVers that are sure to inspire.
1. Double RV Office Space for Full-Timers
Marc & Julie Bennett of RVLove shows how they created double RV office space for full-timer living. Because they both work remotely, having separate areas to do their work was necessary. See their bunkhouse office conversion and how Julie expertly uses their motorhome's dashboard desk for a great DIY office space.
2. Simple DIY RV Office Without Modification
Watch Josh the Nerd from Bish RV, create a simple DIY RV office without modifications. He also converts a bunkhouse into an office space. But his approach differs from Marc & Julie's by only adding a few pieces of furniture. No screws, hammers, or saws are required.
3. RV Office Setup and Other RV Work Space Options
The Never Stop Adventuring couple has many DIY RV office space designs in their RV for two full-time road workers. Watch how they add, remove and adjust their coach, giving you many office ideas.
4. Dinette Converts to Office Space with Extra Storage Space
The couple from Road Notes RV shows us how they converted their RV's dinette into an office space with extra storage. Even though this project took several months with a lot of elbow grease, the result was a beautiful, stylish, and functional office space that allows them to work on the road comfortably.
5. Standing Desks in the Toy Hauler Garage
Trippin With The Smiths needed a separate space to work, so they created standing desks in their toy hauler garage. The desks are adjustable, and the added storage keeps everything organized and within reach. Their DIY RV office space easily disassembles when it's time to hit the road.
Final Thoughts on Building Your DIY RV Office Space
One benefit of RVing is you can take your office wherever you go. By building your own DIY RV office space, you can create a custom-tailored work environment that meets all of your needs.
There are endless possibilities for DIY RV office spaces. It's about getting creative and making the most of your area. With some imagination, you can easily find the perfect spot to work in your RV. 
---
About the Author: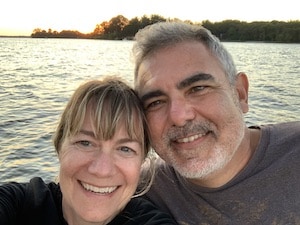 Mike Scarpignato is an avid RVer and outdoorsman. He travels with his wife Susan in their Class A 2021 Thor Challenger and their Class C 2008 Gulf Stream Conquest. Mike is also the owner of RVBlogger.com, TravelTrailerPro.com, and RV Camping Magazine.