Class C RV tow ratings vary from one coach to the next. The chassis, engine, suspension, and hitch all impact a motorhome's towing capabilities. So, how much can a Class C Motorhome Tow?
In this discussion, you'll learn about how much a Class C RV tows from the mammoth Super C motorhomes and the standard size Class C RVs. We'll also show you what the small compact Class C RVs tow and how to do it correctly.
How Much Can a Class C RV Tow?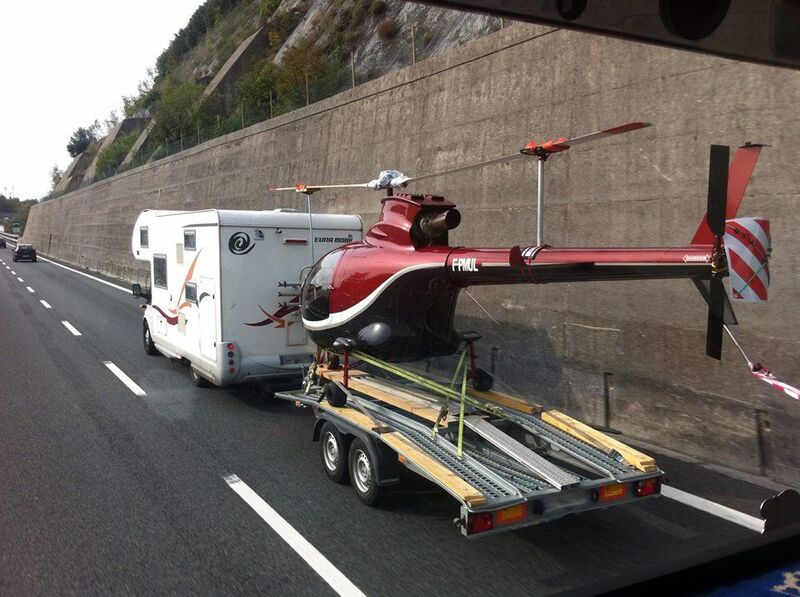 Smaller-bodied RVs, built on fuel-efficient chassis, can only tow about 3,500 to 5,000 pounds. On the other hand, Super C's that are built on medium-duty semi-truck chassis and can tow as much as 40,000 pounds. Similarly, diesel engines typically have a higher tow rating than gas engines.
You'll also want to note the hitch weight rating, GCWR (Gross Combined Weight Rating), and GVWR (Gross Vehicle Weight Rating). Stay within each of these limits, and you'll be towing with confidence in whichever Class C RV you drive.
If you're not familiar with the difference between GVWR and GCWR, check out our article, How Much Can a Class A Motorhome Tow to learn more.
Can a Class C RV Tow a Car?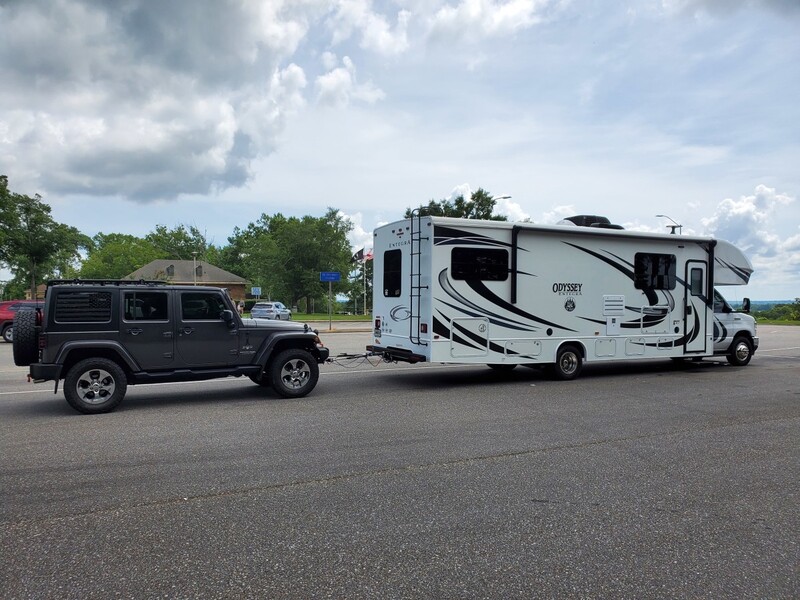 Yes, even Class C RVs with the lowest industry tow ratings can tow a car. A tow rating of 5,000 pounds will allow you to tow anything from a mid-sized car to a small SUV. 
As always, consult your RV's manual for the specific tow rating, GCWR, and GVWR. Don't forget also to consult your secondary vehicle's manual for specs related to its GVWR and whether or not flat towing (four wheels down) is possible.
Can a Class C RV Tow a Boat?
Class C RVs can also tow boats. But, like cars, there are several considerations. The type of Class C, as well as the kind of boat and boat trailer all matter.
A small fishing boat weighs under 1,000 pounds while a cabin cruiser can weigh closer to 10,000 pounds. Towing a boat also requires a boat trailer. This alone can weigh a few hundred to a few thousand pounds. Once again, you'll want to consult the manufacturer's specs on your RV as well as on your boat and its trailer.
What Are the Laws for RVs Towing?

Laws around RV towing vary from state to state. Some states allow you to tow up to two vehicles behind your Class C RV. Others prohibit triple towing altogether. More commonly, states have guidelines in place regarding the overall size and sometimes the weight of your towing setup. 
You can quickly reference the laws of each state with the Good Sam towing guide. It is also important that you check the DMV website of each state that you'll be traveling through. This will ensure you're following their most up-to-date towing guidelines.
How to Find the Hitch Weight for a Class C RV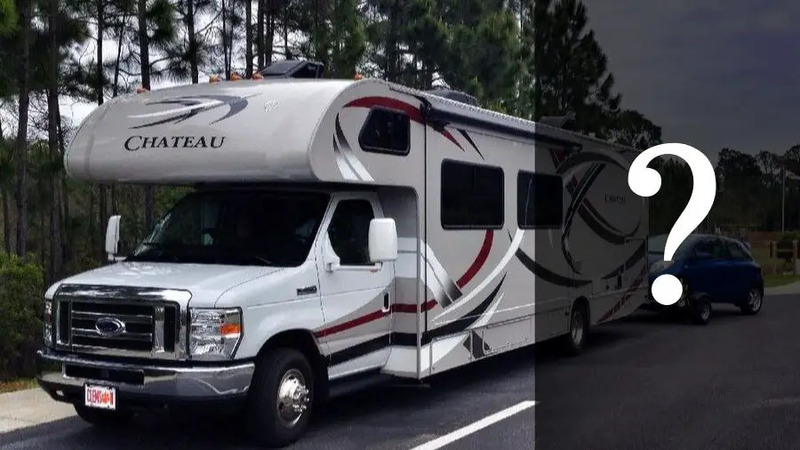 You can usually find the hitch weight rating for your Class C RV on a sticker inside the front door. This information is also easy to reference in your owner's manual.
What's the Difference Between GVWR and CCC?
GVWR is RV abbreviation for Gross Vehicle Weight Rating. This number refers to the manufacturer's recommended maximum total safe traveling weight of your RV. This includes not just the dry weight of the camper itself, but also all cargo including passengers, fluids, gear, and the weight of any towing setup.
CCC, on the other hand, is short for Cargo Carrying Capacity. This refers to anything you might add to the RV above and beyond its dry weight. Gear, the weight of the propane tanks, all the water in any of the tanks. It all counts toward CCC.
Travel Trailer Pro Tip On the Weight of Water: Did you know that water weighs about 8.34 pounds per gallon? It's heavy stuff, but never travel without it. Veteran RVers will always travel with anywhere between a quarter to a half tank of fresh water when on the road. Having water on the road is essential, but it also saves weight. You can find plenty of RV stops along the way if you need to refill the water tank.
Always double-check to ensure you're towing safely within the limits of your Class C RV. Be sure to remain under the recommended CCC. This'll ensure that your RV remains at or below the manufacturer's suggested GVWR.
Even if your towing setup is safely within the limits of your RV's hitch, there are other considerations. If your CCC is too high you could exceed the recommended GVWR and then, in turn, the safe GCWR of your motorhome. Overloading your RV creates a dangerous towing situation.
GCWR= Tow Vehicle (Class C RV) + towed item (car, boat, trailer, etc.)
Total Towing Weight of Towed Item= empty weight + water + gear + people
Safe Towing: Trailer item's GVWR < Towing Vehicle's Maximum Towing Capacity
What's the Best Way to Tow Behind a Class C RV?
1. Flat Tow
Flat towing is when a vehicle is attached to the motorhome using a tow bar. All four of the toad's (towed vehicle's) tires roll along the road as it's pulled behind.
This type of towing is the best choice if you'll need to frequently attach or detach your toad. This is because the tow bar used in flat towing is easy to use, disassemble, and stow.
Unfortunately, flat towing is not for everyone. Front-wheel drive vehicles cannot be towed using this method. It's best to use this towing method with vehicles that allow you to set the wheels to neutral. Manual transmission vehicles also do well with flat towing.
2. Tow Dolly
When towing with a Class C RV, a tow dolly is a great alternative to flat towing. In dolly towing, only two of the towed vehicle's tires ride on the road. The other two tires sit on top of a dolly that is attached to the hitch of the motorhome.
If you are towing a FWD (Front Wheel Drive) vehicle, be sure that the front tires ride on the dolly. This towing method can also be used for RWD (Real Wheel Drive) vehicles if you so choose. In this case, be sure to have the rear wheels ride on the dolly. You'll also want to check that the front of the towed vehicle has plenty of clearance with the ground.
3. Flatbed Towing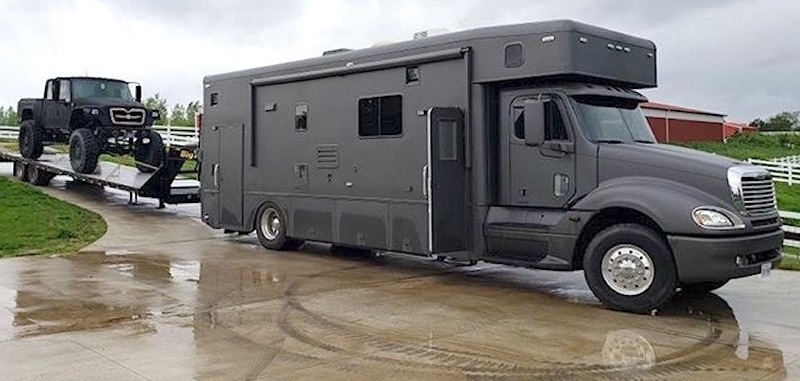 Flatbed towing is the most versatile way to tow with a Class C RV. Simply secure your toad to a flatbed trailer, and tow the trailer with your motorhome. All types of vehicles, including those with all-wheel drive, can use this method of towing.
Many RVers also love that they can take along more than just a car when trailer towing. As long as you are within your GCWR and towing capacity, you can bring along all your offroad toys.
When flatbed towing, remember that you must include the weight of the flatbed trailer in your safety calculations.
What Is the Average Towing Capacity for Class C RVs?
The average tow rating for Class Cs that use a Ford E-Series or Chevy chassis is up to 8,000 pounds. But that number can be a little deceiving.
Most typical Class C motorhomes are built on either a DOT Class 3 or a Class 4 medium truck or van chassis. These typically tow 5,000 pounds. Occasionally one will be able to tow 8,000 pounds.
Super C RVs built on a DOT Class 8 semi chassis pull this Class C industry towing average up.
Never rely on an average. It's important to always consult your owner's manual for the manufacturer's model-specific tow rating and GCWR.
Which Class C RV Has the Highest Towing Capacity
If you want the highest towing capacity of any Class C RV you want to look for a Super C. These motorhomes are built on the largest and most powerful chassis in the industry. The highest towing capacity is reserved for the rigs built on a Class 8 semi chassis.
5 Class C RVs That Can Tow 10,000 Lbs
1. Renegade Verona 40LRB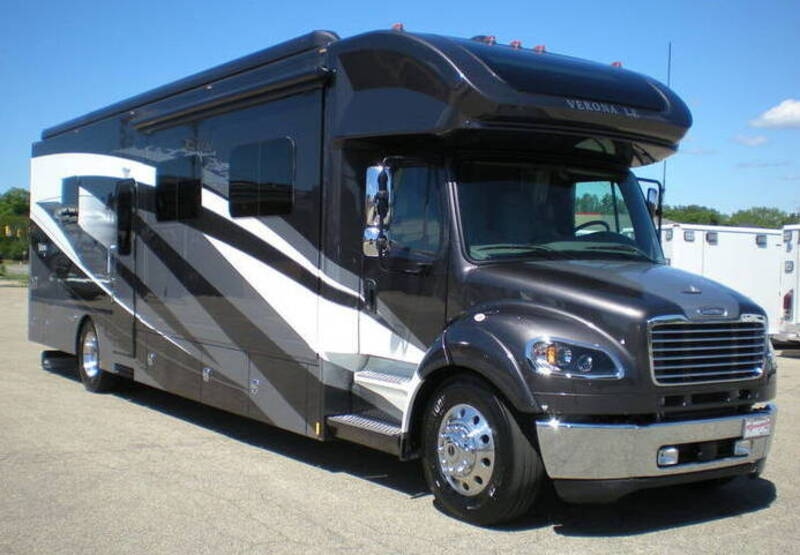 Our Pros and Cons
✅ The Renegade Verona 40LRB is a great couples' coach with excellent towing and hosting capabilities.
⛔ An outdoor kitchen and television would be a great addition to this entertaining-friendly RV.
Engine: Cummins L9
Chassis: Freightliner M2-106
Length: 40.17 ft.
GVWR: 34,300 lbs.
Tow Capacity: 20,000 lbs.
Sleep: 2-6
If you love entertaining, you'll love the Renegade Verona 40LRB. With a 20,000-pound towing capacity, this rig can transport a large party boat or cabin cruiser. Although the interior is geared towards couples, it also offers tons of extra sleeping spaces for overnight guests. New for 2023, there is an optional over-cab bunk in addition to a sofa bed and a dinette bed.
You'll find all of these extra sleeping options in the huge central living space. Opposing slide-outs open up this floor plan. Here, the kitchen and entertainment center are expertly combined. The large food prep counter extends under the television and above the optional fireplace. An under-mounted double basin sink and recessed induction cooktop with covers create even more kitchen workspace.
There's also a residential refrigerator and a large pull-out pantry. You'll be able to store enough food to feed a crowd. Should you decide to take the party outside, you'll appreciate the half bath's proximity to the front door. With this floorplan, quick bathroom breaks don't have to mean dirty footprints throughout the coach.
The Renegade Verona 40LRB is a great floorplan for couples who enjoy a good dinner party or tailgate. The cleverly located half bath works well to separate the large living space from the owner's bedroom. There's a lot to love about this Class C RV.
2. Jayco Seneca 37L
Our Pros and Cons
✅The Jayco Seneca 37L is a family-friendly Super C at a relatively affordable price.
⛔A tub in the bathroom would have made this RV even more family friendly.
Engine: Cummins ISB-300 6.7L
Chassis: Front End Diesel Freightliner S2RV
Length: 39.4 ft.
GVWR: 31,000 lbs.
Tow Capacity: 12,000 lbs.
Sleep: 6-10
If you need a family friendly Class C RV that can tow a significant amount, look no further than the Jayco Seneca 37L. With a towing capacity of 12,000 pounds, you can trailer and tow an off-road toy for each member of your family.
Even more impressive is Jayco's commitment to keeping your family safe. The four-seater dinette sacrifices the typical under-bench storage for a unique steel seatbelt anchor rated to 10,000 pounds. With seatbelts in all four dinette seats and car seat tethers in two, the whole family will be protected.
Safety extends to the over-cab bunk as well. You'll find a detachable cargo net that can double as a sleep rail for young children. Moving to the rear of the coach, you'll find even more sleeping options. In addition to a hideaway bed and separate dinette, this Class C RV also sports bunk beds. 
The Jayco Seneca 37L stands out for its abundance of sleeping spaces and seat belts. For young families, this Class C RV is second to none.
3. Dynamax Europa 32KD
Our Pros and Cons
✅ The Dynamax Europa 32KD is an easy to maneuver Class C RV with all the power of a Freightliner.
⛔The washer/dryer cabinet in the bedroom only supports a combo w/d.
Engine: Cummins B 6.7 L Turbo Diesel
Chassis: Freightliner M2 106B
Length: 33.10 ft.
GVWR: 33,000 lbs.
Tow Capacity: 12,000 lbs.
Sleep: 2-8
The Dynamax Europa 32KD boasts the power of a Freightliner packed into the length of a standard-sized Class C. This is great for those who want the 12,000 pound towing capacity without having to drive a 40 foot rig.
Dynamax is proud that the 32KD is built on the Freightliner M2 chassis. This creates a flush transition from the cab to the living space. Another cool extra you'll find in this particular model is the bigger transmission and 3,000-watt inverter. With this, you can run everything but the air conditioner off the inverter as you drive down the road.
Speaking of ease of use, this floorplan is well thought out. You'll appreciate that you can access all sleeping spaces as well as the bathroom without having to open the slide-out. Whether you're driving or making a quick one night stop, this layout makes things easy.
Travel is also more comfortable because of the rattle-free technology. Even the top of the camp side dinette is rattle-free. The Dynamax Europa 32KD is a Class C great for towing, but also for overall convenience while on the road.
4. Thor Inception 38MX
Our Pros and Cons
✅ This floorplan makes the Inception 38MX a great option for large travel groups.
⛔ The half bath is placed away from the main entrance, which makes tracking dirt throughout the coach more of a problem.
Engine: Cummins ISB-XT 6.7L
Chassis: Freightliner S2RV
Length: 39.10 ft.
GVWR: 32,700 lbs.
Tow Capacity: 15,000 lbs.
Sleep: 4-8
Big and bold, the Thor Inception 38MX is a Super C that can tow 15,000 pounds. This powerful rig offers a huge floor plan with more luxurious living space than most other Class Cs on the market. Great for larger travel groups, this motorhome boasts up to eight sleeping spaces, including the massive over-cab bunk. 
You'll also find that the 72-inch dream dinette easily converts to a large additional sleeping space. The dinette is like the sofa in that it's positioned opposite the fireplace and entertainment center for ultimate relaxation. If you prefer, you can opt for theatre seating instead of the sofa bed. Either way, you'll be able to fully enjoy your entertainment center.
Large travel parties will also appreciate the bath and a half element of this floorplan. The half bath is located off the main living space and conveniently opposite the washer and dryer. The rear full bath spans the entire width of the RV, creating a true couple's suite.
Upgrades abound, not just with respect to this Class C's towing capabilities but to all the interior features as well.
5. Newmar Supreme Aire 4530
Our Pros and Cons
✅ The Supreme Aire 4530 offers top-of-the-line features perfect for full-time RVers.
⛔ The televator can only be viewed from one of the sofas.
Engine: Detroit Diesel DD13 12.8L
Chassis: Freightliner M2
Length: 44.11 ft.
GVWR: 58,000 lbs.
Tow Capacity: 30,000 lbs.
Sleep: 2-8
On our list, the Class C RV that can tow the most is the Newmar Supreme Aire 4530. But towing capacity is not the only place where the Supreme Aire shines. Considered the ultimate in luxury, this massive motorhome spares no expense when it comes to interior features.
This coach is designed so you can enjoy the RV lifestyle without having to forgo any creature comforts. The Supreme Aire boasts upgrades, including a laundry station, heated floor tiles, and an optional dishwasher.
Like a traditional home, you can customize the furniture in the Supreme Aire 4530. In addition to the euro dinette, you can choose from theater seating, a sofa bed, and a jack-knife sofa. It's easy to create the layout that best suits your needs.
This RV will also have you feeling right at home with its bright and airy interior. The inside of this coach offers great natural light. The Supreme Aire forgoes an over-cab bunk in favor of a large sky window. More windows line the slide-out in the main living space. Full-timers will love that the Supreme Aire brings all the comforts of an actual house on the road.
Is It Worth Bringing a Car When RVing in a Campground?

RVing is a lifestyle, but not everyone chooses to enjoy that lifestyle in the same way. Some RVers prefer to park once, set up a campfire chair, and read a good book. Others prefer to set off and explore the surrounding area.
If you fall into the latter of these two categories, using your Class C RV to tow has major advantages. With a car in tow, you can leave camp completely set up and still get out and explore.
Having a car with you can also bring you peace of mind. Just last summer, our oldest fell off his scooter in the campground and broke his arm. Since we had a car with us, we didn't have to call an ambulance or pack up camp. Instead, we simply loaded him in the car and drove him to the local hospital.
How Will Towing Behind a Class C Affect Gas Mileage?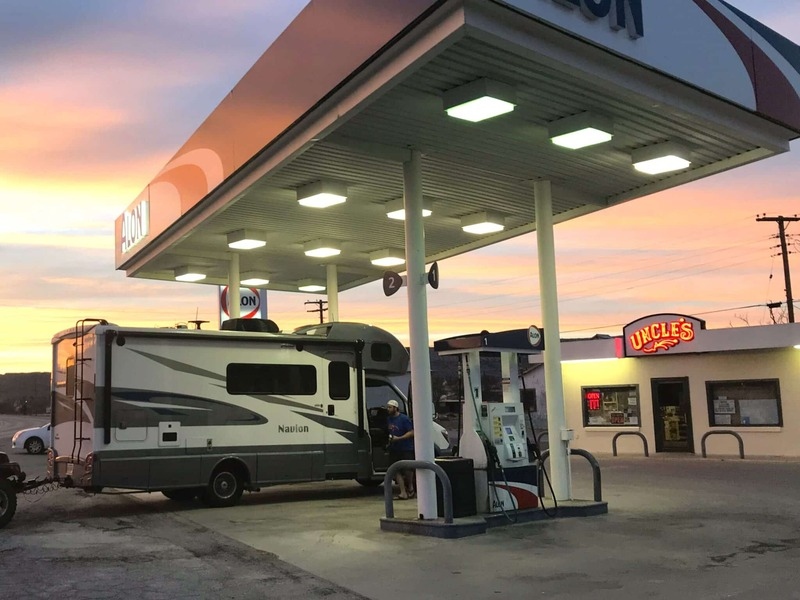 Unfortunately, using a Class C RV to tow will negatively impact your gas mileage. On average, you can expect your MPGs to go down up to 30% when you tow with your motorhome.
Of course, this number can differ a little depending on a few factors. The weight of the toad (the RV slang term of a towed passenger vehicle), the type of engine in the RV, and the terrain and speed with which you're traveling all impact fuel efficiency.
5 Considerations for Towing with a Class C RV
1. Local Laws
Always check local laws regarding Class C RV towing. The total allowable length and weight can be different depending on where you're driving.
2. Added Difficulty
The added length and weight that comes with towing, also means that you'll need to take turns wider and stop earlier. Backing up can be more difficult too. It's always a good idea to invest in a non-binding tow bar. That way if you find yourself in a particularly tight spot, you can easily disconnect.
3. Use the Right Tow Method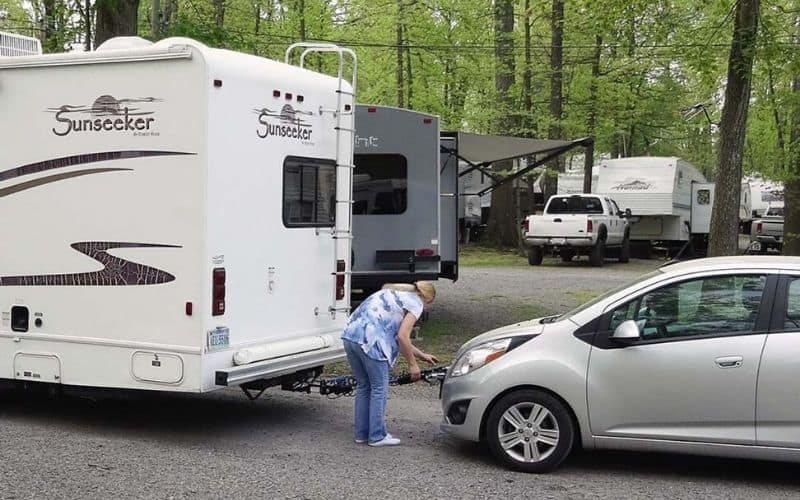 As we already discussed, there are three different ways to tow behind your Class C RV. Be sure to choose the method most appropriate for the type of vehicle you'll be towing. For instance, most front-wheel drive vehicles can't be flat towed.
Before you flat tow, it's a good idea to make sure that you can disengage the car's transmission. You should also check to make sure that towing will not void your warranty.
4. Pay Attention to Tow Limits
It's vital that you pay attention to your Class C RV tow limits. You need to be conscious of your motorhome's hitch rating. Take care also not to exceed the GCWR of your RV.
5. Practice Before Hitting the Open Road
As with driving or towing any new vehicle, it's always wise to practice before going on a road trip. Nearly everything from backing up, braking, parking and turning will feel different. It's best to work out any kinks before you hit the road.
Final Thoughts on Towing with a Class C RV
If you've never used a Class C RV to tow, the idea can be a bit intimidating. But it doesn't need to be a daunting prospect.
First, get to know your motorhome as far as how it drives and the various angles in your mirrors and camera perspectives. and its towing and weight limits.
Next, if possible, use your Class C RV for towing easier items so you can get a feel for it.
Then, research the specs of the vehicle you'd like to tow.
Finally, once you've determined the best and safest way to tow with your Class C RV, all that's left is to practice before embarking on any road trip.
Having mastered the basics of Class C RV towing, you'll appreciate the freedom and flexibility that having a car at your campsite will afford you.
---
About the Author:
Laura is a part-time RVer and a full-time mom of three.  Long-time campers and RVers before children, Laura, and her husband have fallen even more in love with the RV lifestyle since becoming parents to a child with food allergies. 
Having her own kitchen on wheels makes her RV trips amazing. Laura is passionate about finding ways to make traveling with young children fun, easy, and attainable.