There's nothing more gratifying than knowing you're in the market to find the perfect size RV. You spent every free moment dreaming, planning, and discussing every option. Finally, taking the plunge, you're ready to purchase the perfect size RV.
But alas, the process is fraught with anxiety and self-doubt. What's the perfect size RV for you, and how do you know when you find it?
There are a few key factors to consider when determining the perfect size RV: how many people will travel with you, what type of RV activities you'll be doing, where you'll camp, your budget, and more. In this article, we explore seven criteria to help you choose the perfect size RV. Let's get started.
7 Criteria to Choose the Perfect Size RV
RV size can be a tricky thing to determine. You don't want to get one too small or big and later regret your decision. That's why it's essential to consider all the factors before purchasing an RV. Take your time to think about the perfect size RV that will serve you best.
Keep the "shiny syndrome" at bay, and remember the size RV you choose should meet your needs, not the other way around. Here are seven criteria to help you choose the perfect size RV.
1. Lifestyle and Usage
Lifestyle and usage are probably the most crucial factors when determining the perfect size RV. Do you have a large family, or will you be traveling solo? Are you a full-time RVer, or do you only camp on weekends and holidays?
Do you plan to do a lot of off-roading or dry camping, or will you mostly stay in RV parks with hookups? Answering these questions will give you a better idea of the size RV that will suit your needs.
2. The Type of RV You Want
The next criteria for choosing the perfect size RV is the RV type. There are many categories of RVs on the market, from tiny campers and travel trailers to the mammoth luxury fifth wheels and motorhomes. Each class has unique features, so choosing the one that best suits your needs is important.
For example, fifth wheels offer more living space and flexibility but require a larger vehicle to tow them. Motorhomes provide more self-contained camping options but can be more challenging to maneuver. Therefore, weighing your options before choosing the right RV for your needs is essential.
I. Camper Trailers
Teardrop campers are a type of RV that is small and easy to tow. They're popular among solo and couple travelers who want a lightweight and easy-to-use RV.
Pop-up campers are another type of camper that continue to be popular with families. They're easy to set up and take down. You can tow them with most vehicles, including minivans. Pop-ups work well for those who want a lightweight and affordable RV.
Another option for a camper trailer is a truck cap tent or SUV tent camper. These tents attach to the roof or back of your vehicle to provide a comfortable place to sleep. They're the perfect size RV for those who want to camp without taking up too much space or carrying a lot of gear.
II. Towable Trailers
Towable trailers come in all sizes, from small camping trailers you can pull with a compact car to large fifth wheels that require a heavy-duty truck. Again, depending on what you will use your RV for will determine what size towable trailer to choose.
For those who plan to live as full-time RVer, a larger towable trailer, such as a fully self-contained full-profile fifth wheel, is more comfortable. These types of towable trailers have all the amenities that are designed for long-term RV living, including:
Residential kitchen appliances
A bigger bathroom
A spacious bedroom suite
Huge holding tanks
However, a small towable trailer will suffice if you plan to use your RV for occasional camping trips. Smaller towable trailers, such as a fish house trailer, are easier to maneuver on the ice and have everything you need for your ice fishing adventures.
A towable toy hauler is the perfect RV for those who like to explore the great outdoors with their ATVs or other off-road vehicles. These trailers have enough space to store your toys and gear. Some even come with a 20-30 gallon fuel tank to keep your motorized vehicle going.
III. Drivable Motorhomes
Drivable motorhomes come in three main classes: Class A, Class C, and B Plus. The size of each category varies, but all include designs for comfortable living on the road.
Class A motorhomes are the largest and most luxurious type of RV built on a truck chassis ranging from 25 to 45 feet long. Class A motorhomes have many high-end features, such as hardwood floors, granite countertops, and full-size appliances.
RV manufacturers build Class C motorhomes on a van chassis ranging from 18 to 25 feet long. People enjoy driving them since they're easier to drive and park. Class C RVs typically have queen-size beds, a small kitchen, a bathroom, and a cabover loft that holds up to 300 pounds. Some have slideouts that increase living space. You'll find many family-friendly Class C RVs that sleep up to 10 people.
B Plus motorhomes are the smallest types of drivable motorhomes also built on a van chassis like Class C RVs but without the cabover sleeping area. These motorhomes are usually between 22 and 32 feet long. Couples, empty-nesters, and small families enjoy the wider space and the cabover entertainment center.
IV. Van and Truck Campers
For those who enjoy the RV lifestyle but don't want the hassle of towing a large vehicle, Class B camper vans and truck campers can be the perfect size RV. These small RVs are easy to maneuver, and you can park in most standard-size parking spaces. Since they're not as conspicuous as a larger RV, they're more stealth camping friendly.
Vanlife has become a popular way to travel and live in recent years. It's a great way to see the country while living a minimal lifestyle. Thanks to the popularity of RV TV shows like the Travel Channel's Vantastic series, more people are interested in van camping.
Boondocking, or dry camping, is another advantage of van and truck campers. With their ability to go off-grid, you can enjoy a secluded camping experience in the middle of nowhere.
3. Driver's Comfort
When choosing an RV, it's crucial to consider the driver's comfort level. Some people are comfortable driving a 20,000-pound RV through heavy traffic or navigating RVs larger than city buses. Others may find the size and weight of these vehicles too much to handle.
One of the best ways to determine what the perfect size RV is right for you is to consider your comfort level. If you're nervous about driving a large RV or pulling a tremendous amount of weight, it's probably not worth buying a large one.
Some RV dealers offer a one-time driver training course for those new to larger RVs if you're on the fence. For a more thorough course, try an online RV training course. Using your neighborhood and a nearby empty parking lot, you can learn topics like turning, braking, maintenance, and other skills from the best instructors.
4. Don't Forget to Add Tow Vehicle Length
When looking for the perfect size RV, don't forget to consider towing capacity if you plan on towing a vehicle behind your RV. Towing capacity is listed in the vehicle specs and differs for every RV. The extra length of your tow vehicle can significantly impact maneuverability, especially when backing up or making turns.
Many people assume their RV can handle any size tow vehicle. But if you don't consider the extra length of the tow, you may struggle to make turns or even get stuck on tight roads. This information will help you determine what size RV is right for you.
5. Where You'll Camp
RVs come in all shapes and sizes, and so do campgrounds. The size of your RV will dictate where you can camp, which is determined by the campground.
If you plan on boondocking, size won't matter. You can camp wherever you can find a spot large enough to accommodate your RV. Just be sure to consider road conditions that can be difficult to navigate with a large RV.
The average national park campsite length is around 30 feet. Even though new federal legislation has devoted resources to updating these campgrounds, including the length of many popular national park campground sites, longer RVs may still have problems.
A 30-foot travel trailer with a 15-foot midsize SUV (the average length) or a 40-foot motorhome may have problems. There are 40-foot campsites, but they fill up fast. Book these popular spaces early because they fill up fast.
6. Budget
The size of your RV will have a significant impact on the price. For example, a converted camper van can cost around $40,000, while a larger Class A motorhome can cost over $500,000. This is because larger RVs require more materials and labor and have more features and amenities.
So what's the perfect size RV you should buy? That depends on how much money you have to spend and how much space you need. If you're on a tight budget, consider a smaller camper trailer. But if you need more room, consider buying a larger used RV.
Used RVs can be a great deal, and you may find one perfect for your needs. Just have it inspected by a professional NRVIA inspector before you buy it to ensure it's in good condition.
7. Good Maintenance Records
The last criteria for choosing the perfect size RV are good maintenance records if you're buying new or used. It's crucial to ensure the RV you purchase is properly maintained to avoid expensive repairs later.
If you're buying from a dealership, they should provide maintenance records. But if you're buying from a private seller, you'll need to request them. Be sure to get any warranties or service contracts in writing as well. If the RV had any recalls, you should look that up and receive the paperwork that proves the issue was corrected.
Moving on to another RV is best if the seller cannot provide maintenance records. With so many RVs on the market, there's no need to take a chance on one someone may have neglected.
Comparison of Large Size RV vs. Small Size RV
When choosing an RV, it's important to compare the size of different models before making a purchase. Here are a few advantages and disadvantages of large and small-size RVs.
Large Size RV Benefits
1. More Room
One of the primary advantages of a large size RV is that it provides more room. More space is ideal if you spend extended periods in your RV or have a large family.
2. More Storage
Another benefit of owning a large RV is that it provides more storage. This is perfect if you like to bring a lot of gear.
3. More Features and Amenities
Larger RVs have more features and amenities. This includes a larger kitchen, more bathrooms, multiple beds, and a living area. So a larger RV is the way to go if you want all the bells and whistles.
Large Size RV Disadvantages
1. More Expensive
The biggest downside of owning a large RV is the expense. And the initial purchase price is just the beginning. Larger RVs also cost more to maintain and operate. Once you factor in gas, repairs, and other costs, the price can quickly add up.
2. More Difficult to Maneuver
Another downside of larger RVs is they can be more challenging to maneuver. This is especially true if you're not used to driving a large vehicle.
3. Requires More Space
Living large comes with challenges, and one of the biggest is finding a place to park. Not only do you need a spot big enough to accommodate your RV, but you also need to be aware of height restrictions and overhanging obstacles.
Small Size RV Benefits
1. More Affordable
One of the most significant advantages of small RVs is that they're more affordable. This is especially true if you're looking for used RVs. Small-size RVs also cost less to maintain and operate, saving you money in the long run.
2. More Maneuverable
Another advantage of smaller RVs is that they're more maneuverable. This means you can take them places larger RVs can't go. So a small RV is an excellent option if you're looking to explore off-road trails or tight campgrounds.
3. Easier to Store
Small-size RVs are also easier to store. This can save you money on storage costs. If your HOA allows it, you can easily tuck your small RV into a garage or shed when it's not in use.
Small Size RV Disadvantages
1. Less Room
The biggest downside of small-size RVs is the living space, which can be a problem if you have a large family and want lots of gear.
2. Fewer Features
Small RVs have fewer features than larger RVs. Therefore, when considering smaller RVs, you'll want to decide what features are most important which ones can be sacrificed.
3. Space is Compromised
Because smaller RVs are smaller, living space tends to be more efficient and mid-level. For example, you may have a wet bath and privacy curtain instead of a full bathroom and a separate master bedroom.
What Is the Most Popular RV Length?
RVers have many factors to consider when selecting the right size RV. One of the critical decisions is choosing the right length. The most popular RV length is between 25 and 35 feet. This size is large enough to accommodate a family but not too large to maneuver. It's also small enough to fit into most camping spaces, including National Parks.
What Size RV Fits in Most Campgrounds?
There is no one-size-fits-all answer to how long an RV can be, as the length permitted at different campgrounds varies. The average RV length at campgrounds is 33 feet, but some locations will allow longer RVs.
What's the Best Size RV for National Parks?
RV size limits in National Parks range as low as 12 feet in length to 40 feet. As a general rule, the smaller the RV, the more National Parks you can visit because many National Parks have size restrictions to protect the landscape and prevent over-crowding.
Currently, the national parks are modernizing due to the funding approved through the Great American Outdoors Act (GAOA) passed in 2020. The average national park campsite length is around 30 feet, but after 2025, when the GAOA projects are complete, this length average will most likely lengthen.
How Do Campgrounds Measure Trailer Length?
Campgrounds typically measure the length of a trailer from the front of the trailer's hitch to the back bumper. That includes any attached bumpers or overhangs. When measuring your trailer, ask the campground staff how they measure length so you can be sure to book a spot big enough for your rig.
Which RVs Are Longest?
The longest RVs on the market are luxury Class A motorhomes. These rigs can be up to 45 feet long, but some are ideal for full-time couples or families depending on the floor plan.
Which State Has the Strictest Length Restrictions?
Knowing each state's length restrictions is essential when traveling across the country. The RV Life Trip Wizard Trip Planner provides a handy State Road Laws list that includes length restrictions for all 50 states.
Based on this list, the state with the strictest length restrictions is New Hampshire, which limits the total towing length to a maximum of 53 feet.
Which State Has the Most Lenient Length Restrictions?
The RVIA Maximum Allowable RV Lengths State Equipment and Road Use Law summary list Wyoming as having the most lenient length restrictions, with a maximum towing length of 85 feet.
What Size RV Is Best for Full-Time Living?
For full-time RVers, size definitely matters. The most significant factor is how much space you'll need to live comfortably. If you're downsizing from a bricks-and-sticks house, how little space you need may surprise you.
Many full-timers find a small RV, like a Class B camper van or a truck camper, the perfect size. However, if you have a family or plan to travel with pets, you'll need a larger RV, like a Class A motorhome or fifth wheel.
What's the Longest RV Allowed on the Road?
As mentioned, each state has different regulations regarding the maximum allowable length for an RV, so traveling across the country can be tricky. In most states, the total length is between 40 and 50 feet but doesn't include your tow vehicle.
What Length RV Will Fit in a Standard Driveway?
Many part-time RVers wonder what length RV will fit in a standard driveway. The typical driveway is 18 feet long but can range from 16 to 20 feet. So, if you have an RV less than 18 feet, you should have no problem fitting it in your driveway.
How Much Width Does a Slide Out Add to an RV?
Many RVs have at least one slideout, and some have two or more, adding to the RV's width. But how much width does a slideout add? The answer depends on the size of the slideout.
Most slideouts are between three and five feet wide, which means they will add that much width to your RV when deployed minus the few inches needed to stay attached.
What's the Perfect RV Size for You?
As discussed, the perfect size RV you need depends on several factors. For solo travelers or couples, a small camper van might fit the bill, especially for those that enjoy the minimalist lifestyle. But if you want to haul big equipment, ATVs, and other outdoor gear, you'll need a larger RV with more storage space.
If you have a large family and pets, you'll want an RV big enough to accommodate everyone. The bottom line is that there's no one-size-fits-all answer to choosing the perfect size RV. But by carefully considering your wants and needs first, you can find the RV just right for you.
---
Related Reading:
– How Much Does A Motorhome Cost To Own?
– Are Motorhome Prices Dropping?
– Motorhome Trade-In Value: What's Your RV Worth?
– 5 Best Class A Motorhomes For Large Families
---
About the Author: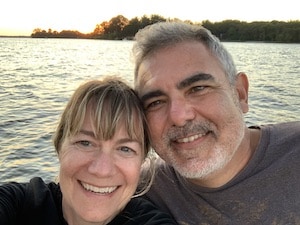 Mike Scarpignato is an avid RVer and outdoorsman. He travels with his wife Susan in their Class A 2021 Thor Challenger and their Class C 2008 Gulf Stream Conquest. Mike is also the owner of RVBlogger.com, TravelTrailerPro.com, and RV Camping Magazine.