If you're planning an RV road trip, you've likely wondered about the benefits of an RV GPS device vs. an RV navigation app. Although there are differences, both can direct you safely to your destination. Both are also great improvements over the paper atlases and maps of the past. 
When GPS burst onto the travel scene in the early 1980s, it quickly dominated the market. But with the invention of the smartphone years later, nearly everyone soon had a navigation device right in their pocket. GPS devices were forced to take a bit of a back seat. 
But early navigation apps lacked many features RVers needed. Similarly, early GPS devices had their RVing pitfalls too. The good news is that both GPS devices and navigation apps have come a long way in offering features for RV travel.
Today the pros and cons of RV GPS devices vs. RV navigation apps often come down to preference. How you travel, where you go, and what you like to see along the way will impact your decision between the two.
We'll compare RV GPS devices vs. their RV navigation app counterparts so you can determine which one is right for you.
What Is an RV GPS Device?
When comparing RV GPS devices vs. RV navigation apps, remember that GPS is a separate device purchased just for navigating. An RV GPS is simply GPS designed for an RV.  As you might expect, these devices have extra features tailored to RVers.
Unlike regular GPS, an RV GPS will factor in your rig's size and weight when determining the best route. You'll effortlessly avoid roads with weight restrictions or low clearance.
RV GPS units also often have a database of camper-specific information. RV-friendly fuel stations, places to stay, and repair shops are all at your fingertips.
Which Navigation Apps Work Best for RVers?
Navigation apps, like GPS devices, aren't all created equal. Some are better suited for RV drivers than others. Be sure to look for a navigation app that allows you to enter the specifics of your RV.
A good navigation app will take that data and customize a route for your rig. Most quality navigation apps also have a database of resources for RVers. Beyond RV fuel and rest stops, the best navigation apps can help you plan your trip.
In comparing navigation apps vs. RV GPS, trip planning capabilities matter greatly.
5 Important RV GPS Device Pros
1. Easy to Use
Ease of use is one of the most important things when shopping for a way to navigate and plan your RV road trip. RV GPS is very easy to use. All you have to do is input your RV information and your destination. Then you're ready to hit the road!
2. More Reliable without Cell Service
Instead of RV navigation apps, RV GPS relies on satellites to help you navigate. Many of the best RV destinations have spotty cell phone service. Navigating without relying on cell phone towers can be a huge benefit.
3. Built-In Extra Features
RV GPS devices come preloaded with a wealth of data. This includes RV-specific points of interest like dump stations, fuel stations, and campsites.
Moreover, many RV GPS devices now have add-ons designed to protect you while on the road. Lane suggestions, the ability to sync with extra cameras, and Bluetooth capabilities all help keep you safe.
4. Connects to Virtual Assistant (Amazon's Alexa)
Many RV GPS devices, including Garmin devices, work with Amazon Alexa. This means that you can talk to your RV GPS and, when compatible, use it to control other smart devices onboard. You'll appreciate the safety aspect and added convenience of these voice controls.
5. Larger Screen
The screen size can be drastically different when comparing RV GPS devices vs. RV navigation apps. Some GPS screens are a whopping 10 inches in size, which is nearly 50% larger than the latest and greatest smartphone.
Screen size isn't just a matter of convenience; it can also be a matter of safety. A larger screen can make it easier to see your route at a glance, allowing you to keep your eyes on the road.
5 RV GPS Device Cons to Look Out For
1. Expensive
A downside to an RV GPS device vs. a navigation app is that it can be expensive. An RV GPS is a separate device all its own. Purchasing a basic model will save you a few hundred dollars or more.
2. Slightly Slower Hardware
RV GPS devices use satellites rather than cell phone towers to pinpoint a location. On average, an RV GPS must connect with at least four satellites before it can work properly. 
Even with hefty built-in antennas, GPS hardware is often slower to establish a reliable connection. Obstacles like trees, tunnels, and mountains can also pose a problem.
3. Often Requires Downloading Maps
Map updates need to be manually downloaded to RV GPS devices. These updates are sometimes hard to find, often requiring you to search for the most up-to-date version. These updates also aren't always free or as readily available as navigation app updates.
Once downloaded,  RV GPS devices store maps on the unit. This does make them a more reliable option for boondockers.
4. Requires Manual Updates
Manually updating your RV GPS can be tricky. Often you'll have to connect to Wi-Fi or to a computer. Mobile nomads can eat up much of their monthly data allowance through their hotspot connection and a significant amount of time.
5. One More Device to Deal With
Another con of RV GPS devices is that they're one more electronic device. We all love having everything at our fingertips with our smartphones. Owning a separate GPS device deviates from that all-in-one mentality. But depending on your needs, a separate RV GPS device can be worth it.
5 Navigation Apps Pros
More Accessible to Everyone
These days almost everyone has a smartphone. Adding RV navigation is as simple as downloading an app.
 Free or Affordable
Like most apps, RV navigation apps are usually free or very affordable. Unlike RV GPS devices that cost hundreds, you likely already own a smartphone. All that's left cost-wise is to download your favorite RV navigation app.
Show Traffic Patterns and Reroute As Needed
Smartphone navigation apps have real-time traffic updates and can reroute you as needed. A navigation app also provides weather updates, local fuel prices, and relevant business hours.
Automatic Updates
RV navigation apps, like other cell phone apps, update automatically. When planning a road trip, you have enough to worry about; removing "update maps" from your to-do list is a valuable convenience.
Constantly Improving User-Friendly Interface
Cell phone manufacturers are always competing for the best software. As a result, navigation apps rely on cell phone software to be updated frequently.
5 Navigation Apps Cons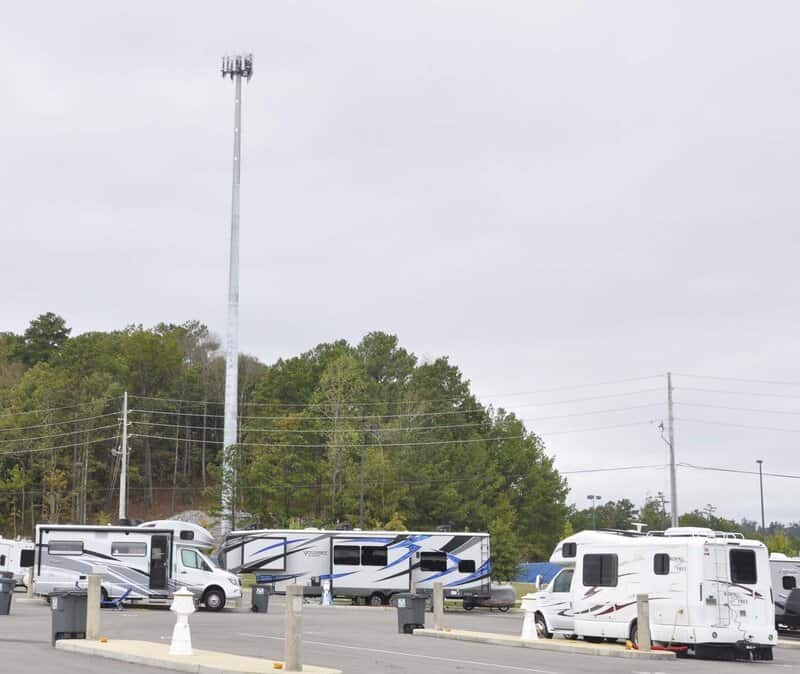 Requires Cell Service
A navigation app relies on a cellular data network and communication towers. This can be a big disadvantage in the RV GPS device vs. RV navigation app debate.
Cell phone service is limited or non-existent in many remote RV destinations. Some navigation apps allow you to download and store maps on your phone. But other RV navigation app features don't work at all without service.
May Show Routes That Aren't RV Friendly
A few navigation apps are RV-specific. Others may serve a dual purpose and work for cars and RVs.
However, the majority of navigation apps don't take into consideration an RV's size or weight. Choose a navigation app that asks for your RV's specs to avoid disaster when suggesting a route.
Less Reliable
RV navigation apps rely on cell phone towers. This makes them less reliable than satellite-based RV GPS devices, especially in remote locations.
It Could Require a Monthly Subscription
Many RV navigation apps charge monthly to be able to use their services. The subscription fee is nowhere near the one-time initial cost of purchasing a GPS, but they do add up. Consider all these expenses when comparing the cost of an RV GPS device vs. an RV navigation app.
Your Phone May Serve Too Many Purposes
A big advantage of RV navigation apps is the ability to use your phone to navigate. But this can also become a disadvantage.
We already rely on our phones for so much. You may find that you need your phone to entertain kids or provide a hotspot for your co-pilot's remote work. It may not be possible for your device to serve all these purposes at once.
How Have RV GPS Devices Improved Over the Years?
The interfaces used by RV GPS devices have improved in recent years. They are becoming more intuitive and easier to use.
RV GPS manufacturers have also added bonus features beyond navigation capabilities. Voice commands, touch screens, and WiFi capacity make RV GPS travel safer and easier than ever.
Most RV GPS devices have enough data storage these days to offer RV-specific points of interest suggestions along your route.
Are Navigation Apps Getting RV-Friendlier?
At the same time, RV GPS devices are improving; navigation apps are also becoming more RV-friendly. RV-specific navigation apps can now direct you to the route best suited for your camper's size and weight.
Collaborating RV navigation apps with trip planning tools are also a game changer. Navigation apps can tap into an internet database of campgrounds, fuel stops, and points of interest at the drop of a hat. Usually, these resources are more robust than GPS devices' databases.
RV GPS devices, compared to navigation apps, offer fewer trip-planning tools as well. Limited data storage capacity impacts the trip-planning tools available on a GPS device. Cell phone-based navigation apps with internet access don't have that same limitation.
3 Best RV GPS Devices 
1. Magellan RoadMate Pro 9165T For RVs
The large touch screen, Bluetooth, and quick spell address correction make the Magellan RoadMate Pro 9165T reliably a breeze to operate. You can simplify your trip planning, even more when you program the favorites icons.
The Good Sam Trailer Life Directory also partners with Magellan. Therefore, the Good Sam database comes preloaded on the RoadMate, as does a lifetime of free traffic alerts.
You can input your RV's specific width, height, and weight for customized directions. Pair this RV GPS with extra backup cameras for additional peace of mind.
2.TomTom Trucker 620
The TomTom Trucker 620 has features that RVers will love. As a GPS designed for large vehicles, the point of interest suggestions is suitable for RVers.
The free map updates that come with the TomTom Trucker also save you money and time. You have more travel options with maps for both the U.S. and Canada.
You'll also appreciate the hands-free Bluetooth commands. Partnered with the unique sunlight-readable screen, the TomTom Trucker 620 is ultra user-friendly.
3. Garmin Vieo RV 1051 Display
The Garmin Vieo all-in-one electronic hub leads the pack when comparing RV GPS devices and RV navigation apps. 
Like many RV GPS devices, the Vieo 1051 uses your specific RV specs to suggest a safe route. It also has a wealth of campgrounds, fuel stations, and roadside attractions suggestions.
Unlike many other GPS devices, the Garmin Vieo pairs with your phone. It works with both the Garmin Express App and the Garmin Drive App. You can do everything from downloading updates to viewing live traffic or weather.
This RV GPS also allows you to sync up to four additional cameras. Simply make one of these cameras a front-view, and you can take advantage of the Vieo's built-in collision avoidance. Since the Garmin Vieo supports EmpirBus Connect 50, you can even use this GPS to replace the multimedia component of your rig.
You can learn more about the Garmin Vieo in our July 22 issue of RV camping magazine.
3 Best RV Navigation Apps 
1. RV Life Trip Wizard
The RV Life Trip Wizard navigation app has become a great one-stop shop for all things RV travel. Compatible with both Android and Apple devices, you'll wonder how you ever lived without it.
One huge benefit of RV Life Trip Wizard is that it's web-based. This eliminates the need for updates and gives you access to expansive RV resources in the blink of an eye.
Start by planning your trip on your computer. Then access it on your smart device or onboard infotainment system when it's time to start your journey.
Affiliated with Good Sam and Passport America, you'll always find the best places to stay. You can even rank your campground affiliates. Knowing your preferences enables RV Life Trip Wizard to recommend the most economical stay for you.
RV Life Trip Wizard is also customizable to your RV. Once you've planned a safe route, you can see your route mapped out. You'll also see the total estimated cost of your trip, including gas and campground fees.
Use Discount Code RVBLOGGER25 to save 25%
2. ToGo RV GPS
ToGo RV GPS takes trip planning and RV preferences to the next level. Its ultra-specific route options consider rig size as well as nine driver-selected preferences.
Do you want to avoid a certain type of terrain? Are you a newbie RVers who may be uncomfortable with left-hand turns or tunnels? No problem; ToGo RV GPS can help you choose the best course for you. Compatible with both iPhones and Androids, this navigation app is a great resource for any RVer.
ToGo RV GPS is excellent on its own, but upgrading to Roadpass Pro will improve your adventure. The live traffic updates and the ability to collaborate with friends save you time. The special discounts and the exclusive relationship with Harvest Host saves money too.
3. Roadtrippers Plus
Roadtrippers Plus has many benefits you might expect in a navigation app and additional bonuses. Beyond the special RV routing, you can customize your trip in various ways.
Choose from many map styles that make your route easy to see day and night. Search points of interest by distance from your route, quality of reviews, or the number of pictures. If you don't feel like doing the legwork, Roadtrippers Plus also has many pre-planned trip guides.
Comparing navigation apps vs. RV GPS, you'll find the Roadtrippers Plus app is a cut above others. Extras like live traffic updates, offline maps, and trip cost estimation set this app apart. It's also very easy to use and compatible with all types of smart devices.
Final Verdict: RV GPS vs. RV Navigation Apps
The question of which RV GPS device or RV navigation app is better is not black and white. Each excels in areas where the other doesn't.
RV navigation apps update automatically, operate faster, and have a greater database of RV-specific points of interest. On the other hand, RV GPS devices have larger screens, more reliable connectivity, and a dedicated purpose.
Having one of these navigation options in your RV will provide confidence and peace of mind on any road trip. Not surprisingly, the superior features of each have led many RVers to conclude that owning both is an even better choice. 
With both a navigation app and RV GPS on board, you'll always have maximum connectivity and the most accurate and up-to-date route. You can't be too prepared when one wrong turn can result in a disastrous accident at worst or a 35-point turn.
---
About the Author:
Laura is a part-time RVer and a full-time mom of three.  Long time campers and RVers before children, Laura, and her husband have fallen even more in love with the RV lifestyle since becoming parents to a child with food allergies. 
Having her own kitchen on wheels makes her RV trips amazing. Laura is passionate about finding ways to make traveling with young children fun, easy, and attainable.