Your motorhome is a big investment that takes a lot of time and effort to maintain. No matter how well you care for your motorhome, there will eventually come a time when something breaks when you are on the road. Keeping motorhome spare parts and tools with you on the road will help you with those rare times if you break down or need a part.
The Prepared motorhome owner will have a set of RV spare parts and tools. These items will take up a bit of storage space, but they are essential. Having RV spare parts on hand will make emergency repairs a lot less stressful. But what RV spare parts should you carry?
This article will show you which motorhome RV spare parts every motorhome owner should have.
Why Carry Essential Motorhome Spare Parts With You?
Having essential RV spare parts is really about convenience and preparedness. Things never break when you are close to home or a town. They always go wrong when you are in an inconvenient spot. In our travels, a spare part kit has saved the day more than once.
The other thing to remember about spare parts is that your motorhome is not a standard vehicle. You may lose your engine's rubber timing belt because it snapped. The local repair garage may not have the right one you need. If you have a spare timing belt that fits your motorhome's engine in your spare parts tool bay, the mechanic may be able to get you back on the road. This will save you from finding one nearby or ordering a timing belt that may take days to come in.
Some basic parts and tools are great to have on hand if you need to help another camper or RV owner. Things like transmission fluid, duct tape, and zip-ties can really be helpful for you and your campsite neighbors.
The Difference Between Motorhome & Travel Trailer Maintenance
There are different spare part needs between motorhomes and travel trailers. Sure, there are some common items, but motorhomes also need to carry parts for the vehicle components.
Travel trailers and motorhomes will need similar spare parts for the coach components. Things like water filters and propane regulators are helpful for both. However, for your drivable motorhome, you will also need engine oil, oil filters, and other spare parts for the engine and transmission of your RV.
14 Essential Motorhome Parts To Carry
If you are putting together spare parts for your motorhome, we have compiled a list of 14 essential RV spare parts. These are the parts that every motorhome owner should have on hand in case you need to make repairs in a pinch.
1. Motor Oil Filter For The Engine And Generator
Your motorhome does not use the same size and type of oil filter as normal cars. This means that not every repair garage will have the right one for your RV. If you have a spare, you can hand it off to the mechanic, and you will get a proper oil change. The same is true for your motorhome generator. The right filter may not be readily accessible in some areas.
If you find a Love's Speedco that will perform an oil change on your RV, you will need to provide your own oil filters for your engine and generator since they don't carry RV filters. As a business, they don't work on RVs, but some managers will allow the oil change work to be completed. But you will need to provide the oil filter and air filters.
2. All Engine, Generator, & HVAC Air Filters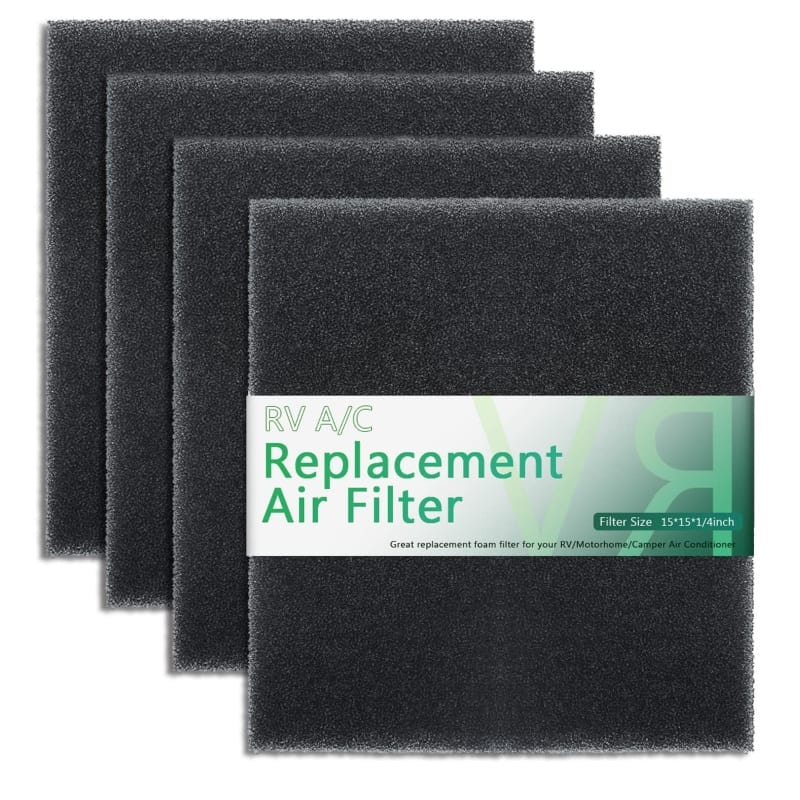 The engine oil filter is not the only one you will need for your motorhome. You will want to carry spare engine air filters, cabin air filters, filters for your AC units, and any filters that your generator may need. Yes, this takes up some space in your storage bins, but they are essential for keeping your RV running properly.
3. Oil & All Needed Fluids For Motorhomes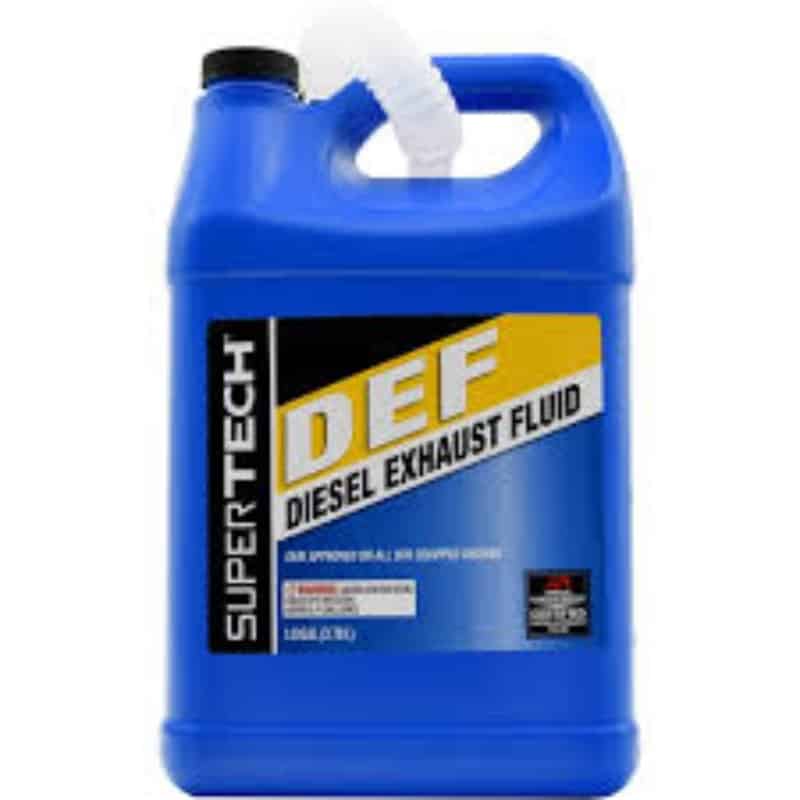 Though not really a part, having a container of the essential fluids for your RV is a good idea. You should have at least a quart of engine oil, power steering fluid, brake fluid, hydraulic fluid (for jacks and slide-outs), transmission fluid, coolant, and windshield washer fluid that cleans the bug debris off your windshield.
Don't forget to carry a can of fuel (gasoline or diesel). You always want to fill up your full tank when you're about 1/4 low, but it's always a good idea to have that extra fuel onboard in case you run out at the wrong time. If you have a diesel engine, make sure you also have a can of DEF.
4. All Purpose Transmission Fluid
Transmission fluid can be an emergency substitute for many of your fluids in the motorhome. All-purpose transmission fluid can be used in a pinch for hydraulic jacks or to replace power steering or brake fluid.
5. A Good Condition Spare Tire
If you are driving a Class A or Class C motorhome, you probably have a spare tire already. Make sure to inspect your spare tire before traveling. You want to ensure that it's rode-worthy and has no rote or damage. If you need it, you don't want to need it and find it too inadequate to use.
When heading out on a boondocking or camping in remote locations, more than one spare tire is a great idea. You just do not know what remote roads will throw at your RV tires.
6. Engine Drive Belts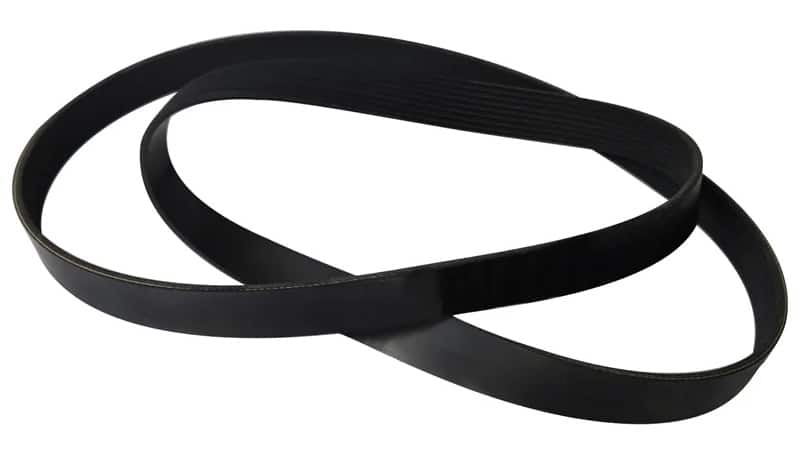 Engine drive belts are essential for the operation of your motorhome engine. They send power from the engine to many of the parts in the engine bay, like circulating the coolant through the engine and providing power to the alternator. If one or more engine belts fail, your motorhome engine likely will not work properly.
7. 12V DC Fuses Squire Kit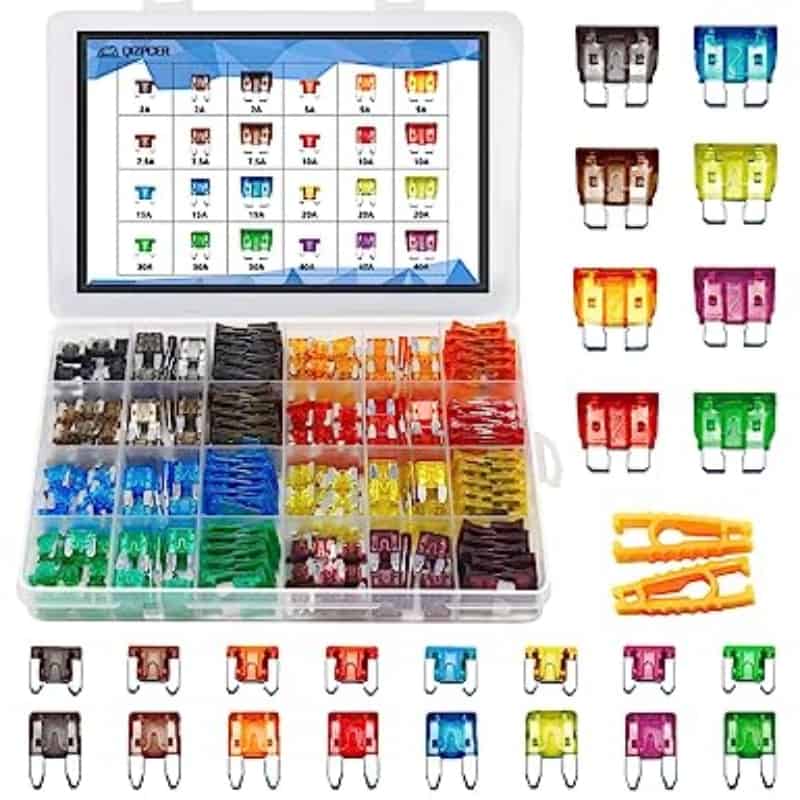 Fuses are inexpensive and an easy spare part to carry. Before ordering a supply online, ensure you know what kind your motorhome needs. American-brand motorhomes use square fuses, while European-made motorhomes use a round fuses. 
Some motorhomes, like those on a Mercedes chassis, use both square and round fuses. If you are not sure which your RV takes, you can look in the fuse box or consult your owner's manual.
8. Headlight & Other DOT Bulb Replacements
You do not want to be pulled over when you are on vacation. Especially for something as simple as a light being out on your motorhome. Having a set of replacement bulbs in your RV spare part kit is a great idea. Look for LED replacements that last longer than traditional incandescent or halogen bulbs.
This would include your brake lights, headlights, yellow side lights, and the lights that mark your RV's roof. If you have light bulb versions, replacement versions are now LED. The bulb is an LED that fits into the bulb connection. Meanwhile, you should still have replacements for the plastic lights of whichever cover for the DET lights, like the brakes, turn signals, and backup lights.
We know someone who had his front turn signal light yellow cover stolen while he was trying to escape a storm. Once he got to his final destination, he spend a lot of time online finding a replacement for his 2001 Ford chassis turn signal cover replacement and spent a good amount of money on the replacement since it was being shipped during a storm. He didn't want to return home without that turn signal light and risk being pulled over.
9. Interior Light Bulbs
You do not want to be left in the dark if a bulb inside of your motorhome goes out. Add a few LED replacement bulbs to your spare part kit for your interior lights. If you are running on battery or solar power, LEDs require less energy and will not have as much draw on your battery.
10. Electric Surge Protector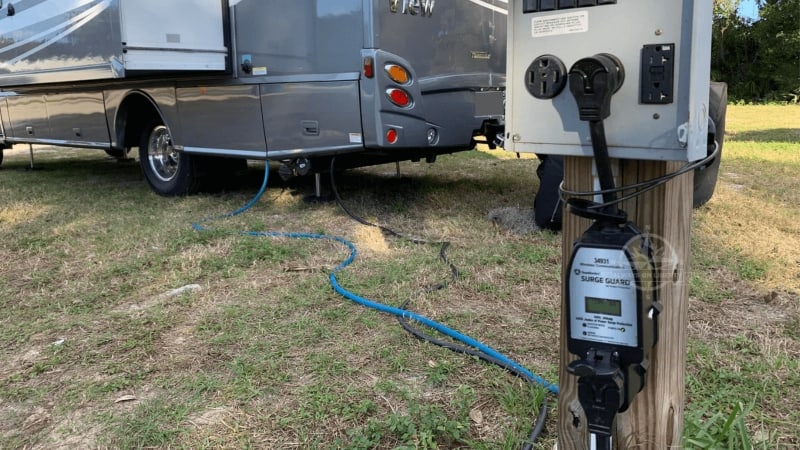 Some motorhomes have built-in surge protectors, but there is nothing wrong with an added layer of protection. An electric surge protector that you plug into the campground's electric post is a good way to protect your RV's electrical system more.
11. Do Not Forget An Extra RV Water Filter Replacement
Many motorhomes have a built-in filtration system for freshwater. Like the filtered water in your refrigerator at home, this system does need to have the filter replaced periodically. If you carry a spare filter for your water system, you will not have to worry about searching for the nearest camping store to purchase a replacement.

12. Spare Water Tank and Hoses
A spare water bladder is great for boondocking or just added comfort. Portable water bladders like the Aqua Tank freshwater tank are a great way to make sure that you have enough water for drinking and cooking. To go along with your extra water tank, make sure that you have a spare freshwater hose. 
Remember, freshwater hoses are specially insulated to protect you from chemicals leaching from the hose. Do not use a normal garden hose for freshwater connections to your RV.
13. Holding Tank Treatment
Holding tank treatment helps manage odors and breaks down waste from your black tank, and stops odor issues in your gray tank. You should keep an extra container of the version you use in your RV spare part kit so that you never have to worry about running out in your motorhome.
14. Water Pressure Regulator
Too much or too little water pressure from campground spigots can cause a lot of trouble for your RV water system. Having a water pressure regulator on hand will protect your motorhome from unintended damage from improper water pressure. 
What Are The 9 Essential Motorhome Tools You Need?
Now that we have talked a bit about the spare parts you need to carry in your RV, it is time to talk about tools. You should never leave home with a full set of tools that can be used for making repairs to your motorhome. You should always have the basics:
Set of screwdrivers – Phillips and flathead
Hammer
Pliers
Wrenches
Adjustable wrench
Here are some other tools you should have in your motorhome tool kit to go along with these basics.
1. Tool Starter Kit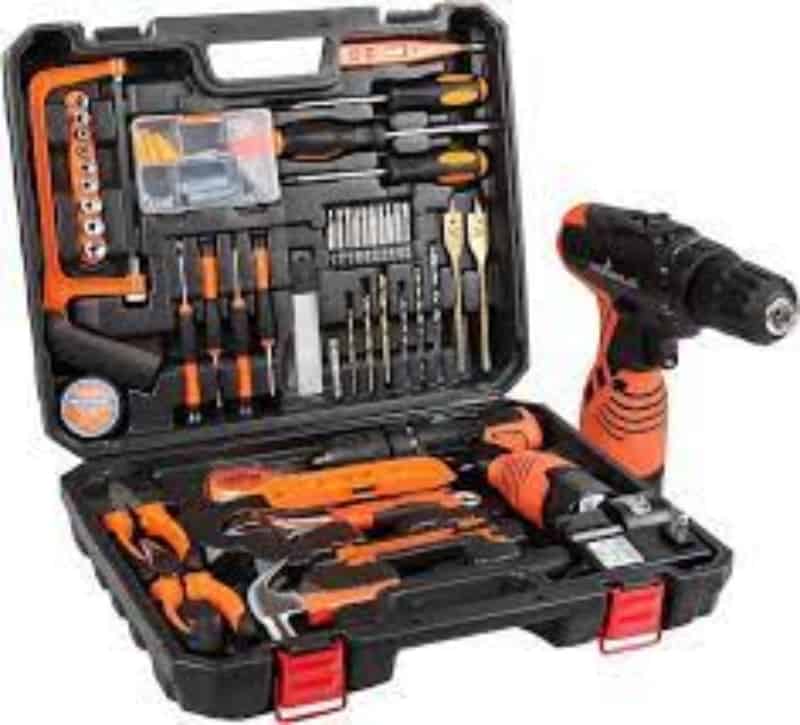 A tool starter kit is a great investment for your motorhome. These usually come in a handy storage case that keeps your tools organized and secure. Remember, if you are purchasing a tool starter kit it should at least have the basics we mentioned (flathead and Phillips screwdrivers, hammer, pliers, wrench, and adjustable wrenches).
2. Electric Drill
A cordless electric drill can make numerous maintenance tasks much easier. You will want to have a drill that can be used as a drill or an electric screwdriver. To make this possible, include a set of driver's heads and drill bits with your electric drill.
One may come in your tool starter kit, but it is best used as an electric screwdriver. Electric drills have the power to drill holes and give you the strength you need to get through metal.
3. Socket Set
Like the electric drill, a socket set can make some maintenance tasks easier. If you are shopping for a socket set for your motorhome tool kit, look for one with American and metric sockets. You may also want to look for a drill bit set that has a socket fitting.
4. Oil Filter Wrench
If you must change your own oil or have someone other than a mechanic help you with an oil change, you will need an oil filter wrench. These wrenches provide the right leverage for loosening your oil filter. You will need this if you will be changing your own oil or have someone do it for you that isn't at a professional shop.
5. Electric Wire Crimper Tool
First, if you do not know how to safely work with electricity and your electrical wiring, do not attempt to make electrical repairs independently. However, if you must make electrical wiring repairs to your motorhome, you will need a wire crimper tool. 
This tool will make secure connections between spliced wires. Many also have a built-in wire cutter and stripper, so you will not need multiple tools.
6. Duct Tape & Other Tapes
Rolls of duct tape and electrical tape are really handy and can be the best solution in a pinch. Make sure your motorhome tool kit has at least one roll of duct tape for quick emergency repairs. A roll of electrical tape is handy if you need to make wiring repairs. Never use any tape besides electrical tape on wiring and electrical components.
Also, keep a roll of awning tape in your tool kit in case it rips. Your awning will need to be replaced or fixed correctly, but this tape can save your vacation while you're enjoying it.
7. Extra Batteries
Make sure you have AA, AAA, C, D, and 9-volt batteries for everything from flashlights to smoke and carbon monoxide detectors. If you can find good-quality rechargeable batteries, you may want to use these options instead. Honestly, our planet does not need more used batteries in landfills.
8. Zip Ties & Hooks
Next to duct tape, a favorite repair tool is a good zip tie. Keep a container of zip ties in a variety of sizes and lengths, so you have the right option, no matter our need or repair.
Command hooks are also very handy. They allow you to quickly hang and organize items in your RV. They also hold tight but will not harm the walls of your motorhome.
Command hooks also work on aluminum and fiberglass exterior RV walls to hold Christmas decorations.
9. Silicone Sealant Caulk

The seams of your RV are usually sealed with silicone caulking at the factory. Eventually, the silicone will degrade and need to be replaced. Keeping a sealant tube in your tool kit will allow you to repair joints and seams quickly and easily.
Final Thoughts On Essential Motorhome Spare Parts To Carry
You never know when you might need to make an on-the-fly repair to your motorhome. If you have completed an RV spare parts kit, making repairs should be quick and easy.
We have offered our 14 essential spare parts and 9 tools that every motorhome should have. However, our list is not exhaustive. Depending on your RV and how you prefer to camp, you may find that you need additional spare parts or tools. A complete set of RV spare parts and tools will ensure that you never get stuck on the road with a maintenance or repair problem.
---
Related Reading:
---
About the Author:
Jason Gass is a full-time freelance writer and part-time RVer whose goal is to share great stories around a campfire with good friends.
When he's not working, he spends most of his time camping, searching for the best breweries, and road-tripping in his teardrop trailer with his wife, daughter, and two dogs.