If you are shopping for a drivable RV like a motorhome or motorcoach, you have probably heard the term "diesel pusher." For new RV buyers, this term can make some RVs seem daunting. However, a diesel pusher is actually a great option when it comes to efficient, powerful RVs.
In this article, we will explore the diesel pusher and help you navigate the difference between diesel engines and gas engines. If you are already shopping for a diesel pusher RV, we will even offer a few options for you to consider.

What Is A Diesel Pusher?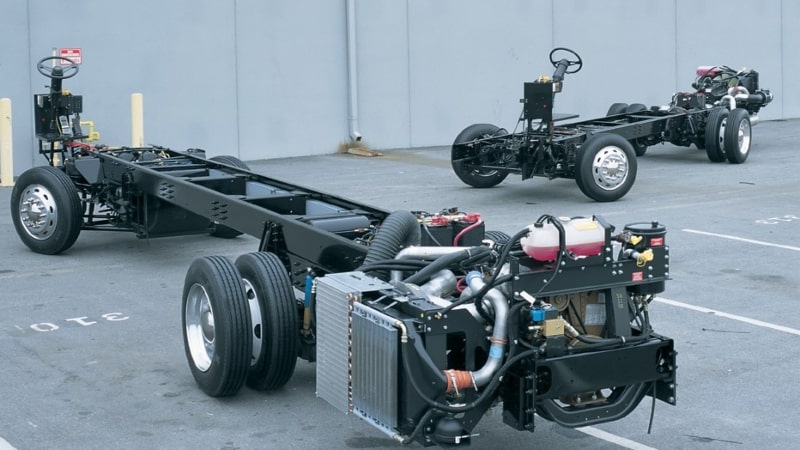 Though it sounds technical, a diesel pusher is just a motorhome with the engine in the rear instead of the front. This kind of motorhome first hit the market in the 1940s. Prior to this time, all motorhomes had the engine in the front.
All diesel pusher RVs use diesel fuel instead of regular gasoline. This comes with some advantages and some disadvantages. However, many people find that diesel pushers tend to have a bit more power which can be advantageous depending on where you like to vacation.
10 Reasons Diesel RVs Are Better Than Gas?
Before you run out and buy a diesel pusher motorhome, it is helpful to understand the pros and cons fully. Here are ten reasons that a diesel pusher is better than a gasoline engine.
1. Is Gas Or Diesel Better For A Motorhome?
If you are not familiar with diesel engines, the first thing you will learn about diesel pushers is that they can run for a long time. Because diesel burns differently in the engine than gasoline, it tends to create less wear on engine parts.
This slow burn of fuel also allows diesel engines to run more efficiently and generates more power. If you are looking for a more robust and powerful RV, a diesel pusher is a great option.
On the comfort side of things, diesel pushers tend to have more luxurious amenities. You can get a really comfortable gasoline RV, but diesel pushers are the way to go if you want to step up the comfort.
2. How Many Miles Per Gallon Does A Diesel Pusher Get?
One of the benefits of owning a diesel pusher over a gasoline RV is that they tend to get better fuel mileage. Most diesel pushers average 8 to 14 miles per gallon. Class A gasoline RVs will have a lower fuel efficiency on average.
Most gasoline motorhomes get between 6 and 10 miles per gallon. If you plan on driving in remote areas, a diesel pusher gives you a longer driving range.
3. Do Diesel Pusher Motorhomes Have Less Maintenance?
Diesel pushers do not require as much maintenance as gasoline RVs. A diesel pusher is a great way to find savings if you want to minimize maintenance costs. It is important to point out that if your diesel pusher needs repairs, engine parts are more expensive than gas RV engines.
The best way to avoid these repair costs is to keep up with your diesel pusher motorhome's maintenance and consider purchasing an extended warranty to protect you from the high costs of repairs. To learn more about extended warranties for RVs check out our article called the Definitive Guide to an Extended RV Warranty for Motorhomes.
4. Do You Plan On Being A Full-Time RVer?
If you are looking to be a full-time RVer, a diesel pusher may be worth considering. Diesel pushers tend to have more interior space and frequently have more storage than gasoline Class A motorhomes. Not only will you have more places for your stuff, but there is more living space for you.
5. Diesel Pusher Motorhomes Can Pull More Weight
Diesel engines are more powerful, which means they can pull more weight. A diesel pusher Class A motorhome has an average towing capacity of 10,000 to 20,000 pounds. On the flip side, a gasoline Class A motorhome can only tow between 5,000 and 10,000 pounds. A diesel pusher is a must if you want to tow a larger vehicle or even a boat.
6. The Top-Rated Motorhomes With Luxury Features Are Diesel Pushers
If you want to buy a motorhome with great reviews and luxurious features, you will quickly find that your best options are diesel pushers. Yes, there are some great gasoline options out there that are highly rated and loved by their owners. However, when it comes to luxury rigs, the top-rated options are all diesel pushers.
7. Diesel Pusher Motorhomes Offer A Smooth And Quieter Ride
When it comes to a comfortable ride, you are going to love what a diesel pusher offers. First, with the engine in the back of the rig, you do not have to listen to the engine under your feet as you drive. This quiet driving experience allows you to have conversations or enjoy music without the added sound of the engine.
Most manufacturers of diesel pushers tend to add other features for travel comfort. These additional features may include active steering systems, air ride suspension, and independent axles. These features will improve the smoothness of the ride and make driving a diesel pusher easier.
8. Diesel Pushers Depreciate Better Than Gas Motorhomes
Have you ever heard that the minute you drive a vehicle off the dealership lot, it loses 30% of its value? Motorhomes and RVs also lose 20% of their value when you drive off the sales lot. However, if you are considering a diesel pusher, the depreciation is significantly lower.
The engine's longevity, the higher quality features, and other factors allow diesel pushers to hold their value better than gasoline motorhomes.
9. There's More Storage In Diesel Pusher Motorhomes Than Gassers
We mentioned this briefly under number 4 above. One of the best things about larger diesel pusher Class A motorhomes is the storage. Sure, there are plenty of gasoline RVs with decent storage, but diesel pushers just have more. Not only do they have more interior storage space in terms of closets and cabinets, but they also have more exterior storage.
Storage compartments under the living space of Class A diesel pushers allow you to bring more comfort items, spare parts, and essential tools for maintaining your RV on the road.
10. You'll Find More Living Space In Diesel Pusher Motorhomes
This goes along with some of our previous comments about diesel pushers. If you have a larger family or intend on being a full-time RVers, you will find that the added living space in most diesel pushers is a lifesaver. With more room to spread out and sleeping spaces like actual bedrooms, a diesel pusher is more comfortable.
For full-time RVers, this added space also gives you the ability to have alone time or a quiet working space when needed. This can make a huge difference in the happiness factor for couples and families that travel.
5 Examples Of Diesel Pusher Motorhomes
Now that you know some of the benefits of diesel pusher motorhomes, we offer five diesel pushers that are popular with RVers and are great options for first-time buyers or individuals looking for an RV upgrade.
1. Newmar New Aire 3549
OUR PROS AND CONS
✅ Amazing full-size closet and tons of interior storage
⛔ Not sure how you sleep 6 on a king bed and a convertible sofa
Length: 35.10 ft.
Engine: Cummings L9
Chassis: Freightliner Custom
GVWR: 38,600 lbs.
Tow Capacity: 10,000 lbs.
Sleep: 6
Newmar has some great features that make driving a diesel pusher easy for most people. The Newmar Comfort Drive system makes steering the New Air 3549 diesel coach easy and comfortable. It also makes the Newmar New Aire a great option for curvy mountain roads.
Driving comfort aside, Newmar does not skimp on the comfort features in the living area. The rear sleeping area has a full-size closet and king bed for exceptional comfort. You will also like the split, pass-through bath.
The New Aire 3549 also gives you two seating options in the living space. Choose between the tri-fold sofa for extra sleeping space or the reclining theater seats. The theater seats are great for couples, while the tri-fold sofa is ideal for families.
2. American Coach American Dream 45D
OUR PROS AND CONS
✅ Has many of the comfort features of a house, including residential-grade appliances
⛔ This motorcoach is one of the higher-priced options on the market
Length: 44.11 ft.
Engine: Cummins X15
Chassis: Freightliner
GVWR: 51,000 lbs.
Tow Capacity: 20,000 lbs.
Sleep: 8
The American Coach, American Dream 45D, is the closest thing you will find on wheels to your house. Full-time couples or family RVers will like this motorhome because it has plenty of space for working or doing schoolwork.
The great thing about the American Dream line of motorcoaches is that they have full-size, residential-grade appliances in the kitchen. The center island in the kitchen is also a great feature in the 45D.
Another feature that makes this RV ideal for families is the dual bathrooms. There is a toilet and vanity in the center of the RV and a full bathroom with a shower in the rear.
3. Entegra Reatta XL 39T2
OUR PROS AND CONS
✅ Luxury in an affordable Class A motorcoach
⛔ Sleeps 10, but the interior space is smaller than other motorcoaches
Length: 39.11 ft.
Engine: Cummins L6
Chassis: Spartan K2
GVWR: 36,320 lbs.
Tow Capacity: 10,000 lbs.
Sleep: 10
The Entegra Reatta XL 39T2 is a great motorcoach for first-time diesel pusher owners. This RV combines a luxurious interior, high-quality engine, and chassis in a surprisingly affordable package.
Though this RV is a bit smaller than other options, large families and those with young children will like this motorhome. One of the best features of this RV is the bunk above the captain's chairs. Kids will love having their own space up there.
This diesel pusher motorhome has plenty of windows to let in the outdoor light. It is very bright and cheery, even if you select the darker interior colors. The kitchen is a bit small, but perfect for those not looking to become the next RV gourmet chef. However, the master bedroom makes up for the small kitchen. There is a ton of storage here and an electric fireplace for added ambiance.
4. Forest River Berkshire XL 40C
OUR PROS AND CONS
✅ Perfect smaller motorcoach for towing a family-sized car
⛔ Living space has a strange layout and lacks storage
Length: 41 feet
Engine: Cummins ISL
Chassis: Freightliner XCR
GVWR: 38,320 lbs.
Tow Capacity: 15,000 pounds
Sleep: 9
The Forest River Berkshire XL 40C is a Bunkhouse model. When you see the floor plans, it makes sense. Along with the standard sofa and dinette beds, this motorhome also has a set of bunk beds and a bed over the cockpit.
Families will enjoy this motorhome as long as they know how to make the best use of the storage. While there is plenty of sleeping space and two bathrooms, this motorhome does lack in the storage department. Despite the lack of storage, this RV is quite comfortable and spacious. If you do not need bunks and a sofa bed, consider switching out the sofa for the optional theater seating.
Empty nesters with grandchildren may enjoy the Berkshire XL40C. They can thing up the bunk beds and use it as closet space. When its time to take the grandkids to earn their patch at the national parks or meet Yogi Bear at a Jelly Stone Park Campground, the kids will have their own sleeping spaces.
5. Thor Motor Coach Venetian F42
OUR PROS AND CONS
✅ One of the most customizable motor coaches on the market
⛔ High GVWR reduces the towing capacity
Length: 43 feet
Engine: Cummins ISL
Chassis: Freightliner XC-Series
GVWR: 44,700
Tow Capacity: 15,000
Sleep: 8
If you are on a budget but still want a luxurious travel experience, consider the Thor Motor Coach Venetian F42. Thor is well known for their luxury RVs, and the Venetian is one of their most popular options.
The details in this RV are really the highlight of this rig. The residential-grade appliances, washer and dryer, tons of storage, and the fireplace make this diesel pusher motorhome popular. The kitchen is nicely appointed and it even has a pull-out cabinet for extra counter space.
Besides the option to customize cabinetry, flooring, and upholstery color, Thor gives you two options for the sofa side slide-out. Choose between a buffet-style dining area or a standard dinette. Both options have a jackknife sofa and a retractable TV.
This RV also has great exterior features like automatic awnings and an exterior television.
Final Words On What Is A Diesel Pusher
Though diesel pusher RVs are more expensive than other options, they are the ideal travel option for many families and full-time RVers. These larger-sized motorhomes are filled with the comforts of home and offer more living space.
The diesel pusher engine allows for longer-distance travel and reduced maintenance. It is also a great investment, and when properly maintained, can provide you with many years of fun and luxurious travel experiences.
---
Related:
---
About the Author:
Jason Gass is a full-time freelance writer and part-time RVer whose goal is to share great stories around a campfire with good friends.
When he's not working, he spends most of his time camping, searching for the best breweries, and road-tripping in his teardrop trailer with his wife, daughter, and two dogs.