There are a lot of details that go into planning an RV trip. How to find RV-friendly gas stations should be at the top of your list. Finding your gas stops before heading out will make your trip much more enjoyable.
It will also save you from driving out of your way just to find a gas station you can't fit into. If you can help it, don't wait until the fuel light comes on. Try to fill up around ¼ of a tank to give you some cushion if something happens.
Truck stops or travel centers are usually great places to fuel up, get some snacks, and go to the bathroom. Since they accommodate large trucks, they generally have lots of room for RVs.
Let's dive a little deeper into the topic of how to find RV-friendly gas stations.
What Features Does An RV-Friendly Gas Station Have?
Who wouldn't love to stop at an RV-friendly gas station and not only get a snack but also be able to fill up with water or dump your tank? There are a few out there that include quite a few of these amenities.
An RV-friendly gas station should include things such as high pump coverings, wide lanes, long handles squeegees, and pumps that an RV can easily get in and out of. These things should be almost a given when you stop at a truck stop such as Pilot Flying J, Loves, or TA.
Dump stations and water fill stations are available at many truck stops including Loves, Pilot, and TA. These services are especially important if you are boondocking. Just remember that you should research to make sure these stations have what you need.
You could run into one that is just a regular gas station and you will be forced to head down the road, hopefully not on fumes.
Propane fill stations are also often found at truck stops. Because motorhomes have onboard propane tanks, a propane fill station is another great amenity for RVers. Once you get settled in your campground, you don't really want to move again to fill up your propane tanks.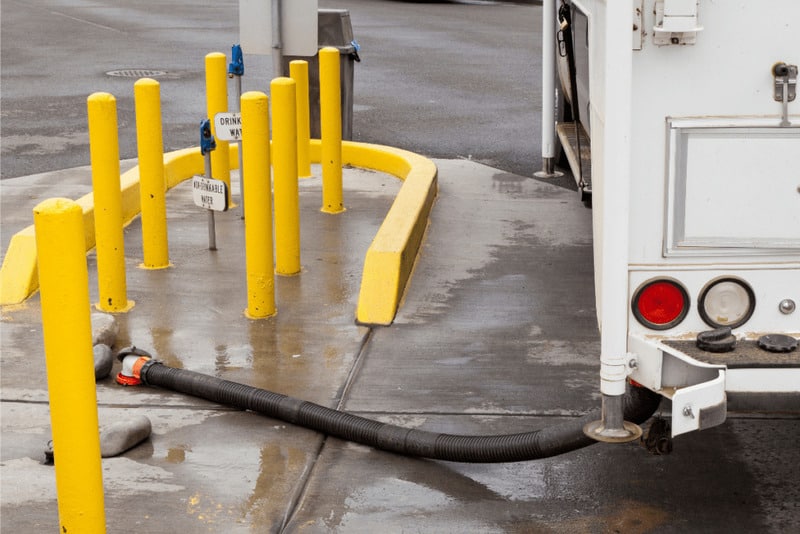 The Best Truck Stops That Are Good for RVers
Truck stops such as Love's, Pilot/Flying J, and TA are all great for RVers. Not only do you get a lot of the amenities I just wrote about, but you can also spend the night in your RV at most. Always check to make sure, and of course, spend a bit of your snack budget in the store.
Since these truck stops cater to long-haul truckers, you might also find showers and a place to do laundry. We love that Love's now has a dog park at many of their stops and we can let the pups stretch their legs after spending time in the RV on the road.
Is There an App for Finding RV Gas Stations?
You know there is an app for almost everything, including apps for finding RV-friendly gas stations, getting discounts, and more. First, check out RV Life Trip Wizard to plan your route and mark your gas stops before you leave your house.
When you enter your mileage per tank of gas, the app gives you a circle on the map showing the user how far they can go before they need to refill their tank. Then you can plan your gas stops, as well as other stops on your route.
With RV Life Trip Wizard, you also get to pinpoint campgrounds and RV parks along your route which are also integrated with RV Life Campgrounds. RV Life Campgrounds provides pictures, reviews, lists of amenities, costs, features, and more, which are provided by campers so you know you are getting the straight scoop.
You can also filter the campgrounds to find those that are pet-friendly, big-rig friendly, 55-plus, and based on price.
This trip planning tool shows you a safe route based on your rig's exact measurements so you can avoid low-clearance bridges or roads that are unsafe for an RV such as those with steep grades.
Use the planner to search for points of interest including rest areas, RV-friendly fuel stations, overnight parking, and dump stations. You can also search for casinos with campgrounds, Walmarts, as well as amusement parks, museums, liquor stores, and more.
Get it for the RV-friendly gas stations but keep it for all the other great features it provides. If you choose to buy RV Trip Wizard (and we highly recommend you do) use discount code RVBLOGGER25 to save 25%.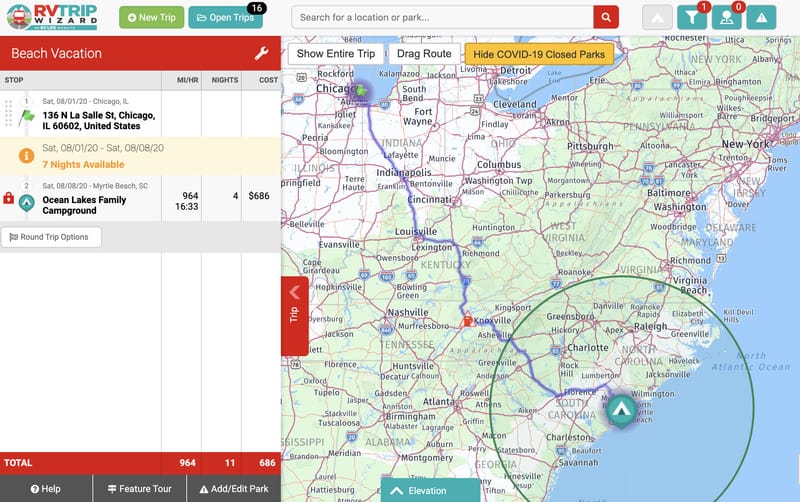 Other Apps to Find RV-Friendly Gas Stations
You can get an app for each truck stop, but the following RV-friendly apps may give you better details on what that particular stop provides. These are not specifically designed for RVers so apps like RV Life Trip Wizard are good to get the full picture for planning purposes.
1. GasBuddy
The Gas Buddy app shows gas prices at nearby stations to help you find the best deal. You can also take advantage of a trip cost calculator to help you find the best gas prices on your route. When you join the club and get a "Pay with GasBuddy Card," you save up to .25 cents per gallon on every gallon of gas.
With Gas Buddy, you will see the typical Flying J, Love's, etc., so you can be certain you can bring in a big RV.
2. iExit Trucks
iExit groups OPIS's real-time fuel prices by the interstate exit. The app pulls in daily unleaded, mid-grade, premium, and diesel fuel prices from across the U.S. It then compares the prices, and shows you which exits, and which cities have the best prices. You can find the prices up ahead and even 100 miles down the road.
3. Next Exit
The Next Exit app provides information through a subscription-based app or a printed book. You receive a composition of U.S. interstate highway exit services available. If you need it while traveling, you will likely find it on this app and book including gas, food, lodging, camping, shopping, and more.
It's not a bad idea to have a copy of the book, as well as the app, in case you have an issue with cell service. You can always consult the book.
It seems that the makers of this app have physically recorded the location of every gas station, restaurant, and hotel at every interstate highway exit for the last 30 years. That is really a feat.
Plan Your RV Route To Find the Best RV-Friendly Gas Stations
Of course, RV Life Trip Wizard will help you to find the best gas stations along your route. Planning your fuel stops will help you to have less worry about gas prices and getting in and out of stations. You can concentrate on enjoying the trip, seeing the sites along the way, and getting to your destination safely.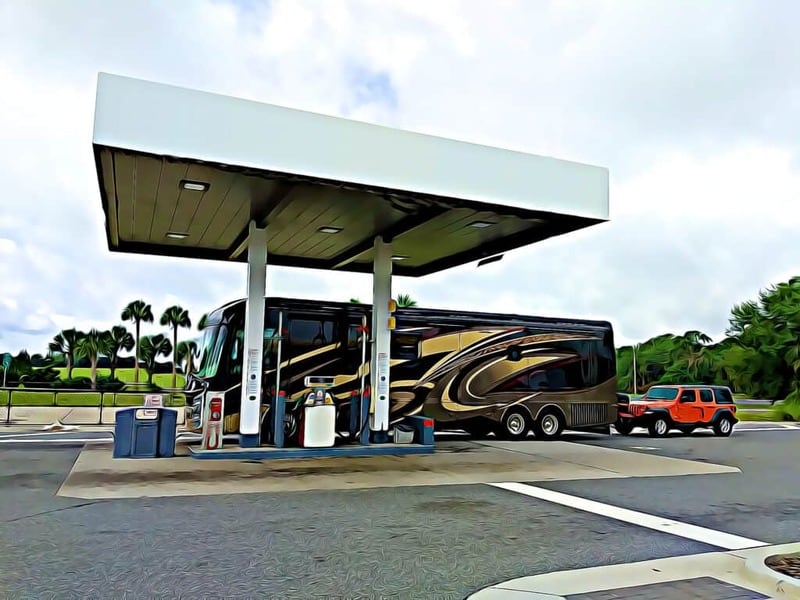 5 FAQs On Finding RV-Friendly Gas Stations
1. What Are the Things to Remember When Pulling into A Gas Station?
Some things to remember when pulling into a gas station include watching your overhead space. Most gas stations will have plenty of headroom and they usually will list the height of the canopy on the canopy somewhere. But it's also good to have someone get out and watch from all sides.
Keep an eye on the side that's closest to the gas pump. You don't want to scrape up your motorhome on the cement safety barriers that protect the pump. Also, watch for tail swing, which occurs on the blind side of the driver.
You can calculate your tail swing by measuring the distance between your rear axle to the rear bumper of your RV and then dividing that number by 3. Stay at least that distance away from any object if you know you will be turning to maintain a safe distance.
After filling up, pull away from the pump to allow others to use it. Don't forget to redeem your points if you are a member of an RV club or fuel station discount program!
2. Do Truck Stops Have RV Dump Stations?
Most Loves, Pilots, and TAs do have dump stations. Make sure and look at the location's listing ahead of time so you know before pulling into the station. There is usually an added charge to use it, but it is well worth it if you need that service.
3. Can You Park Overnight at RV-Friendly Gas Stations?
Many RV-friendly gas stations do allow overnight parking. Some Love's Truck Stops now have automated RV campgrounds with campsites available. Check out our RVBlogger article "Automated RV Parks" to learn more.
4. What Is Good Gas Mileage for an RV?
Your RVs gas mileage will of course depend on the kind of gas and the type of RV. It will also depend on how fast you drive. The RVs with the best gas mileage, for gas-powered engines, are usually Class Cs.
A Class C usually gets somewhere between 9 and 14 miles per gallon. Gasoline-powered Class A RVs will usually get between 6 and 10 miles per gallon.
A diesel-powered Class A will likely get between 8 and 14 miles per gallon. A diesel-powered Class C will likely get around 16 miles per gallon, with a smaller one pushing 20 miles per gallon.
5. How Much Gas Does an On-Board Generator Use?
An onboard generator will use approximately one gallon per 1-3 hours of running time, depending on its size and load.
Final Thoughts About Finding RV-Friendly Gas Stations
It's quite important when you take your RV out for a trip that you find RV-friendly gas stations. You don't want to get into a spot you can't get out of easily because there are tight turns or too many cars blocking your way.
There's nothing more embarrassing than having to back up, maneuver, and generally slow everyone down when you didn't plan ahead.
To recap, make sure you research your fuel stops before you depart. Be aware of where there might be a long stretch of road with no services. Knowing your gas mileage will also help keep you out of trouble. Don't forget to use RV Trip Wizard to help plan your trip.
Don't wait until your fuel light comes on. You should start searching for a fuel stop when you still have a ½ to 1/3 of a tank of gas. If you need to consult your fuel app, pull into a rest stop to get your bearings.
Look for the big three truck stops: Pilot, Love's, and TAs. These places are made for the "big boys" so you know it's highly likely you will fit in nicely. These places have large maneuverable areas, wide lanes, DEF fluid, and much more for the weary traveler.
Above all, enjoy your journey and get to your destination with little stress and a full tank of gas.
---
Related Reading:
---
About the Author:
Terri Nighswonger and her husband Todd have been RVing and work camping for five years with their Cavalier King Charles Spaniel, Newton, and their Minnie Australian Shepherd, Remi.
They originate from the Midwest but plan to enjoy the West for a few years, wintering in Arizona and summering wherever the road may lead. Writing is Terri's passion, but she also loves hiking, kayaking, walking her dogs, and anything she can do outdoors.